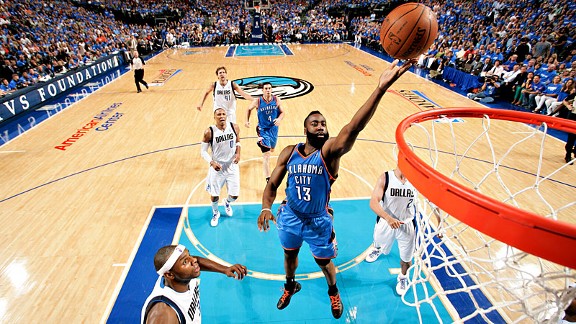 Glenn James/NBAE/Getty Images
Dig through Synergy Sports play type analysis -- and discover the magic of James Harden.
On Hardwood Paroxysm Ian Levy has pretty pictures of teams' most effective plays, compared to how often they run them. Some lessons:
Cutting big men: Nice if you can get 'em
The first thing you notice is that big men cutting are most teams' most efficient plays. Fantastic.
But that's only so useful. By the time a big man catches the ball on his way to the hoop, the defense is already in dire straits.
In other words, "really easy plays when the defense is broken and the ball's in the paint" are good. But of course, most teams can't decide to run that play every time down. It's simply not available without the defense cooperating. Those plays are rare even on the most efficient teams.
Too much Kobe Bryant
The Lakers have some plays that they use way more than they evidently should. The first is (surprise!) Kobe Bryant isolations. Levy writes:
Of the Lakers' five most productive offensive outcomes, none occurred more than 200 times on the season. Meanwhile nearly 1,100 Lakers' offensive possessions were used by Kobe Bryant in either isolations, post-ups, or pick-and-rolls. The offensive efficiency the Lakers received from those possessions fell in between what they got from Metta World Peace in the post (0.84 ppp) and Ramon Sessions in the pick-and-roll (0.88 ppp).
Ouch. (Note: Ian is a very nice man, and he's telling nothing but the truth. Please be kind.)
Not enough Kobe Bryant
Here's the thing, though: Those 1,100 or so inefficient Bryant plays Levy spoke of? Those are the ones -- isolation, post-ups, as the ball-handler in the pick-and-roll, where Bryant gets the ball and then the action begins. Those are the plays where Bryant is in total control. Those are from the "in my teammates I do not trust" playbook.
Those are also the plays where the defense gets to say "oh, look, there goes Kobe doing his thing, let's load up on that."
However, the Lakers' best plays? Many of them are Bryant too. But they're Bryant relying on team actions to get him the ball where he can be more effective.
Look at Levy's charts! Bryant spotting up: Fantastic! Bryant coming off a screen: Among the team's best plays.
Those are plays where neither Bryant, nor the defense, can be sure Bryant will get the ball. Both struggle with that uncertainty.
Meanwhile, when Phil Jackson unloaded in his book on Bryant's over-reliance on his own scoring abilities, he didn't specifically complain that Bryant shot too much. He complained that he craved too much control, for instance by breaking plays to catch the inbound pass late in games, instead of working team actions to try to get somebody, Bryant or otherwise, open.
Bryant wouldn't work off the ball like Jackson -- and, now we learn, efficiency statistics -- demand.
Too much Andrew Bynum in the post
The Lakers' other play that seems to be run more than can be justified by its efficiency, is Andrew Bynum in the post. It is the Lakers' most common playtype, but their ninth most efficient.
These statistics all come from Synergy Sports Technology, where you can watch video of those plays.
Here's an informed guess, after watching lots of Bynum video for a post last week: All Bynum post-ups are not created equal. When he catches the ball close to the hoop, he is deadly. But he is not averse to catching the ball with a man on his back 15 feet or further from the hoop. And there, things don't look nearly as fluid. The spin move that, from good position, would have led to a chop shot, now ends with a spinning, off-balance big man deciding between dribble-probe and jumper, neither of which is a specialty.
Bad Bynum post-ups bring no joy at all. The good ones, though ...
The power of open shooters
The Spurs ended the regular season with the most efficient offense in basketball.
Their most common playtype was Tony Parker handling the ball in the pick-and-roll. That is no surprise at all. But would you believe that Richard Jefferson, Danny Green, Matt Bonner, Gary Neal and Kawhi Leonard spotting up were all more efficient per possession?
What I'm getting at there is: Look at how the Spurs managed to squeeze offensive productivity from inexpensive players. Asking players like that to create doesn't appear to work very well. But asking them to play alongside stars like Parker and Manu Ginobili, and to catch-and-shoot the open jumper ... that just works.
(Side note: One of the Spurs' least efficient options, and most over-used, is Tim Duncan posting up.)
Similarly, the Lakers have been getting excellent productive from Steve Blake and Matt Barnes spotting up.
James Harden, oh my
The Thunder finished the regular season with the league's second-best offense. And while these charts generally make ball-dominant guards look pretty inefficient (Bryant and Parker, for instance) ... Harden is amazing. Three of the Thunder's five most efficient playtypes are Harden , whether spotting up, isolating, or handling the ball in the pick-and-roll. He's a very rare player in that even when he is essentially a ballhog, flying solo, he's still, as the Mavericks will attest, very tough to stop.
That no doubt has a lot to do with the many potent offensive players he plays with. The defense can't just load up on James Harden with Kevin Durant, Russell Westbrook and Serge Ibaka around. But still -- lots of players have great teammates, and very few produce like this.