ESPN's David Thorpe pointed out something to me today: guess which rookie has the best PER (Insider)?
The answer is especially interesting when you consider that, like all boxscore-based stats, PER doesn't have a meaningful way to measure most aspects of defense.
This player is touted for this defense.
Answer after the jump.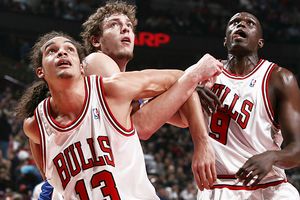 Yup. That's right. Joakim Noah.
As PER tells the story, there are really only three rookies who are above the league average of 15. Chicago's Joakim Noah is at 17.48, New Jersey's Sean Williams is at 17.40, and Boston's Glen Davis is at 17.19.
Kevin Durant is a distant fourth at 14.68.
(Photo by Gary Dineen/Getty Images)