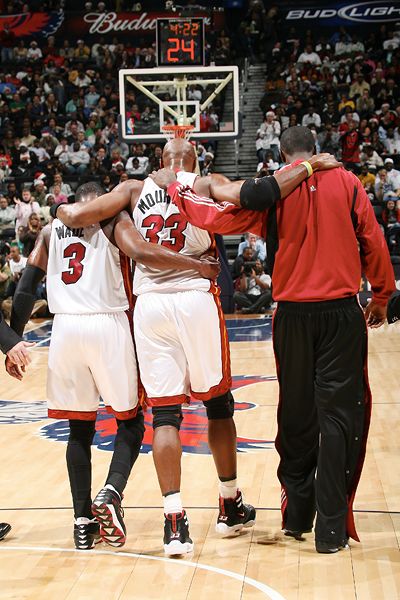 Sure hope this is not the last we see of this soldier.
Alonzo Mourning, who has been one of the oldest, but most effective and fiercest members of the Heat in recent years, fell last night. He could not get up under his own power.
The 37-year-old, who has endured kidney replacement and several tough injuries, has said in the past he will not play beyond this year no matter what.
The Miami Herald's Clark Spencer writes:
Mourning injured the knee as he was starting to plant his feet and go up to block a shot by Hawks guard Mario West, fitting since Mourning ranks 10th on the NBA's all-time list in shots blocked. But he never laid a hand on West's shot because his body went in reverse, tumbling to the court when his leg gave way.

''I felt like I slipped on something,'' Mourning said. ``It happened so quick.''

Forward Udonis Haslem rushed to Mourning's side.

'I went to help him up and he said, `It's over. It's over,' '' Haslem recalled.

Said Heat coach Pat Riley: ``It's not good.''
Here's the video, which I don't really recommend, to be honest. Word is that Mourning has torn a patella tendon, and while there has been talk of returns in as few as three months, Ira Winderman of the Sun-Sentinel found medical references saying six months is a typical recovery time post-surgery:
After initially being placed on a stretcher, Mourning refused to be wheeled off the court, instead limping off while supported by teammates Wade and Earl Barron.

"That's not the way I envisioned myself walking off the court for the last time in my career," Mourning said of the stretcher. "If I had to crawl off that court, I would have."

Mourning had said in the offseason this would be his final season.

Hall of Fame guard Magic Johnson, who was sitting courtside, visited with Mourning, saying that the center recognized his 15-year career could be over.

"I said, 'Hold your head up high. You over-delivered to the fans, to the city of Miami. You should be proud of yourself. You gave the game 150 percent of yourself and of your body,' " Johnson said. Johnson said he tried to ease Mourning's pain.

"I told him, 'You know what? Life is not bad after basketball. You'll find out wearing a suit every day is not too bad,' " Johnson said, "and I saw the big smile come across his face."
The Associated Press quotes Mourning with some breathtaking perspective, given the circumstances:
"Each of you here know I've been through a whole lot worse than this," Mourning said. "It's disappointing to even think that my career would end this way, but there are so many other things that life has to offer for me. I have a great family and I have so many other opportunities out there."
(Photo by Scott Cunningham/Getty Images)