Nate McMillan's coaching staff in Portland has gotten more praise in the last two weeks than in the previous two years combined. Substitution patterns, offensive schemes, matchups ... during this ten-game winning streak, the coaching staff has, it seems, been able to do no wrong.
One of the coaching decisions that has been reaping dividends is the strategic use of zone defense. McMillan's lead assistant, Dean Demopoulos, who coached under Temple's John Chaney for 17 years (he has also coached in Seattle under McMillan, and was a head coach at Missouri--Kansas City), is seen as a moving force behind Portland's zone.
Must be a fun time to be coaching in Portland, huh?
Yeah, it's been terrific. They've got a real good handle on what's been going on, these guys. They've just been playing a together brand of basketball at both ends of the floor. They lift each other up. They're pretty cohesive in the thought processes. We've had some pretty good breaks, which makes for a fun time.
One of the things that's been reported on about your winning streak is that you've been seeing good results playing zone defense. First of all, can you describe what kind of zone you've been using?
Well, it's Nate's zone, really. We've been together seven years, and we've played a lot of different types of defenses. Nate played for Valvano, so Valvano used to junk it up and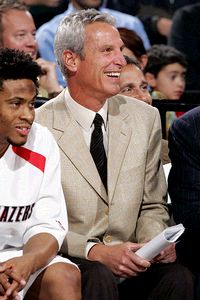 triangle-and-twos and stuff back in the '70s, and '80s. And Nate was a great weak side rebounder. He just understands good defense. It's more a hybrid of all the things that we've experienced, you know, along with [assistant coaches] Monty Williams, Luke [Maurice Lucas] and Bill Bayno, who, you know, played zone at UNLV.
You know, and you have the luxury of having great video, you know, where you can break things down. We've got a guy named Kaleb Canales who just does an unbelievable job piecing everything together. So it's a lot different than it used to be.
I've watched some of these games and it seems that there are stretches when really good offenses, like Utah and Golden State, didn't really seem to have a plan of attack against your zone.
Well, they did. ... You can't take away everything, obviously, and all coaches know that. So there wasn't so much a plan of attack, it's just that, you know, maybe you missed shots in certain areas, and that was the area of the zone or any defense was designed to give up.
It's a funny thing, zone's been played ever since there were double teams in the NBA. If there is a double team, there is a zone, because it's three playing four somewhere. It's just different variations of it. All good defenses have the same thing in common, man or zone.
A lot of coaches kind of frown on the zone. You used the term 'junk it up.' But it seems many feel it's not quite as macho as playing man to man.
Like I said before, a lot of times most things are in common in good man for man and good zone. You have great ball pressure, and good weak side presence, and five guys rebound. And every defense, again, is geared to take away certain things, regardless of whether it's zone or man. So everything gives up something to the offense and vice versa.
Is its effectiveness tied to the element of surprise a little bit? Or does it just work because it's good defense?
I think it's a little bit of both. Just like a good change in your man for man pick and roll defense. You go from going under the screen to trapping it, you know? It's the same type of thing. There are three committed to two on the ball side, okay, and that is zone, you know what I mean?
A lot of different things go into this. The more you can control the ball with just one person, the better off most defenses are going to be. All great players require more than just single coverage.
This roster hasn't had very long together.
Well, this is Nate's third year. But we've just made major changes over the year. You know, Randolph was a great force. And now we've traded him and changed the team up. So far you see growth, you know. That's what we're looking for as coaches. Who knew about ten wins in a row or wins at all for that matter. But you look for growth in your players. Things where they start repeating the things a fair amount of times, so you can call it habit.
Some of the things you're teaching them when you start from that area, the little things are really, really important. The little victories go a long away. We've just lost a lot of games the last two years around here.
There's no one with their eyes in the sky here. We're just enjoying it, but we work to make sure that everyone creates the habit of playing winning basketball. With young players, that takes a lot of work, lot of effort, and a lot of patience on their part also.
Our guys, I tell you, Monty Williams and Bill Bayno and Luke, they really work with these guys. These guys are a lot of little stories in the making. Like Monty Williams with Travis Outlaw. Outstanding.
Travis is someone used to make me nervous every time he touched the ball. I didn't trust his handle, his shot, or his decision-making. Now he's making huge plays down the stretch of close games. He's a great spot shooter now and putting the ball on the floor, he's got a big arsenal of moves, and he's playing good defense, too.
Yeah, Travis is playing really sound basketball. And again, he's done it now for a little bit of time in a row, so it's becoming a habit that you expect from him.
You know, he's not going to do as well as others every night, just like all of them. But for the most part right now, you have to give him a lot of credit as a basketball player. He's grown into a new role this year as being a sixth man and a guy who is as good as I've seen so far this year.
With that second unit, he seems to be the guy that can get his own shots some, which helps. And on the other end of the floor, he really makes a difference. He's part of big defensive stops. Sometimes he's a big part of it where he gets the rebound also.
So Travis has done really, really well. We all couldn't be happier for him, he's a really nice guy.
Another player who has great potential and seems to be more efficient than he has been in the past is Sergio Rodriguez. Can you talk a little about his development?
Sure. Sergio. His eyes are wide open and he wants to attack. He's a player who loves to play basketball and plays it with a flair. Everyone here respects him for that.
He really goes at it 100% at both ends of the floor. He seems to have a younger person's joy for the game. And that's really needed in an 82-game schedule. He's never down. And everybody really respects him, the coaching staff and the other players, and he can play.
He's started to slow down and play situational basketball and allowing his options, his teammates to really get involved and he sees the floor better than a lot of young guards do.
He along with Travis are growing together and Martell Webster.
You know, James Jones has helped that group an awful lot because he brings a little bit of patience and stability to quarterback a little bit from that last position. Buried in the corner, he can see the whole floor and get the weak side moving offensively so his defense can't dig in. He's done some really fun stuff that way, and there is nothing like experience.
Can you give us a typical offensive play and how you, what sort of chess pieces may be involved in what you're trying to
do on the floor to get a good look?
Right now we get down to where we have to win games, obviously, Brandon's handling the ball a lot. He's been pretty close to a triple double -- heavy loaded on the points -- for a long time. So he's been making great decisions with the ball.
We try to get our shooters moving so people can't get a read on them. Most of the good offenses do that. There are few stationary offenses. And you know, guys are making shots. When we make them and we don't turn the ball over and we get the shot, we shoot the ball fairly well at times. You know, when we get a chance, you know, you have a pretty good chance if everyone tries to play defense down the other end.
That's what we're trying to do, we're trying to get a chance. Not throw the ball away because you can't set the defense off a turnover. And when the ball goes in, it is easier to play defense because you can set it and then go through all your schemes and your tricks and all that stuff.
That's why it's a huge cause and effect between what happens on offense, and how you get into your defenses so. An old sage once told me an offense is your first line of defense.
Got to make that bucket. As your players mature, do you feel like you can let them play a little more, work through more mistakes?
Yeah, at times. During the last, well, this is relatively short lived now. Before this we were losing more than we were winning. And it's harder to teach the positive reinforcement when things are ending up in a negative fashion.
As far as losses, that is the trick. For two years we've tried to do that, you know. Steady the course. And go with the changes. Then try to get them into the fold with Nate's philosophy. It's always better to teach through winning, you know? That's where you can get on and really, really push guys.
You know, when you're losing they feel as bad as you do, and it's hard to browbeat. You don't want to do that. It's easy to be negative. That's a challenge when you're rebuilding, both for the players and the coaches.
What kind of teaching-the-game stuff can you do with Greg Oden while he's watching all this?
He gets it through osmosis a little bit. Just being there, feeling it, you know. Making sure that you show him things that are happening on the floor. I know when we were playing bigger, stronger players the Mournings, the Shaqs, Luke was making sure Greg watched how the power players play. And we don't have a power player on our team. There are only a few of them in the world.
Guys always learn better from watching guys. That's how little kids watch and mimic you. They learn better through watching and seeing what players do and stuff like that. You know, being around practice, he's a nice kid, he's a nice guy. Hopefully, he'll come back and get into condition for us and start from there.
You've coached under John Cheney, and you were a head coach in college at Missouri Kansas City. And then you moved into the pros. What are some of the differences between coaching in college and coaching in the pros?
The game's different because of the clock and all the rules. So it makes it a different game technically speaking. Players overall, we had a bunch of guys that played in the NBA. I think 14 or 15, something like that. So it wasn't like I was not used to players that are of that ilk.
It was all of them on the floor together, when there's ten body styles, it's a much more physical because the guys are just big and strong. The court's a lot smaller. So perceptually or spatially, it looks different.
But the things that win basketball games are the same. Whether you go to junior high, you know, which I did coach. I coached at junior high, too. So the things you teach will be the same. But the game's different, and the players are different. But the fundamentals stay the same.
(Photo: Sam Forencich/Getty Images)