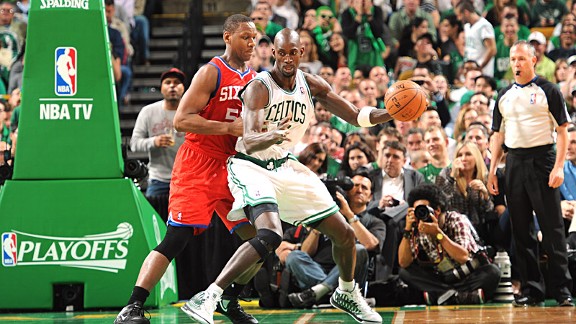 Brian Babineau/NBAE/Getty Images
Garnett is playing a vital role for the Celtics and logging extra minutes.
Here's a big question: How many minutes can Kevin Garnett play?
Here's another big question: Can the Celtics get anything done without him?
Through 60 regular-season games, Kevin Garnett played more than 38 minutes one measly time. In eight playoff games, he has already passed that number every time except for in a blowout first win against the Hawks and Game 2's loss to the Sixers.
On Monday night, the Celtics were outscored by 17 points in the 14 minutes that Garnett sat. Coach Doc Rivers rested his key big man in the second and third quarters, which is precisely when Philadelphia grabbed control of the game and established, then fattened, a lead that the Celtics could not overcome despite Garnett playing the entire fourth quarter.
Back in February, Rivers moved Garnett to the center position. At this point in the playoffs, no descriptor could be more accurate. With Pierce and Allen struggling to produce on injured legs and Avery Bradley's left arm reduced to dangling uselessness, Garnett is the hub of everything the Celtics do offensively and defensively -- he is literally the center of the Celtics' hopes.
Paul Pierce is shooting just 25 percent from the field and is moving terribly when Andre Iguodala, one of the premier wing defenders in the NBA, challenges him. In Game 2, Pierce was neither able to punish Evan Turner on the occasional switch nor use his usual craftiness to work his way to the free throw line (just two attempts) -- a major part of Boston's closing strategy.
Meanwhile, the Celtics can still rely on Ray Allen to drill spot-up attempts, but bone spurs prevent him from sustaining the offensive action for long, because of the challenges of sprinting through his customary circuit of baseline screens.
Both star wings have injuries that are expected to linger.
And with Rajon Rondo largely contained by the long and hardworking Turner (who is also big enough to deter Pierce when the Celtics force a switch with a 1-3 pick-and-roll), that leaves Garnett.
Like the rest of the NBA, the 76ers haven't come up with an adequate answer to Garnett's long-range shooting, and he's been able to take advantage of the Sixers in the post, where he can create shots for himself and, when doubled, for his teammates. Philadelphia's wing defenders present a tenacious and largely interchangeable thicket. The Celtics' only reliable ways through involve Garnett. Even when he's not the focal point of a pick-and-roll, or a post-up, he's also Boston's best screener. On his least taxing offensive plays he's still throwing his body around, colliding with 76ers, in an effort to spring his teammates free.
Whatever energy Garnett doesn't use being Mr. Everything on offense goes into the defensive end, where he's still a superb paint defender and pick-and-roll buster. When he sits, the Celtics are vulnerable to smart pick-and-roll ball handlers who can finish at the rim. Iguodala, for instance. With Garnett on the bench, the Sixer repeatedly found his frontcourt mates for open jumpers as the Celtics big men struggled to rotate quickly.
The Celtics actually outplayed the 76ers for pretty much the whole of Game 2, except for the stretches when Iguodala was on the court without Garnett. One could argue that Iguodala's ability to lock up Paul Pierce, push the tempo and exploit imperfect rotations when Garnett was out was the difference in the game.
If the first two games are any blueprint, the Celtics will need Paul Pierce to sort out a plan of attack against Iguodala -- possibly by getting Iguodala in foul trouble -- or Garnett has to be able to match Iguodala's minutes.
This indirect matchup of two defensive-minded players capable of impacting every facet of the game puts a tremendous burden on the aging Celtic.
Iguodala is an ironman and Garnett's junior by eight years and nine NBA seasons. But Garnett has shown an iron determination, and will certainly offer every last drop of energy for a trip back to the Eastern Conference Finals.
The question is whether that will be enough.