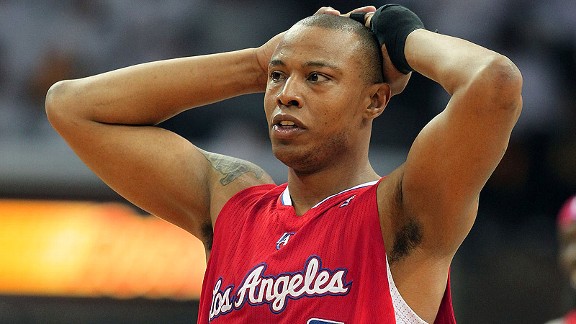 Andy Lyons/Getty Images
Caron Butler is the latest Clipper to win Flop of the Night.
HoopIdea wants to #StopTheFlop. To spotlight the biggest fakers, we present Flop of the Night. You can help us separate the pretenders from the defenders -- details below:
It was a rough night of flopping for Manu Ginobili. First, he was unable to inspire the referees to tweet -- though Twitter was noisy enough -- when he flailed on a first quarter 3-point attempt (Video).
It was the type of call Ginobili is famous for getting -- which might be why he couldn't sell it this time. As Eric Bledsoe reached in, Ginobili ripped the ball to his shot pocket and struck a distorted pose, like he wanted to shoot the ball but forgot how.
The officials' response: Silence.
Later in the game, Ginobili was even burned by one of his old tricks (Video) when Caron Butler drew a charge by stepping into Manu's path as he released a kickout pass. This sneaky play -- where the defender takes the charge after the driving player has already passed off -- is a pet peeve of many fans and has even shown up in a HoopIdea Five for Friday care of @ShotDrJr.
By the time Manu makes contact with Butler -- who appears to still be moving when he gets the call -- he has almost entirely stopped his forward momentum. But that doesn't stop Butler from flying backward and earning the call instead of flying out to the 3-point line to close out Kawhi Leonard. And that's your Flop of the Night.
When you see an egregious flop that deserves proper recognition, send us a link to the video so we can consider it for Flop of the Night. Here's how to make your submission: