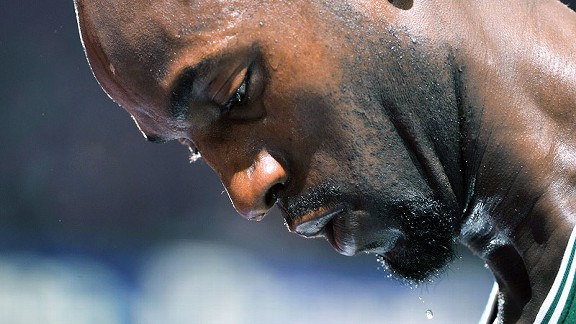 Jesse Garrabrant/NBAE/Getty Images
Kevin Garnett was far too intense for the Sixers in Game 3.
PHILADELPHIA -- For all the deftness and agility of Rajon Rondo, Sixers point guard Jrue Holiday might have been the player who had the easiest time getting where he wanted on the court in Wednesday night's Game 3 between the Philadelphia 76ers and Boston Celtics. He rocked defenders to sleep, he crossed them over, and he darted into the lane at will.
And, importantly, he drew the second foul on Kevin Garnett less than six minutes into the game, which the Celtics won 107-91 to take a 2-1 series lead.
Statistics support a hundred ways what is obvious to the naked eye: Garnett has become the epicenter of the Celtics. Starting at center and scoring like an All-Star -- he made 12 of 17 shots on the night -- hasn't kept him from leading an elite defense, rebounding and appointing himself executive in charge of firing everybody up. The Celtics are vastly inferior when Garnett is on the bench.
Which is why the Sixers needed him on the bench as much as possible.
After Holiday hit his free throws, the Sixers had a tie game, a raucous crowd and more than 18 minutes of playing time left in the first half to try to send Garnett to the bench with his third foul.
And they didn't try.
"We're not a team that really does that," 76ers coach Doug Collins said. "We're not a really good post-up team. So it's not like we can be really careful and say we're going to get Garnett his third. And usually guys like that are pretty smart about picking those up."
Sixers guards Holiday, Evan Turner and Lou Williams -- and in one instance, Spencer Hawes -- all seemed to have the ball in position to try to score over or around Garnett in the minutes to follow. But they always passed or shot without attempting to draw contact.
And it seemed to work for a while. A minute into the second quarter, the Sixers had a seven-point lead and a spring in their step.
Then Garnett made them pay.
First it was a short turnaround jumper. Then a midrange jumper, followed by a banking turnaround.
Just like that, the Sixers' lead was down to one, and Collins started bringing in different players like a madman, with six substitutions in a couple of minutes.
None of it made a lick of difference, Garnett kept right on scoring.
Free throws, a fadeaway, a long jumper, and then a short jumper off a pass from Paul Pierce. With two-and-a-half minutes until halftime, the Celtics led by 10, Garnett was 6-of-6 in the quarter, with 13 points, and it was hard to imagine how the offensively challenged Sixers would ever close the gap.
Boston coach Doc Rivers talked about how, unlike in Game 2, on this night the Celtics did things "the right way," using teamwork to get the ball in the paint, instead of the system he calls "random." In Garnett's 6-of-6 tear that decided the game, every shot was assisted.
"Strategically," Garnett said after the game, "we changed up some things. And ... they worked out."
Garnett never really cooled off, hitting another 4-of-6 in the second half as the Celtics rolled to the easy win.
There has been talk Lavoy Allen is the Sixers' best Garnett stopper (one thing that's clear: it's not Elton Brand). Allen fought valiantly, but managed to play only eight and a half minutes in the first half before drawing his third foul and a benching from Collins. By the time he checked in again, the game was virtually decided.
"He was really upset after the game the other night, 'cause he didn't think we played the right way as a team," Rivers said of Garnett. "And if you know Kevin, it's all about doing things right for the team."
Garnett said he told the team that playing the way they had in Game 2, they wouldn't beat anybody. "And that includes high school teams, and JV teams, if we don't play together," he added.
Evidently it worked.
"We ran into a Celtics team," Collins said, "that had a real sense of purpose about them tonight."
None more than Garnett.