There were some great games this Saturday night. The Celtics and Pistons was a very serious affair. Portland against Utah was big for people like Martell Webster and myself.
But New Orleans in Phoenix was the game of the night.
It featured the tired Hornets, on the second night of a back to back, without an injured David West. The West's best road record was in for a serious test in the Valley of the Suns.
And if the Suns were playing the Nets the media would have been awash in talk of the two best point guards in the NBA locking horns. But that's old news. This was the battle of the two best point guards in the NBA.
ESPN's John Hollinger pointed out in mid-December that Paul was in the midst of the best NBA season ever by a little player, at least according to PER:
I submit that Paul is the MVP of the non-LeBron portion of the league thus far. He ranks third in the entire NBA in player efficiency rating at 26.64. And he has the Hornets at a surprising 15-10 despite his teammates' aversion to making shots -- Paul and center Tyson Chandler are the only regulars shooting better than 43.8 percent.

This may come as a shock to the multitudes who haven't seen the Hornets much. But if you consider it a sacrilege for Paul to outrank Nash or Chauncey Billups, get a tape of Saturday's Hornets-Suns game and it might be easier to swallow. Paul got the better of Nash in that pairing. And for the season, he's averaging 21.0 points and 9.6 assists -- leaving the hallowed 20-10 mark well within his sights. Moreover, despite being his team's unquestioned go-to guy, he has an unusually low turnover ratio (just 9.7 percent of his possessions).
The only bummer is that these two point guards are so good that their coaches can't let them get exhausted or into foul trouble, and therefore won't let them guard each other. So Nash saw a lot of Jannero Pargo, and Marcus Banks mainly checked Chris Paul.
In the second quarter, the game looked like Suns fans hoped it would look: Phoenix scoring like crazy, with Nash driving a freight train of open shots and lovely passing.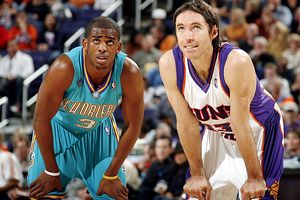 But this year's Suns aren't quite that solid crew we have seen in years past, and this year's Hornets are better than you might be used to.
They clawed their way into the game in the third quarter, and then down the stretch Chris Paul strapped on some kind of over-sized backpack and encouraged his teammates to climb in.
I just watched and re-watched video of every single time Chris Paul touched the ball. There are things he does that are not great. He hesitates at times when he has a good, wide-open shot. And he does not hesitate sometimes, when he has a bad, wide-open shot, like the one he took from two steps behind the three-point line.
And his three-point shooting is not great. Phoenix left him wide open, daring him to shoot from outside, and he missed six straight before finally hitting a huge one when the teams were tied at 107. (Notice how no one from Phoenix even tries to put a hand in his face? They want him to shoot that. They really want him to shoot that. This time it may have cost them the game, but the other times it made them look great.)
But all that is nitpicking. The man has some of the best hands in the NBA, which serve him wherever he is on the floor. He has the kind of speed that is extremely useful -- I wonder if anyone can get from the pick at the three-point line to layup range faster. He is strong and determined enough to hang in there guarding way bigger players like Grant Hill, Shawn Marion, and Leandro Barbosa (none of whom like having the NBA's steal leader in their grill). He creates opportunities for his teammates, and he has a vast array of floaters and layups that he uses to finish over and around bigger players.
The title "best point guard in the NBA" is an elusive and ultimately meaningless one. But in this game Paul laid a strong claim. When you factor in age, Paul is surely the most valuable point guard on the trade market -- not that GMs ever trade players like Chris Paul.
To quote Ron Hitley of Hornets247:
Chris Paul grabbed the game by the balls and took us home, never showing any signs of weakness despite playing all 48 minutes on the second night of a back-to-back. Feel lucky, folks. We are watching a true legend in the making.
Most of us probably didn't get to see this game live, and Chris Paul will only be on national TV one more time this season (on Friday) but here's the good thing: if the Hornets keep playing like this, there's a decent chance we'll get to see the Hornets vs. the Suns at some point in the playoffs, which would be well worth the price of admission.
(Photo: Nathaniel S. Butler/NBAE via Getty Images)