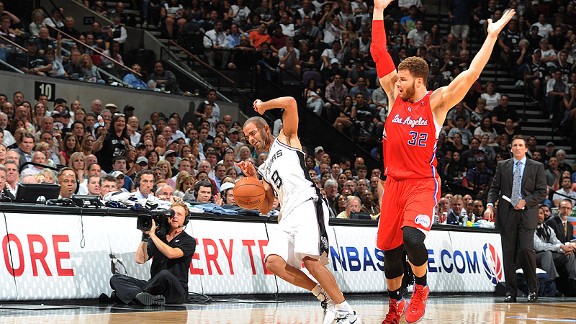 Garrett W. Ellwood/NBAE/Getty Images
The cameras caught Tony Parker in mid-flop.
HoopIdea wants to #StopTheFlop. To spotlight the biggest fakers, we present Flop of the Night. You can help us separate the pretenders from the defenders -- details below:
Today we bring you not one, not two, but three egregious flops from two of the game's finest players.
LeBron James is the most dominant athlete in the NBA, capable of leveling an entire team with an inspired run of unstoppable drives to the rim. So his willingness to exaggerate contact tends to drive fans nuts. Last night James found himself trapped against the sideline with David West and Danny Granger closing in on him. Out of any other options, and unprompted by contact, he essentially fell out of bounds (video) to preserve possession.
It happened right in front of ESPN's Mike Tirico, who called LeBron's performance "an extraordinary swan dive."
Not to be outdone, Tony Parker proved to Chris Paul and Blake Griffin that when it comes to flopping they still have much to learn. Parker's first flop came when a nudge from Chris Paul sent him careening to the floor (video).
The call was a big one -- it put Paul on the bench with three first half fouls.
But his best flopping work (Video) of the night came just 20 seconds later, and at the expense of Blake Griffin.
After chasing down a loose ball in the back court, Parker had only a handful of seconds to recover possession and get off a shot before the shotclock expired. Wary of this fact, Griffin chased him along the sideline to force Parker to use up the clock.
Instead, Parker used Blake's effort to draw a foul and rescue the possession.
With the benefit of replay, ABC play-by-play man Dan Shulman explained that instead of being fouled, "Tony Parker initiated that contact. He grabbed the arm of Blake Griffin, and made it look like he was being grabbed."
But the official who made the call was trailing the play, and only saw Parker's "reaction," not the shenanigans that prompted his wild flailing.
When you see an egregious flop that deserves proper recognition, send us a link to the video so we can consider it for Flop of the Night. Here's how to make your submission: