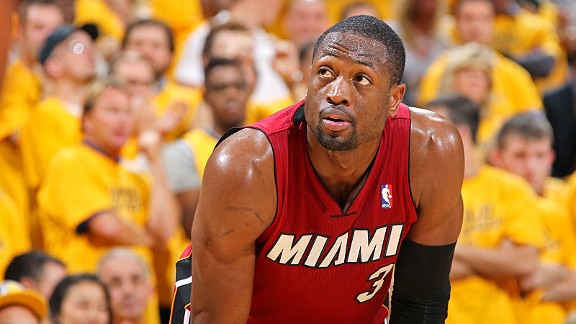 Nathaniel S. Butler/NBAE/Getty Images
Dwyane Wade was uncharacteristically hesitant in Game 3.
There's been lots of speculation as to why Dwyane Wade was so painfully ineffective in Game 3 -- including reports that he may actually be in pain.
On the NBA Today podcast, Bucks forward Luc Richard Mbah a Moute attributed some of the Heat star's struggles to the absence of Chris Bosh.
Later in that same podcast, David Thorpe notes that Wade simply looks like he's lost a step, and Paul George is doing a great job of using his incredible length and quickness to cut him off in isolation sets.
But Wade is also one of the best in the league at using pick-and-rolls to feast on defenses, and it's on those opportunities that his lack off aggressiveness is truly puzzling.
Perhaps we should doff our caps to Pacers coach Frank Vogel for designing a sharp strategy to neutralize the dynamic wing on this action.
Or maybe not.
Over on Pacers-themed blog Eight Points, Nine Seconds, Jared Wade goes to the tape, and finds no such wizardry.
An overwhelming majority of the times that LeBron, Wade and Chalmers have dribbled off a high screen, they have found themselves open. The guy defending them is busy fighting through the screen and the big man, as previously mentioned, is hanging back five feet in "free-safety/rim protection" mode. So they are open. It's just that they are open in a way that they are unaccustomed to being open.

That has generally not deterred LeBron from being effective. He has still found many ways to score and create for teammates. Most impressively, he has resorted to a little running floater in the lane that I have hardly ever seen him take. It really is amazing. To deal with an unfamiliar way of being defended, he has basically created an entirely new weapon.

LeBron has also consistently found other ways to ensure that the Heat's pick-and-roll attack — one of the most vital aspects of Miami's offense — continues to be productive regardless of how it is defended.

In striking, baffling, puzzling contrast, Dwyane Wade has shown no such ability to adapt.

The video above is a horror flick for Heat fans.

Throughout the series, he has been confounded while coming off the screen with the ball. He has turned it over repeatedly, missed pull-up jumpers, missed floaters, missed layups, thrown poor passes and generally just been useless leading the pick-and-roll in all three games.

There really is no good way to explain exactly why such a talented player is having so much trouble making the right decision when he finds himself virtually unguarded dribbling off a screen. In this respect, two Wades are baffled.

In the clip above, just look at how many little hiccups there are in his attack and how indecisive his actions generally look. LeBron's hesitations, on the other hand, are measured, change-of-pace moves that help create more space to attack.

Dwyane's hesitations just look like a guy who is clueless on what to do next.
It doesn't sound good, but we've seen this number before from Wade.
He struggled to do much of anything against the Celtics -- a team renown for its consistently excellent pick-and-roll defense -- throughout the regular season last year, then torched them on 52.5 percent shooting in five games during the playoffs.
For all the speculation about LeBron James' mental makeup, Wade's inconsistent effort (not to mention that blown layup at the end of Game 2) has largely gone uncriticized. The hometown hero with a ring to boot, Wade has escaped the sort of inspection many feel LeBron demands.
Maybe Wade just needs a day off to uncork another vintage performance.
But if the Heat can't recover from his current funk? Then, for the first time since he and James joined forces in Miami, it may be Wade who has to do the explaining.