During the NBA Summer League in Las Vegas, I spent some time getting to know Pierre Pierce -- the former Iowa guard who was playing well on Golden State's summer squad. It's a very complicated story, and if you have time, I urge you to read the whole thing, and the very interesting comments.
The bottom line is that Pierce, who is now 24, has been out of the basketball mix for some time because he was convicted, and served time, for assaulting his girlfriend at her apartment. Here's an Associated Press account from 2005. (Pierce was also charged with third degree sexual abuse in 2002, but plead guilty to a lesser charge and eventually had the incident expunged from his record.)
The whole issue raises a thousand questions that are hard to answer. Should NBA teams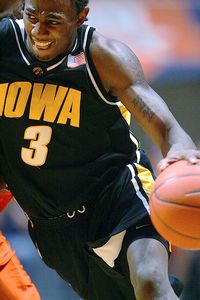 employ people like that? What could someone like Pierce do to redeem himself? If he's not going to play basketball, what should Pierce do with himself? Is the world a better place if he does that thing, instead of what he's best at? The original post explores a lot of those issues.
One question that a lot of people have, however, that's not so hard to answer, is: What happened to Pierre Pierce? Where is he now?
I caught up with him over the phone recently, and the story is that his basketball career is apparently in good shape: he was invited to Warriors' training camp. He has flirted with the D-League, and is hopeful he can work something out with the CBA team in Atlanta. Overseas teams are interested.
But, owing to the fact that his probation prohibits him from traveling outside Illinois, and he can't get a waiver, until further notice he's living at his parent's house in suburban Chicago, working out and running errands for a friend who has a construction business.
He says his probation lasts until 2010, but it's not uncommon for people to be granted permission to travel for work. It just hasn't happened for Pierce. Not yet. He has another hearing at the end of January, and is hopeful that might be a chance to continue his basketball career.
He described his life for me like this:
On a regular day I wake up and go to the gym from ten until one. That's when I do my running, conditioning, and lifting. Then I come back home, and sometimes that's when I make deliveries and that kind of stuff for my friend who has a construction company. He knows I work out like crazy, so I'm kind of on call with him. I'd say it's like a one-day-a-week job. Then from four to seven in the evening I work on basketball stuff on the court with my friend, and we do various drills, full-court, half-court and the like. Then I shower and head home and rest.

Everything in my life is basketball-related. I keep my body right with Pilates once a week, yoga once a week. I'm in contact with my probation officer every two weeks.

I have been seeing a psychiatrist once a week since May, sometimes two times a week. The psychiatrist helps, definitely. We read all kinds of different books, talk about past mistakes, and relate it to my everyday life. It helps me.

Other than that I'm home in suburban Westmont. Both my younger brothers play basketball, so there's always something going on with them. But it's not bad to be home. Family's a big deal to me. This time last year [before his probation was switched from Iowa, where he was convicted, to Illinois] I was in Iowa, where I didn't have anybody. It's good for me to be home.
He is very earnest about his criminal past, and the role it plays in his future:
I made mistakes. I served time for that. And I learned from the mistakes I have made. Now I'm a better decision maker. I work on anger management, relationship coping skills ... all things I wasn't aware of before. It's a lifelong experience for me.

As for the probation, that's just the time restraint that was put on me. The window for my basketball career is getting a little bit smaller. But I have got to do whatever they want me to do. And players have made it in basketball when they are older than me.

I'm just trying to keep my mind right. I keep my body in shape. I obey the rules. I do things the right way. I just think that God gave me the talent to play this sport, and in some way, shape, or form I hope to do that.

In the meantime, I have good people around me -- my family, my agent, my lawyer -- who are supporting me.

I see the game as an opportunity to show that I can do good.
While he waits for his probation hearing, Pierce says his most pressing want is for some high-level basketball competition. In the summer, there are plenty of NBA-quality players and games in Chicago. But this time of year, he says, he's essentially playing against himself.
(Photo: Jonathan Daniel/Getty Images)