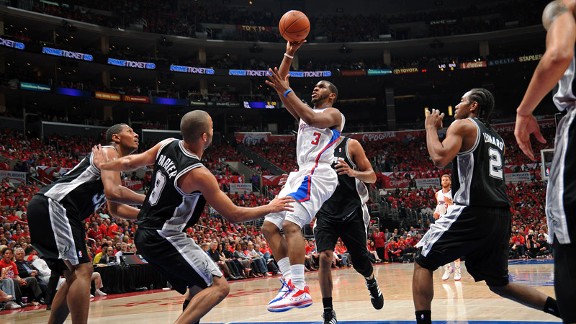 Noah Graham/NBAE via Getty Images
The Spurs clamped down on Chris Paul again, limiting him to 5-for-17 shooting in another Clippers loss.
LOS ANGELES -- The dais here in the bowels of Staples Center has lately served more as a stage for a budding stand-up routine than a postgame news conference.
In each of the Clippers' two home wins in their first-round series against the Memphis Grizzlies, Blake Griffin and Chris Paul dolled themselves up, sometimes in suits with more pieces than a Lego pack, and with Paul's adorable son on his dad's lap, they would begin rolling out yucks like they were auditioning for a buddy comedy.
But the vibe for Saturday's postgame greeting with the media was about as funny as a funeral. A banged-up Griffin, who didn't rise from his seat afterward so much as he slowly detached himself from it, even came dressed in a black jacket.
Paul, however, was nowhere to be found this time.
Just another time that CP3 has gone MIA in the Clippers' second-round series with the Spurs.
"I don't know what Chris will say, but I don't know if he's 100 percent Chris Paul," Spurs coach Gregg Popovich said after the Spurs took a commanding 3-0 series lead with a 96-86 victory.
Paul -- who skipped the bright lights and cameras for a good, old-fashioned media scrum in the Clippers' locker room after another very non-#podiumgame (12 points on 5-for-17 shooting and 11 assists) in Game 3 -- swatted any concerns that the strained right hip flexor suffered over a week ago in Memphis, on top of other dings and dents he might have collected along the way, limiting his game.
"I'm fine, I'm fine," Paul said. "I'm all good and well."
But in general, he doesn't disagree with Pop -- something's not quite right.
"I'm just missing, I'm just missing," he said. "It's the toughest thing right now, but I'm fine [physically]."
While Griffin has gotten better offensively by the game, scoring 26 points on 62 percent shooting this time around after a 20-point performance in Game 2, Paul is averaging a very mortal-looking 9.3 points and 8.3 assists in 37 minutes per game. But Paul, who averaged 19.8 points and 9.1 assists a game in the regular season, isn't one to always wow with his raw numbers. The proof that the league's pre-eminent game manager is struggling can be found in his middling efficiency.
While he shot only 46 percent from the field in Round 1, Paul's shooting percentage has dipped to 31 percent after a second game in the 20s. And while his showed more care of the ball after coughing it up eight times in Game 2, Paul already has totaled 16 turnovers.
Even in the fourth quarter, when he is supposed to be at his best, Paul hasn't had much go right, as he's shot just 2-for-8, with both makes coming in Game 3.
(Then again, there hasn't been much to play for that late in the game these days.)
"Trying to, trying to," Paul said when asked why he hasn't made a Paul-like impact on the series. "But a lot of those shots in the lane and stuff like that, they're just coming up short, and missing."
San Antonio was particularly effective limiting Paul's impact on the pick-and-roll, the bread and butter of the point guard's game. Paul was the ball handler on the pick-and-roll nine times in Game 3, according to data logged by Syngery Sports, and the Clippers came away with points on only three of those possessions.
The Spurs easily collapsed on Paul when he ran it early on with DeAndre Jordan, one of the team's biggest offensive black holes among a patchwork post rotation. And while he had more success with Griffin as his partner, it often came off Paul pull-up jumpers from midrange, a shot the Spurs are likely OK with conceding.
Paul also struggled in isolation, missing all four attempts, perhaps a telling sign that the burst and quick-cutting ability that his game thrives on aren't where they should be.
"Chris is battling," Clippers coach Vinny Del Negro said. "Chris is giving us everything he has. … We're not in this position without Chris, in terms of being in the playoffs and everything he means to the team and this organization. He gives you everything he has.
"I'll go to battle with him every day of the week."
He's still battling. Soon, though, there may not be much left to fight for.
"Devastating," Paul said. "We had an opportunity to put this thing [to] 2-1. We let it get away. I've gotta play better. At the end of the day, I've got to play better. If not, we're gonna be in trouble."