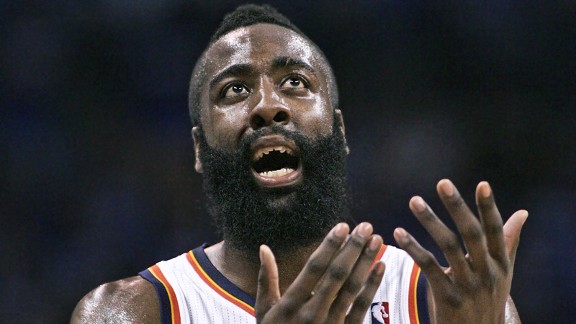 Brett Deering/NBAE/Getty Images
James Harden is nearly as good an actor as he is a player.
HoopIdea wants to #StopTheFlop. To spotlight the biggest fakers, we present Flop of the Night. You can help us separate the pretenders from the defenders -- details below:
On this edition of Flop of the Night we go back to Friday and Game 3 of Lakers-Thunder to give James Harden special recognition for this improbable flop of Lakers guard Steve Blake (video).
Here's what flopping expert Shane Battier said about noted Luis Scola: "The more hair you have, the better. My boy Luis Scola, he's got that long hair and when it gets sweaty and he starts flopping and flailing, it looks like he's getting murdered out there."
New theory: James Harden's enormous beard acts in much the same way.
Harden has a history of playoff flops -- this one against the Dallas Mavericks had Jeff Van Gundy and Mike Breen chuckling -- but the audacity of this acting job is truly admirable.
Midway through the fourth quarter, Blake finds himself trailing Harden around a ball screen. That's where Harden wants to keep Blake, so he blatantly hooks him with his off arm to prevent Blake from getting back in good defensive position.
Then, perhaps sensing that foul is about be called on him, Harden suddenly lurches forward and throws his arms -- and beard -- in the air, while Blake remains absolutely stationary. What's so amazing is that usually a flop comes in reaction to something the other player does, whether or not the contact is genuine. But here, Blake is just a prop in Harden's performance.
It's worth noting that the referee who made the call had a terrible angle on what actually happened. He just saw Harden's reaction and gave him the benefit of the doubt. This is exactly the kind of flop that an instant remote review system could set straight in a matter of moments.
When you see an egregious flop that deserves proper recognition, send us a link to the video so we can consider it for Flop of the Night. Here's how to make your submission: