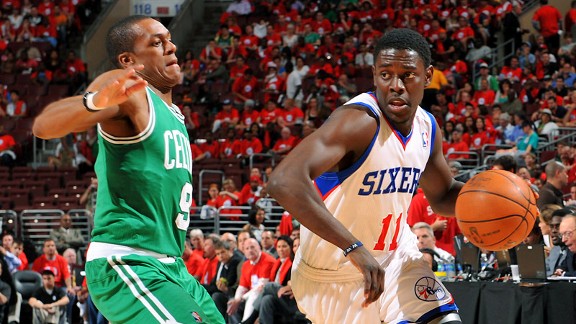 David Dow/NBAE/Getty Images
When he gets a chance, lightning quick Jrue Holiday can be a problem for Boston's defense.
The Boston Celtics had a better regular-season record than the Philadelphia 76ers and feature three future Hall of Famers, a championship pedigree and some guy named Rajon Rondo.
There is a reason they were the favorites to squash the 76ers.
But one thing the Celtics are not is young and athletic, especially with Avery Bradley, who leads Boston in both departments, nursing an injured shoulder.
Philadelphia, on the other hand, has some of the best athletes not just in this series but in the entire league. Jrue Holiday, Andre Iguodala and Thaddeus Young are in an elite stratosphere of athleticism where soaring, did he really just take off from there?, one-handed fast-break dunks are possible.
Yet Philadelphia's advantage in athleticism has hardly come to bear in its second-round series with Boston and it now trails 3-2. Part of the problem, of course, is that Boston -- when Rondo isn't inventing a new hoops language in the fast break -- has a way of forcing teams to play its grinding style.
But the other half of the equation has been Doug Collins and Philadelphia's willingness to play Boston's game, rather than abandoning certain regular-season principles to exploit the Sixers' one advantage and tilt the game in their favor.
Run, don't walk
When Holiday and Iguodala get rolling in the open court, they become a watered-down version of Dwyane Wade and LeBron James -- two phenomenal athletes who can start the break with a rebound or steal and are just as likely to finish the break with a thunderous dunk as they are to make the assist.
The 76ers have converted reliably off of turnovers and run-outs, but they still miss out on all kinds of early-offense opportunities by routinely walking the ball up the court.
Because Boston doesn't even try to get offensive rebounds, the Celtics typically have plenty of bodies back. But early motion from sprinting 76ers can foul up the Celtics' defensive organization, yielding early mismatches and four-on-four-type situations that the 76ers can attack.
Instead of immediately looking to set up the offense, the first five seconds of the shot clock should be "Jrue time," in which he pushes the ball to probe and pressure the Celtics before conceding to a five-on-five, half-court possession.
The 76ers turned the ball over less than any other team during the regular season, which is a result of the design of Collins' half-court offense. But 14 of their 15 Game 5 turnovers were in the half court, where Boston's smart defense can cut down angles and passing lanes. Perhaps counterintuitively, the 76ers can play a cleaner game by rushing a bit.
Spacing
The 76ers' continuity offense relies on a lot of dribble handoffs and side pick-and-rolls. These are great for getting big men open 17-footers, but they don't produce a ton of drives to the basket because the Celtics -- after five games -- know the pattern and because the weak side is rarely properly spaced.
For instance: one one-dribble handoff in Game 4 gave Holiday a sliver of daylight to blow past his defender -- except the other three 76ers were all standing within 15 feet of the paint!
More high pick-and-rolls in the middle of the court for Holiday may be a simple solution.
The Celtics defend side pick-and-rolls as well as anyone this side of the Bulls. So keeping the ball in the middle, with shooters like Iguodala, Lou Williams and Jodie Meeks in the corners, can give Young -- who is easily the best pick-and-roll dive man at Collins' disposal -- the space he needs to slash to the rim. With three shooters on the court in Game 4, Young's fourth-quarter dives yielded dump offs to Lavoy Allen for layups as Boston's wings arrived late from their rotations off of shooters.
There's also the issue that a continuity offense like Philadelphia's -- as opposed to San Antonio's "motion weak" set -- can rely on non-playmakers to break down the defense. A more spread drive-and-kick attack will let Philadelphia's big men besides Spencer Hawes do what they do best: finish.
Less Evan Turner
With spacing in mind, it's time for Collins to take a real hard look at severely limiting Turner's minutes. Aside from his heroic driving layup at the end of Game 2, he's been terrible in this series. His playoff PER has dipped to 9.7, but he's still playing 35 minutes a game in Round 2.
This is great news for the Celtics, who have gleefully abandoned Turner on defense any time he is more than 10 feet from the rim. He's making 24 percent of his midrange shots while making only 40 percent of his rim attempts, because -- though he's reasonably athletic -- he's had a real hard time finishing with Kevin Garnett and Greg Stiemsma waiting for him at the rim.
Turner often looks like a good player -- he's got all the moves. He will spin and cross over and generally look like a genuine scorer, except the ball hardly ever goes in and he doesn't work his way to the line all that often. The Celtics' defense was designed to handle iso-heavy scorers like Kobe Bryant, so suffice to say it works pretty well when Turner decides it's "iso time."
But his individual ineptitude is just the start of the problem. Because he can't shoot, his presence makes it harder for Philadelphia to get the floor spacing it needs. One dimensional though they may be, at least Meeks and Williams demand attention outside the paint, which makes Holiday and Iguodala much more difficult to defend in pick-and-rolls.
Whenever Philadelphia has three viable 3-point shooters on the court, its athletic guards have more space to attack and its clever big men have room to make those nifty interior passes.
Can Doug Collins adjust?
The 76ers play a very, very controlled style and this is a deliberate result of coaching. Collins says he wants his guys to make plays (he famously told Jrue Holiday to make it happen in the Chicago series) but his continuity offense doesn't always put them in position to be their best.
Focusing on getting everyone up court immediately and then freelancing for early pick-and-rolls and dribble attacks -- basically what the Denver Nuggets did against Los Angeles -- might be a solution.
The problem is that Philadelphia has a lopsided roster, with fast, dynamic wings and some slow, plodding big men. Specifically, Hawes and Elton Brand, their best big men during the regular season, aren't equipped to play a style that relies on speed and athleticism. The continuity offense fits them well, but in this series it's been the more athletic combination of Allen and Young that's really given Boston trouble.
At this point in the season, it's a tall order to ask Collins and the 76ers to overhaul the focus of the offense in time to pull off an upset.
But they are the underdog, and making such adjustments is what underdogs often have to do to exploit whatever advantage they can claim, rather than simply relying on what got them to this point. It's a risk, but the bigger risk is doing nothing.