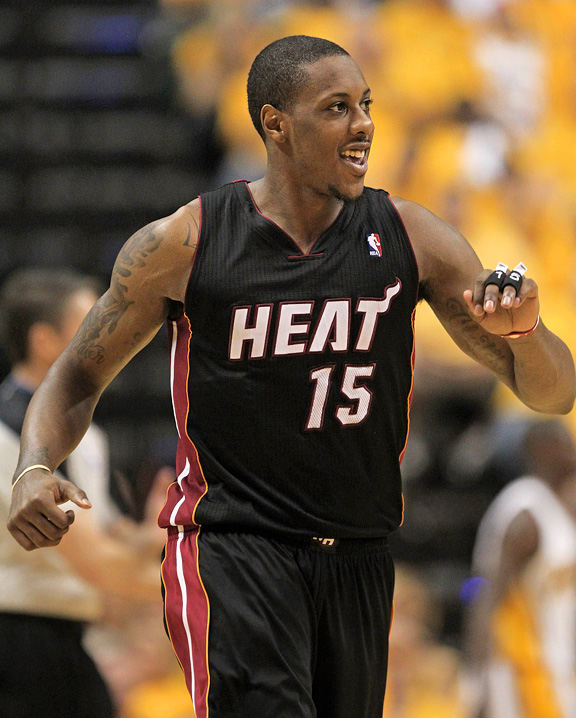 Jonathan Daniel/NBE/Getty Images
Mario Chalmers is reprising the role of Derek Fisher for the Heat.
HoopIdea wants to #StopTheFlop. To spotlight the biggest fakers, we present Flop of the Night. You can help us separate the pretenders from the defenders -- details below:
Mario Chalmers, who made three of four 3-pointers in Game 6, is becoming the Miami Heat's version of Lakers championship era Derek Fisher. Disruptive defense, spot up shooting ... and, of course, flopping. Chalmers has even mastered Fisher's ability to draw fouls by driving headlong into traffic and tossing the ball toward the basket.
Last night, he drew an offensive foul (video) on a moving screen from Roy Hibbert with Fisher's typical flair for the dramatic.
Working the play-by-play, ESPN's Mike Breen points out that the referee on the scene got the call right, but Jeff Van Gundy was still annoyed by Chalmers' act and suggested a flopping rule similar to the NHL's restriction on "Embellishment":
Breen: Well, Hibbert was clearly moving. You can say that he flopped, but that's a foul.

Jeff Van Gundy: You see that's where my flop rule will come into play. If you flop, even if you were fouled -- which he was -- you're not gettin' it!
Maybe Chalmers would "get it" in Jeff Van Gundy's world, but his theatrical reaction and the discussion it sparked was enough for him to get our Flop of the Night.
When you see an egregious flop that deserves proper recognition, send us a link to the video so we can consider it for Flop of the Night. Here's how to make your submission: