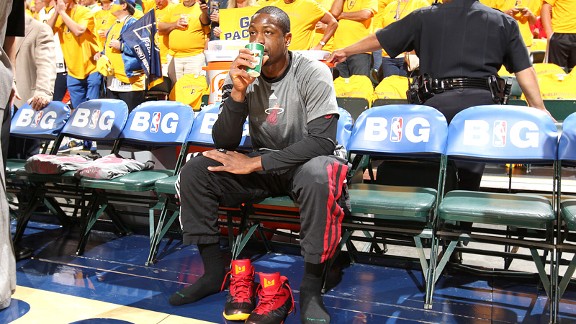 Nathaniel S. Butler/NBAE/Getty Images
Pacers fans serenaded Dwyane Wade with chants of "he's a flopper!"
Early in the second quarter of Game 6 between the Pacers and Heat, Miami's Dwyane Wade drove left, took a little contact, missed a layup and fell to the ground.
Foul.
When Wade stepped to free throw line, the yellow-wearing Pacers faithful in Bankers Life Fieldhouse invented a new cheer. It took them a few tries to get it right, but eventually it was clear, even on YouTube the next day.
"He's a flopper!" Clap clap, clap-clap-clap. "He's a flopper!" Clap clap, clap-clap-clap.
Flopping has been a major topic of this playoff series since before these two teams even took the court, when Indiana Coach Frank Vogel publicly warned the referees that the Heat players have a tendency to embellish or even invent contact.
ESPN's Jeff Van Gundy reacted quickly to the chant on the national TV broadcast:
"This," he declared, "is the first time I've ever heard an NBA arena chant 'He's a flopper.' ... We are making progress, America! Let's eradicate the flop."
"You really have started a movement," replied Mike Breen.
Van Gundy elaborates on his anti-flop platform in an interview with 98.7 ESPN New York (as transcribed by SportsRadioInterviews.com):
I would like to see a two-pronged attack to the excessive flopping that is overtaking the NBA. One as you said if an official can see the flow of the real game that a flop occurred than the foul that brought about the flop is negated and the flopper is assessed a technical foul.

I think the league office, they have a lot of people working for them, go back through every game and any exaggerated contact that is a flop during a game you start accumulating technical fouls. You accumulate points that will eventually lead to suspensions.

You're not looking for the ones that are minor. You are looking for the ones where a guy is definitively trying to trick an official because to me tricking an official is not an NBA play and I think it's gone where teams have one guy who would flop to now where our stars are doing the flopping and that's not good for basketball.
Van Gundy has been railing against flops for years, and the reaction in Indiana showed that this season fans across the league are catching on in a big way.
The NBA has created a new competition committee to consider rule changes. The first meeting is in June, and there are hints -- from David Stern's public comments, to arena-wide chants in Indianapolis -- that stopping the flop will be on the agenda.