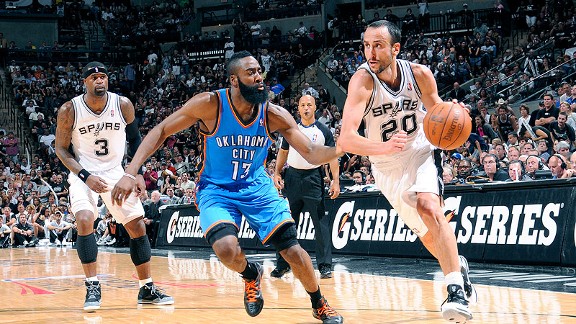 D. Clarke Evans/NBAE/Getty Images
Manu Ginobili was a step ahead of James Harden in Game 1.
HoopIdea wants to #StopTheFlop. To spotlight the biggest fakers, we present Flop of the Night. You can help us separate the pretenders from the defenders -- details below:
Manu Ginobili and James Harden, two left-handed, smooth-shooting, Euro-stepping guards, are often compared to one another.
They're also both renowned for their flopping skills.
On Sunday, Ginobili got the better of Harden in almost every facet of the game, including on this tremendous double flop (Video) in the fourth quarter.
It's a credit to both players' willingness to go the distance to sell a call that they both managed to end up on the ground. All it took was Ginobili raising the ball in his shooting motion to send both players flying backwards in cartoonish, synchronized dives.
This wasn't the only call that didn't go Harden's way. A master at drawing fouls, he was unable to get to the line of even one free throw in Game 1. Perhaps officials were on the lookout for Harden's typically convincing embellishments.
In this case, the only contact seems to be between the ball and Harden's chest. But Ginobili gets the benefit of the whistle and therefore the honor of "winning" the Flop of the Night.
When you see an egregious flop that deserves proper recognition, send us a link to the video so we can consider it for Flop of the Night. Here's how to make your submission: