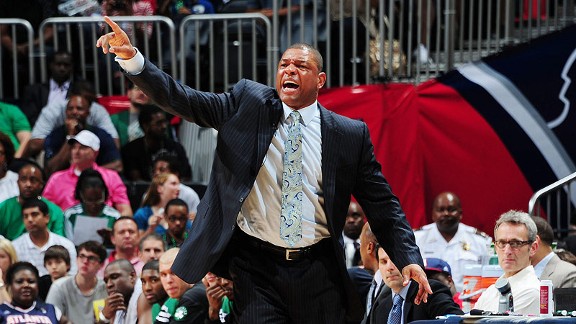 Scott Cunningham/NBAE/Getty Images
Doc Rivers: The leader of men.
Name: Glenn "Doc" Rivers
Birthdate: Oct. 13, 1961
Is he an emotional leader or a tactician?
Several years ago, the answer would have been, unequivocally, "emotional leader." But Rivers has now been a coach in the NBA longer than he was a player and has developed into one of the more celebrated X's and O's coaches in the league.
In 2000, his first year as a head coach, Rivers won Coach of the Year by inspiring an Orlando team that featured Darrell Armstrong as its leading scorer to scrap its way to an improbable 41-41 record. Rivers keeps that gritty group in a special place in his heart, but his coaching repertoire has expanded dramatically in the past 13 seasons. Now Rivers has a clever set for every situation, and his players are always well-prepared not just to give their all, but to execute.
Is he intense or a go-along-get-along type?
Rivers is intense, and though he forms strong personal relationships with his favorite players, he rarely defers to anyone else's judgment. The dynamic between Rivers and Rajon Rondo complicates this description -- Rivers has increasingly and, perhaps reluctantly, given his point guard the reins of the offense. Still, one gets the impression that if Rivers could call timeout and draw up every play in the huddle, he would.
Though more NBA players would like to play for Rivers than any other coach (according to a Sports Illustrated poll), Doc is far from a typical players' coach. He treats his players like grown-ups and, in return, expects them to be professional and disciplined. Players who won't get in line don't last long in Boston.
Does he rely on systems, or does he coach ad hoc to his personnel?
It's a mix. Defensively, the Celtics religiously adhere to the Tom Thibodeau strong-side pressure defense system. It's exceedingly rare for Rivers, as he did in Round 2 against the 76ers, to alter the game plan on that side of the ball.
Because the Celtics have essentially run the same five plays for the last five years, it's tempting to say that Rivers also prefers a system on offense. But that wouldn't be quite correct; the Celtics' offense could more accurately be described as a series of quick-hitters out of which there are various reads, rather than a continuous system. Indeed, Rivers' real talent is for designing plays that cater to the unique talents of specific players -- witness Rondo on the low block.
Does he share decision making with star players, or is he The Decider?
Kevin Garnett called the Celtics team "Cuba" for a reason: Rivers' regime is a dictatorship, not a democracy. He's willing to discuss things with his stars and veterans, but he does not share decision-making power with anyone. The one possible exception is Rondo's veto power on plays Rivers calls from the bench.
Does he prefer the explosive scorer or the lockdown defender?
It's defense first with Rivers, though it's worth remembering that Eddie House soaked up meaningful minutes at the expense of Tony Allen's floor time. Overall, execution is what matters most. For Celtics role players, that typically means a bit role on offense and a significant opportunity to make an impact defensively. James Posey is a classic example.
Does he prefer a set rotation, or is he more likely to use his personnel situationally?
Rivers is notorious for his rigid rotations -- he trusts whom he trusts. This sometimes leads him to ride his best players for too many minutes, resulting in fourth-quarter exhaustion. However, he's also open to insight from lineup plus-minus data and will promote players like Avery Bradley and Ryan Hollins who prove themselves in limited opportunities.
Will he trust young players in big spots, or is he more inclined to use his grizzled veterans?
Rivers tends to give young players a look early in the season. If they perform, like Greg Stiemsma did early in 2012, they keep getting minutes. But he's not coaching to babysit, and he's quick to bury a young player on the bench if he can't execute Rivers' defensive scheme or remember the plays on offense.
Trust is the key for Rivers, and generally speaking, it's veterans who exhibit the attention to detail Rivers demands from his players.
Are there any unique strategies that he particularly likes?
Though Thibodeau was the original mastermind behind the Celtics' stellar defense, Rivers is now more than capable of upholding the system and teaching it to incoming players. Here's roughly how it works: The Celtics send everything away from the middle of the court -- especially when facing wing isolations and side pick-and-rolls -- then arrange help defenders to overplay any drives to the baseline or passes back to the middle. The result is that opponents have trouble moving the ball from one side of the court to the other, rendering the offense predictable and thus ineffective.
On offense, Rivers is a master of misdirection and has become one of the premier tacticians on sideline out-of-bounds plays. Even when the odds are stacked against him, he'll find a way to use screen-the-screener actions to get Ray Allen wide open for a big 3-pointer. He likes to use the same play multiple times in a season, each time adding a new wrinkle that takes advantage of his opponent's scouting report.
What were his characteristics as a player?
Rivers was a pure point guard in both physical build and mental makeup. His hoops career began in the Chicago high school ranks, where he was a McDonald's All-American before a three-year career at Marquette. An explosive ball handler with great size, Rivers' athletic profile compares well to Jrue Holiday of the Philadelphia 76ers. At his peak in the NBA, Rivers averaged a double-double in points and assists while running a Hawks offense that featured Dominique Wilkins, Kevin Willis and Randy Wittman.
Rivers wasn't much of a jump shooter but expertly directed the offense with the ball in his hands and could instantly ignite a fast break. Like many modern point guards, Rivers was as comfortable skying in to finish the break himself as he was dishing off to his athletic teammates.
On defense, Rivers provided stellar on-ball pressure and averaged at least 2.1 steals per game in five seasons.
Which coaches did he play for?
Kevin Loughery, Mike Fratello, Larry Brown, Mike Schuler, Pat Riley, Bob Hill.
What is his coaching pedigree?
Rivers' first coaching job was as a head coach, but look at the list of greats he played for: Fratello, Brown, Riley and Gregg Popovich (as an assistant in San Antonio). These are old-school, demanding leaders, and you can see their imprint in Rivers' no-nonsense, defense-first approach.
If basketball didn't exist, what might he be doing?
Rivers would capitalize on his charisma and motivational abilities as a top-notch consultant, teaching corporate executives his patented management techniques.
---
The spirit of the Bill James Baseball Abstracts, 1984 and 1985, was summoned for this project
.