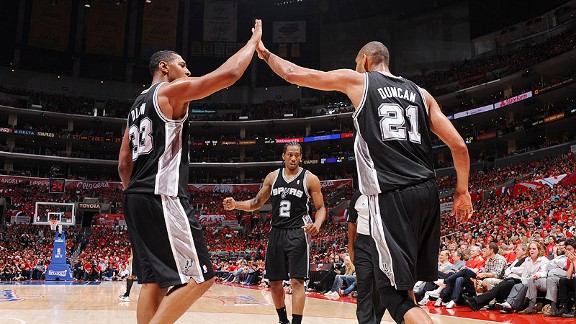 Andrew D. Bernstein/NBAE/Getty Images
The Spurs are winning with several players, including recent Bobcats castoff Boris Diaw, who couldn't stick on far worse teams.
Jerry Krause, then general manager of the Bulls, was once ridiculed for saying "players don't win championships, organizations do." It wasn't the idea that organizational excellence is vital to winning teams that got everyone riled up. It was that at the time, Michael Jordan, now owner of the Charlotte Bobcats, was one of those players.
These days you'll hear similar responses to praise for Spurs GM R.C. Buford: "Well I'd look pretty smart if I drafted Tim Duncan, too."
But now that Duncan's no longer an MVP candidate, is Duncan really the reason the Spurs are good? Can his presence really explain how Danny Green and Boris Diaw, players deemed unworthy to play for two of the worst teams in the league, are starting on the best team in the NBA?
The 2010 Cavaliers team that Green couldn't make went 19-63. This year's Bobcats, the worst team in NBA history, finally trimmed Diaw's overweight contract and body from their roster after starting 7-37.
This isn't some brand-new phenomena, either. Tyson Chandler was the second-best player on the Mavericks championship team just months after not even starting in Charlotte.
What we're learning is that there's more to building a great team than just accumulating all the best players. It's about acquiring and developing players in a system that maximizes their abilities.
Green is a 6-6 shooting guard out of North Carolina who, in his third season, shot nearly 44 percent on 3-pointers (ninth in the NBA), can defend three positions and owns a handle solid enough to play some point guard. Sounds like a can't miss talent, right?
Except while everyone else whiffed, Gregg Popovich and company hit a home run when they picked him up off the NBA scrap heap.
The frenzy to acquire top talent in the NBA market is sometimes compared to an arms race: gather the best weapons or be destroyed by those who do. But the Spurs have sustained their excellence not by picking up shiny new toys, but by dusting off misused or underdeveloped players and applying them in a system that brings out their best.
This effect is not exclusive to the Spurs. In his book, "Basketball on Paper," ESPN Director of Production Analytics Dean Oliver notes that really good teams tend to stay really good even longer than the life of one superstar's career. "Parity has pulled on the bad teams, but the good teams have resisted," Oliver writes. "Even ten years down the road, good teams seem to be able to maintain some comfort level between themselves and .500."
Translation: really good teams tend to break the cycle of rise and fall in the NBA.
When a small market team like San Antonio pulls it off even as its meal ticket talent declines with age, it's clear that being good in the NBA is about much more than player acquisition. Players are human after all, and hardly a static commodity.
There is mounting evidence that developing a smart system is another essential ingredient. For instance, an offense that relies on 3-point shooting and motion, and seeking out players that can fit into the system rather than players that fit conventional notions of "value." Such a system can endure even when the principle cogs must be changed out from time to time.
Five years ago, no one would have predicted that Tony Parker would lead a team to the best record in the NBA. But Parker, and the Spurs system, both developed in order to do just that.
That takes synergy between the coach who designs the system, the GM who helps finds the players and the owner who writes the checks -- not to mention all the people running research and crunching numbers behind the scenes.
There is talent in San Antonio's system, sure. But it's also true that in San Antonio, the system brings out the talent of its component parts.
Maybe Jerry Krause was on to something, after all.