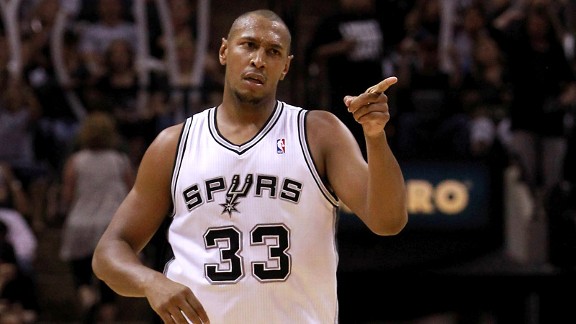 Ronald Martinez/NBAE/Getty Images
Boris Diaw is not too big to flop.
HoopIdea wants to #StopTheFlop. To spotlight the biggest fakers, we present Flop of the Night. You can help us separate the pretenders from the defenders -- details below:
Much has been made about Boris Diaw's questionable fitness. He may be listed at 245 pounds, but the old eye test tells a far heftier story, despite his excellent agility.
Whatever the actual number, we can agree that Diaw is quite large enough to handle a bump from 190-pound Russell Westbrook. We know this because Diaw spent Game 2 setting dozens of very effective screens on Westbrook, handling the contact steadily almost every time.
But on this play (video), Diaw is bowled over the contact he himself creates by shuffling into position to pick off Westbrook. This routine screen somehow ends with Diaw on his back, legs splayed up in the air like the victim of a Looney Tunes haymaker.
It's odd to describe a flop as half-hearted, but that's what this one is -- Diaw takes his time getting to the floor, as though performing an annoyingly rote exercise. Still, it's enough to earn a whistle from the far sideline official, and our Flop of the Night.
BONUS FLOP: This play is also special because, while Diaw is availing himself of an opportunity to lay down on the court, Manu Ginobili and Kendrick Perkins are locked in a ridiculous flop-off on the baseline (vide0) stage right. Both put some effort into selling the contact, but it's all for naught as Diaw steals the thunder.
Thanks to @chitownalumni for catching this flop and alerting us via Twitter!
When you see an egregious flop that deserves proper recognition, send us a link to the video so we can consider it for Flop of the Night. Here's how to make your submission: