Johnny Ludden of Yahoo writes:
O'Neal, 35, still is a physical presence but seems a poor fit for Phoenix coach Mike D'Antoni's up-tempo offense. He has already missed 14 games this season and is sidelined with bursitis in his left hip. Suns coaches, however, watched film of O'Neal on Tuesday, the source said, and came away thinking O'Neal's strong passing skills from the high post would work well in their half-court schemes. The Suns also have shown increasingly more confidence in playing forward Boris Diaw next to Stoudemire and think that combination will suffice when O'Neal isn't on the floor.

Phoenix doesn't expect O'Neal to keep pace with its transition offense and plans to utilize him as an inbound and outlet passer. His greatest contributions, the Suns hope, will come on the boards and defense, two areas of Stoudemire's game that are lacking.
Like a lot of people, I'm hearing about this trade and thinking -- what are the chances that works out as described?
Because, frankly, this whole thing comes down to one question: can Shaquille O'Neal still play, or is he too heavy, too injured, and too far past his prime?
I just spent a few hours trying to answer that question. Here's what I have for you.
His PER for this season is more than 18. That makes him the 11th best center in the league right now. An average NBA player has a PER of 15. So by a thumbnail sketch of his box-score stats, he's not the best, but he's far from the worst. (According to PER, O'Neal is currently ahead of, for instance, Marcus Camby.)
He's a starter-quality NBA center. He's not done. But he's also not "Shaquille O'Neal" anymore.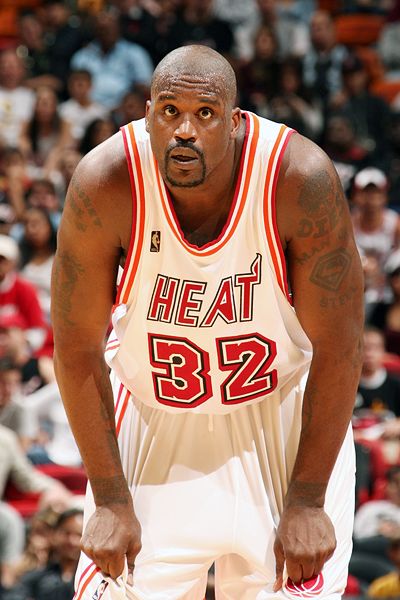 One of his best NBA seasons was 1999-2000. Compared to that season, this year Shaquille O'Neal is contributing at a much slower rate (by poking around "per minute" numbers, we can get avoid statistics looking skewed because of his shorter playing time):
About two thirds the numbers of points per minute that he got in 1999-2000.

About four fifths of the rebounds per minute.

About three quarters of the blocks per minute he used to get.

About half of the assists per minute that he used to get.
The drop-off in assists is interesting.
That's the exact thing the Suns, as reported above, allegedly think he'll be able to do well -- and he has always been a willing and skilled passer. A lot of the difference between numbers with the 2000 Lakers and the 2008 Heat could be attributable to teammates -- Kobe Bryant, Glen Rice, Ron Harper, and Derek Fisher hit at a better rate than Ricky Davis and a double-teamed and injured Dwyane Wade.
But half? At a time when scoring is tougher for him than ever? That's discouraging. Maybe motivation fixes that. If O'Neal's dedicated to his teammates, desperate to win, and surrounded by shooters, perhaps O'Neal's assist rate could boldly go where no old center's assist rate has gone before ...
Better than looking at numbers is watching video. I just did a ton of this, thanks to Synergy Sports. I watched him against the kinds of Western powers that the Lakers are likely to face. And I watched him against other teams.
Here are some things I can tell you with assurance:
He's not as slow or fat as rumored. He looks pretty fit, frankly. And on the ground, he moves well. Sometimes he even beats the opposing center down the floor. When pressed, he can still win deep post position against just about anyone. Once he catches it there, his footwork has long been splendid. Without looking rushed, he can probe the defender's attack and mike the right maneuver -- spin, jump hook, power dribble, whatever -- time and again. He is doing an excellent job of getting himself good, clean, short-range looks, and then ...

... he's blowing layups. Layup after layup after layup after layup. It's horrible to watch. He's a first-rate talent. He's getting the shot every coach dreams about: point blank, with no real defensive distractions. And then he just misses it. Five years ago, he dunked all of those. Now, thanks to his physical limitations, he's not going over anybody with anything. So he has to finesse it, and watching him finesse a layup is a lot like watching him finesse a free throw. Hard to watch.

I had watched about 20 clips of him before it really struck me how true it is that the man can not jump anymore. Rebounding, scoring, blocking shots ... everything he does now is within a few inches of the ground. It doesn't make him any slower, weaker, or smaller, but it does significantly up the chances that the opposition stops him from doing what he wants to do. (For instance, James Jones blocked his shot earlier this year. That didn't happen five years ago.) So stark is this limitation that I won't be at all surprised if we learn later that some essential element of a good jump -- some muscle, some ligament, some something -- is incapacitated or missing entirely from O'Neal this season. And that really hurts his potential as a stopper, basket protector, and rebounder in Phoenix. If the Suns doctors and trainers can re-install whatever's missing, he'll be dunking again, which will change everything.

There has been the suggestion that he might help the Suns stop big men like Andrew Bynum and Tim Duncan. Maybe that's part of the plan. But I can tell you that he has not yet seen the new Bynum, and when Miami played San Antonio early this season, O'Neal was strictly on Fabricio Oberto and Francisco Elson duty. Three times, late in the game, he ended up on Duncan in a switch or as a helper, and here's what happened: Duncan put the ball on the floor and made a layup, Duncan kicked out to Manu Ginobili for a made three, and Duncan dribbled the ball out of bounds -- my money's on it going off O'Neal, but it was called Miami ball. So, without a dubious call, you have exactly zero success with O'Neal as a Duncan stopper.
So where does that leave this rumored trade? Risky, for sure. But less risky when you consider that the Suns would be adding one of the largest and strongest big men in the league -- and he's still pretty mobile. I don't know how much he can contribute to the Suns, and whether or not it would make up for the loss of Shawn Marion, but I am confident he will contribute.
(Photo by Victor Baldizon/NBAE via Getty Images)