If you were to build a basketball player from scratch -- some combination of quickness, strength, and size -- he might look a lot like Chicago's Tyrus Thomas. Thomas played guard in high school, and has a lot of those skills. But he is also 6-8, quick, and off-the-charts athletic.
Yet in his first season-and-a-half in the NBA, Thomas has been something of an enigma. There have been occasional grumblings about his attitude. His minutes have often been short, and when he has taken the floor he has at times looked alternately too timid or too bold -- rarely finding a groove where he can contribute meaningfully for long stretches of games.
But have you seen him lately?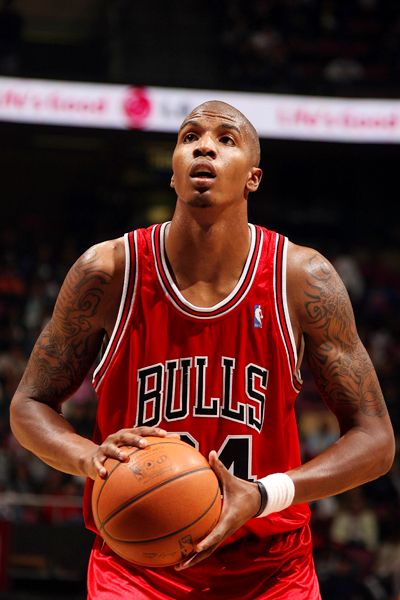 If the last couple of weeks are any indication, it was a crime to have left this player off the sophomore team in last night's rookie/sophomore game.
Thomas is only 21, and owing to a rash of Bulls injuries has been on the floor more in recent games. During that time he has made key contributions to some quality Chicago wins, including scoring 13 points in the fourth quarter of a win against Golden State, and more than a few nice blocks.
If a new coach and some additional playing time have helped Tyrus Thomas find ways to be more productive than ever on the court, it could be time to get excited about Tyrus Thomas again.
I went to see him today at a small charity event he hosted at a bowling alley in New Orleans. He's from nearby Baton Rouge -- where he was on the day of Katrina struck, and has been involved in helping displaced New Orleanians get settled.
Bowling alleys I have seen in the north tend to be somewhat spare, and kind of businesslike. Here in Louisana? There are Christmas lights all over the ceiling, jambalaya over the flame, and big band jazz on the PA. Today there were all kinds of goodies for attendees, including basketballs, trading cards, all-star programs, and PS2 games. There were even little Christmas trees with basketballs hanging on them all over the place. And if that still didn't put you in a good mood, there was a big ol' bar serving mixed drinks.
It was intricate. It was fancy. It was friendly. It was loud. It was New Orleans.
And there were kids everywhere.
Thomas was loving it. In a splendid suit and high-tops, he buzzed about, radiating joy. He seemed to know everyone, and smiled from ear to ear. He took the microphone alongside Darryl Dawkins, and gave away all kinds of prizes to kids -- while teasing them playfully and seeming absolutely at home.
It was almost hard to square that with the reclusive and timid young man described in the Chicago media.
But then again, we were not in Chicago, by a long shot.
Thomas sat down with me briefly to talk about his young career, Louisiana, and life.
Your company is called Storm is Over. That's about Katrina, I take it?
That's part of it. It's also just about life itself. I kind of feel like my family dealt with Katrina, and then for me to get drafted kind of took a lot of burdens off my family. My mom and my grandma don't have to work anymore. They look peaceful. They look happy. They look better rested. My family is more peaceful.
(Note: Thomas's mother, Jessica Johnson, was at the bowling alley, and tells me she used to work 40 hours a week as a corrections officer, 16 hours a week at Popeye's, and about 16 hours a week at Circle K.)
This is my first time in Louisiana, and I finally get how different it is from other parts of the United States. The people, the food, the music -- everything here is so rich.
I got off the plane yesterday, and it just felt so good to be home. I LOVE it. I don't think you can find a better place, honestly. These people are just so friendly. The crime rate is high, and the economy is not great, but the people are so good.
Seeing how people interact here, I bet Chicago can seem awfully cold.
I get a little frustrated sometimes. Here, if you speak to someone, and they don't speak back to you, it's almost like disrespect. Sometimes when I talk to strangers in other places they look at me like I'm doing something strange. That's hard to comprehend, the way I was raised.
One of the issues you have faced so far in your career has been uncertainty about minutes. Do you have a sense from the coaching staff of what you have to do get more reliable playing time? Is there something they want you to do that you're not doing?
[Shakes head, palms to the sky, which I take to mean he wishes he knew what the coaches wanted.]
You were the fourth overall pick, and I know that everyone drafted that high wants to arrive and instantly be the star. Instead you have had ups and downs. How do you feel about how things have gone so far?
I feel like it will help me a lot. I'm 21, and I'm getting some of my tough times out of the way early. I get frustrated at times, but you have to look at the big picture. Nobody judges you by the first two years in the league.
(Photo by Nathaniel S. Butler/NBAE via Getty Images)