Dwight Howard made a few jokes about his dunk contest preparation.
It was a little funny. But it was not light-hearted.
A year ago, after losing, he was clearly down -- the victim of a misunderstood, and under-appreciated sticker dunk.
So he didn't go crazy. He went corporate. To become Superman, first he spent a year as Clark Kent. He brainstormed. He workshopped. He field-tested. He focus-grouped with his teammates. As final preparation, he even abstained from candy and music for two weeks, to give himself a razor-sharp mental edge.
He recreated the razzle-dazzle of the ABA, with the goal orientation of an MBA.
Take the entire history of the dunk contest as evidence that coming up with creative new dunks is time-consuming and difficult. Never before has anyone come up with two truly inventive dunks in one competition. Howard? He came up with three.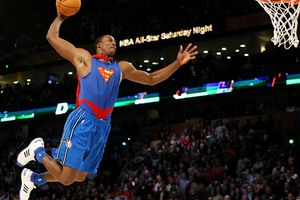 That involves no small amount of effort.
His first dunk involved passing the ball to himself off the back of the backboard, catching it in mid-air, and flushing it with his left hand while his head lingered somewhere out of bounds. That one, he says, he has been working on for two years.
For another dunk, he started with the ball balanced on a mini-hoop. A reporter had a great idea: since Howard had been denied the opportunity to raise the rim to twelve feet, had he considered starting that dunk with the mini-hoop at twelve feet, to prove his hops?
Howard had field-tested it, and didn't think the resulting dunk resulted in enough flair.
The "self-alley?" He had tried it out in front of enough friends that their texts, calls, and emails were enough to convince him to include it.
Just keep trying him. No one had out-prepared Dwight Howard, which is precisely why he won.
The dunks on this night were off-the-charts inventive. Regular dunks -- feats of athleticism -- were not contenders at all. For instance, when Kyle Lowry ran the baseline, lobbed the ball off the foam padding side of the basket support, only to have it caught and flushed spectatularly by a trailing Rudy Gay, the audience largely shrugged. Tonight we were spoiled by the likes of Gerald Green dunking as he blew out a candle stuck into the top of a cupcake resting atop the rim.
Howard, for his part, had four well-executed dunks with outside-the-box creativity.
Just a few days ago, ESPN's Scoop Jackson theorized that this weekend would feature the last dunk contest ever. And in the leadup to tonight's dunk contest, it seemed he might be right. As Howard himself noted, the mood was not all that electric as the dunkers emerged onto the court. Last night, at the D-League's dunk contest, Mike Taylor of the Idaho Stampede threw down a few that had everyone on the sidelines saying that he could win at the big show. There were even empty seats in this house at the outset of tonight's dunk contest, which certainly was not the case in contest's heyday, when the likes of Michael Jordan and Vince Carter were wowing the fans.
"I think," Howard said, with his work behind him and a trophy beside him, "the dunk contest is back."
(Photo: Timothy A. Clary, AFP via Getty Images)