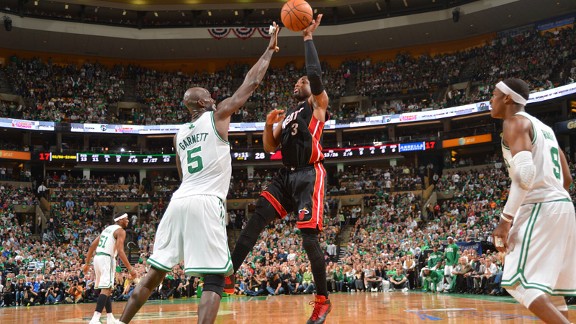 Jesse D. Garrabrant/NBAE/Getty Images
Kevin Garnett has been all over Dwyane Wade.
If Dwyane Wade has the ball, there's a decent chance Kevin Garnett has no idea where his man is. See, Garnett much doesn't care where Joel Anthony roams or where Udonis Haslem may be floating. When Wade has the ball, Garnett doesn't just watch Wade, he mirrors his every movement, taking big defensive risks to remain constantly between Wade and the rim.
The effect has been dramatic. With Garnett on the court, not only are the Celtics much, much better, but Wade is shooting under 40 percent from the field and firing a greater percentage of his attempts from farther away from the rim.
When Garnett sits, Wade has hit a staggering 75 percent of his shots.
The Heat seem to know about this, and have tried to get Garnett to turn his focus elsewhere. But Garnett's not taking that bait.
After one Game 3 timeout, the Heat ran Garnett's man, Shane Battier, along a baseline screen to the opposite corner. Surely he'd follow, right? If so, the Heat would finally find Wade space to attack Ray Allen off the dribble.
Nice try. As soon as Battier exited the paint, Garnett turned back to Wade, forcing the dynamic guard into an off-balance runner.
Against a player like Wade, the primary defender is important, but the real matchup is Wade vs. the second line of defense. When that second line has been Garnett, Wade tends to settle for tough step-backs and pull-ups.
Garnett's stellar smarts on defense even allow him to snuff out most of the plays designed to feed Wade by proactively rotating to prevent Wade from even attempting a drive.
Wonder why Mario Chalmers is having such a great series? It's in part because Garnett is so focused on Wade that he's out of place to protect the rim when Chalmers attacks off the dribble. The video suggests the Celtics have simply decided to concede some of those plays to stop Wade.
Yet it's not like Wade can't score against the Celtics. Keep in mind that he put up over 30 points per game on 51.5 percent shooting against Boston in the playoffs just a year ago.
What was different then? The Heat had Chris Bosh.
Heat Index's Tom Haberstroh explains how much Bosh's presence has meant to Wade this postseason:
Looking at his numbers in NBA.com's stats tool, we find that 56 percent of Wade's shots come inside the paint when Bosh is on the floor in the playoffs, and he's making those shots at a scorching 76 percent clip. When Bosh has sat, those numbers tumble; only 51 percent of his shots come in the paint, and his conversion rate plummets to 61 percent.
After checking the footage from last year's Heat-Celtics series, Haberstroh's research makes perfect sense. The tape shows plenty of great defensive play from Kevin Garnett, but it also shows him out on the wing, denying Chris Bosh the ball 20 feet from the rim. On one 2011 possession, Bosh feeds Wade in the post, where he has an obvious mismatch on Ray Allen. Instead of crashing down to help, as he certainly would were he guarding Haslem or Anthony, Garnett stays attached to Bosh and watches as Wade bullies Allen for an easy bucket -- something Wade hasn't seen many of in this series.
Since the second round, the Heat have learned to get by without Bosh reasonably well -- namely by relying on LeBron James and Wade to dominate not only their individual matchups, but to reign at the rim, too. That's what happened against Indiana: once the two phenoms figured out how to attack Hibbert the series was pretty much settled.
Going against Garnett has proven more difficult. The Big Ticket remains an elite defender at the rim, and his feet and instincts are still quick enough to close down driving angles before Wade or James can even make a move to the hoop. So what makes Bosh so important against Boston is that unlike Haslem, Battier or Anthony, who can be neutralized by a hard rotation from another defender, Bosh will dominate any Celtic other than Garnett. His gravitational pull clears the lane for Wade.
As Doc Rivers told Tom Haberstroh for ESPN Boston it's much harder to just gang up on Wade and James:
"His shot and his ability to make shots will help them," Rivers said of Bosh. "The difference is that because he's a 7-footer, we're going to do the same rotations, but when you rotate out to a 7-footer and the defender is not another 7-footer, it's not going to affect their shot. With Bosh he's going to get the shot off."
Bosh is also a decision-maker in the Heat offense. When he rolls to the middle of the court, he has the skill and savvy to knock down the shot, take a dribble and finish at the rim, or pass off the move. It hardly needs mentioning that these are plays not commonly associated with Joel Anthony, who has trouble simply catching and powering up to finish at the rim.
Boston can't abandon Bosh in space, in fact quite the opposite, and that makes defending Wade and James far more complicated than simply deploying Garnett for what is in effect a nearly constant soft double-team.
It's unclear whether Bosh will be healthy enough to make an impact in this series at all, let alone in Game 5. But the conference finals have vividly illustrated why Heat players and coaches call Chris Bosh their most important player -- his mere presence makes two of the best players in the world far more effective.