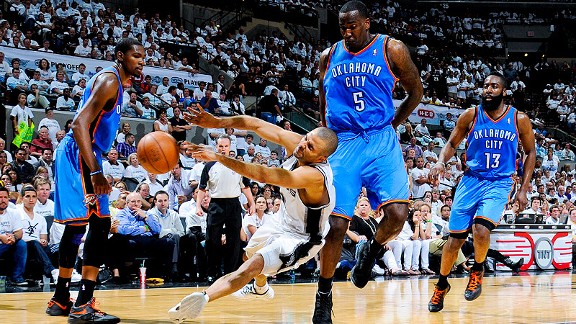 Clarke Evans/NBAE/Getty Images
Can Tony Parker and the Spurs regain their footing against the Thunder?
As John Hollinger pointed out in today's PER Diem (Insider), turnovers have been an unexpected killer for the San Antonio Spurs.
The Thunder had the league's worst percentage in the regular season, with turnovers on 17 percent of their possessions, while the Spurs were at the other end of the spectrum, ranking second with miscues on only 14.2 percent of possessions. Both teams were near the bottom in forcing turnovers, so the turnover battle figured to favor the Spurs by about three possessions per game.

In reality, the Spurs are flinging the ball all over the gym, with 83 turnovers in the five games compared to just 59 for the supposedly younger and wilder Thunder. On a per-game basis, this is a massive swing -- we expected San Antonio to be plus-3, and instead the Thunder are plus-5. Eight possessions per game, especially the way these teams are shooting, is death -- a nearly nine-point swing. It's the difference between Oklahoma City and Toronto, basically, or between Miami and Golden State.
Why are the Spurs suddenly coughing it up so much?
A thorough review of the video shows some trends. For instance, Tony Parker is now seeing harder hedges and traps on pick-and-rolls -- as are role players like Stephen Jackson, Gary Neal, Boris Diaw and Kawhi Leonard.
Scott Brooks' biggest adjustment, besides sticking Thabo Sefolosha on Parker, has been asking everyone else to really crowd and pressure the other Spurs and it has been effective.
Gumming up the Spurs' offensive machine
In San Antonio's system, everyone has a role. For role players like Jackson, Neal, Diaw and Leonard, the roles focus heavily on not doing anything too fancy. If you're open, shoot it. If you're not, pass it.
Not in the job description: putting the ball on the deck three times and making a decision to pass or shoot off the dribble and under duress.
But that's just what OKC's pressure is forcing guys like Leonard and Jackson to do.
In Game 3, a blowout win for the Thunder, ace ballhandlers Manu Ginobili and Parker also looked out of sorts as San Antonio struggled to adjust to OKC's team activity. But in Games 4 and 5, they looked far more prepared to handle that pressure (yes, they both had five turnovers in Game 5, but three of Parker's came from unsuccessfully trying to sell flops and you'll have to allow for some turnovers when Ginobili is attacking like that).
The real problem in Game 5 was an alarming number of unforced, boneheaded mistakes -- the exact kinds of mistakes veterans are lauded for never making.
Five of the Spurs' 21 turnovers came on fastbreaks, which, during the regular season, they converted for points better than any team in the NBA (according to Synergy Sports). The Spurs average 1.24 points per fast break ... just hanging onto the ball would have likely been enough to win the game.
So on the one hand, it's tempting to say "well if the Spurs just sort those mistakes out, they'll be fine." But the video hints there may be more to it.
A mismatch of team speed
Why are the Spurs turning it over so much? To my eyes, the Thunder's team speed is giving OKC an advantage in any and every unsettled situation -- whether that's a 2-on-2 fastbreak or one of the Spurs role players deviating from his prescribed duties.
The Spurs have some very skilled players, but they only have one player, Manu Ginobili, who truly thrives in chaos. Everyone else is best served by sticking to the script.
But the Thunder's defense keeps ripping out pages.
Still, remove the wild start of Game 5, when San Antonio seemingly couldn't hang on to the ball regardless of what Oklahoma City was up to, and Game 3 looks more like an outlier than the new norm in this series.
Certainly Oklahoma City's pressure has irrevocably altered the dynamic between these two teams. But an extra possession here or there is all that separated these two explosive offenses in Games 4 and 5. We probably won't ever see the Spurs role players with as much time and space to calmly make decisions and shots as they enjoyed during the regular season and first two rounds of the playoffs. But that doesn't mean they can't make better, more confident choices the next time out.
If the Spurs role players can figure out how to play their game with younger, faster players applying pressure, it might be enough to bring the series back to San Antonio for Game 7.