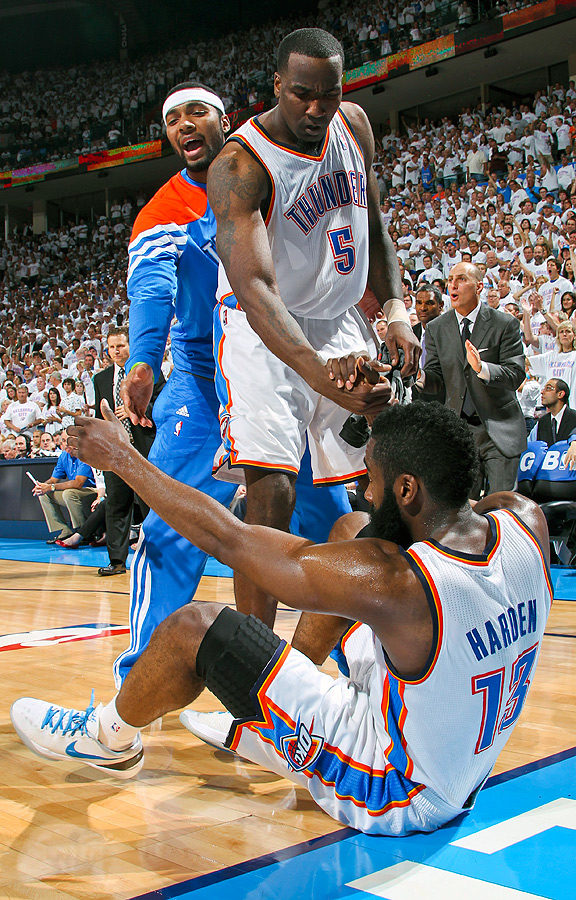 Layne Murdoch/NBAE/Getty Images
James Harden had two big flops in Game 6.
HoopIdea wants to #StopTheFlop. To spotlight the biggest fakers, we present Flop of the Night. You can help us separate the pretenders from the defenders -- details below:
It was supposed to be the Spurs who had the veteran wiles to carry them through the playoffs. But the Thunder beat them at their own game with exquisite shot-making, tight defense and ... some well-timed flops.
None were bigger than when James Harden stepped in to take a dubious offensive foul from Manu Ginobili (video) as Ginobili passed out to Kawhi Leonard, who drilled the open 3-pointer. The "pass and crash," when a driving player dishes the ball then makes contact with a secondary defender who slides in for a "charge," is a pet peeve of HoopIdea and, to hear Twitter tell it, quite a few NBA fans as well.
It's conceivable that Bill Kennedy, the official on the baseline, saw the play as a moving screen on Ginobili. But watch the replay, and you'll see Harden is selling the foul before he even runs into Ginobili, who is arguably trying to get out of Harden's way.
Leonard's 3 would have made it a one-point game. Instead, the Thunder got the ball and the lead.
It was a fitting way to seal the series. In Game 1, when the Spurs looked poised to roll through the playoffs to a fifth championship, Ginobili earned a trip to the line by winning a flop-off with his Thunder counterpart. But Harden and the Thunder learned quickly and ultimately earned a trip to the NBA Finals.
BONUS FLOP: This wasn't Harden's only trickery in Game 6. Late in the third quarter, he also drew a foul (and ended a Spurs possession) by whipping his head back as though Stephen Jackson had punched him in the chin. Thing is, Jackson was just standing there minding his own business -- the foul was complete fabrication (Video).
When you see an egregious flop that deserves proper recognition, send us a link to the video so we can consider it for Flop of the Night. Here's how to make your submission:
Alert HoopIdea to super flops with the Twitter hashtag #FlopOfTheNight (follow us on Twitter here).

Use the #FlopOfTheNight hashtag in Daily Dime Live.

E-mail us at hoopidea@gmail.com