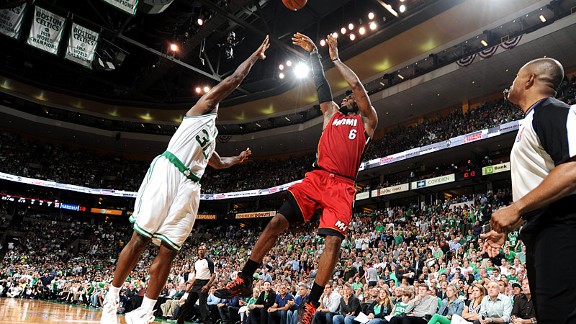 Steve Babineau/NBAE/Getty Images
That is the kind of shot LeBron James, and everybody else in the league, usually misses.
The doubters were licking their chops like never before, suggesting a must-win road game in Boston was precisely the kind of challenge from which LeBron James was sure to shrink.
And James delivered literally one of the best games in NBA playoff history. Shooting 73.1 percent from the floor, finished with 45 points, 15 rebounds, five assists. He was so good the Heat won that long-odds elimination game in a blowout, even on a night when Dwyane Wade didn't have it.
If NBA-loving Martians come to earth one day and start reading box scores, they will quickly know that James is having one of the great playoff runs in NBA history. If they start reading the commentary about him during this same period, however, they will quickly know that humans are complicated.
If you admire guys who win you playoff games, you have to admire James. Today the Heat are an NBA-best 25-13 in playoff games since the James, Wade and Chris Bosh era began, and they have won all but one of their six playoff series. But this guy is not only the most hated athlete, perhaps in the world, but is also somehow the most doubted.
The normal human response to Game 6 would be: Good job, LeBron. Nice going. That's progress.
And a lot of people are saying that.
But there's another common response, which is: He should do that every game.
That's hilarious.
The first reason it's hilarious is ... you caught the part about how that's the best NBA playoffs stat line since Wilt Chamberlain, right? Wilt did it 48 years ago. One once-every-50-year games is a lot from any player. Expecting them every night is loco.
The second reason it's hilarious is that it would not be in the Heat's interest for James to take those same shots again. (Doc Rivers told ESPN's Doris Burke mid-game he was fine with LeBron taking all those tough shots.) James is good as a wide-open jump shooter, and he had some of those opportunities. Same goes for put-backs, deep post-ups, transition buckets, cuts and short pull-ups.
Those are the shots you expect him to make, and those are the shots he takes every game.
Because of desperation, determination or a lack of better options against incredible Boston defense, in Game 6 James expanded that repertoire dramatically, to include a large number of normally horrible shots ... shots he tries sometimes, and that the record shows are almost never even close to being the Heat's best option.
Dribbling into covered 3s, for instance. Long turnarounds with a hand in his face. Doubled in the post. Covered fallaway mid-range jumpers, drifting side-to-side.
Just getting the Heat to attempt those lousy shots is a win for Boston's defense.
But there's an element of chance in basketball. And on this night, in addition to being nearly perfect on the shots he usually makes, James also lucked into good, but not perfect rates of makes even on those tougher shots he typically rightly avoids.
Slot machines are programmed to keep far more money than they pay out. They're bad bets. The more you play, the more you'll lose.
But there are still people walking around Las Vegas right now with big buckets of silver dollars in their hands, and big grins on their faces.
Unlikely things happen sometimes. If you luck into an unlikely victory, take your money and go home. Expecting it to happen again is the best way to give all those winnings back.
If LeBron takes the same shots again that's bad news for Miami.
Meanwhile, there is one thing about LeBron James' Game 6 that is immediately exportable to Game 7, the Finals and beyond. Dwyane Wade noticed it, and mentioned it in the post-game press conference: That focus.
"LeBron James is not a great shooter," says David Thorpe. "And focus has always been an issue for him, even since high school, when he was so much better than everyone that it was easy to get bored. He doesn't have supreme concentration skills, because he never had to hone them. Now that he has had a game where he was almost silent, completely locked in every second, and delivered maybe the second top performance in history ... you can't expect these numbers again. But you can expect that focus."