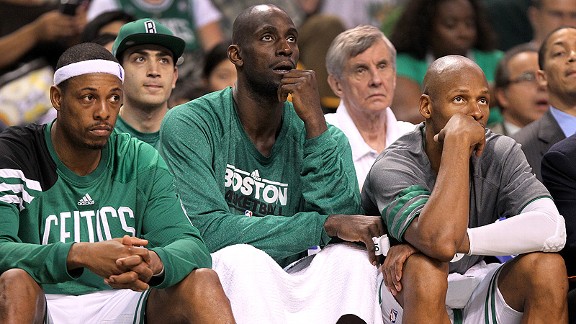 Barry Chin/The Boston Globe/Getty Images
Boston's veteran core struggled to find the basket in Game 6.
Before Game 6, Boston seemed to have Miami's defense figured out. Then Kevin Garnett, Paul Pierce and Ray Allen combined to shoot 13-for-39.
It wasn't a fluke. If it appeared that Boston's offense was out of rhythm, it might have been because Miami and coach Erik Spoelstra changed the tempo.
What Miami did in Game 6 was switch as much and as often as possible. The strategy has two benefits: (1) defenders are no longer laboring through the Celtics' screen-heavy offense, conserving energy by trading assignments; and (2) those same screens might yield mismatches but not wide-open players.
When the Celtics offense is humming, an unusual number of their makes are assisted. According to HoopData, 66.5 percent of Boston's regular-season makes were assisted, by far the highest percentage in the league.
Just how much do they rely on the pass to score? The difference between Boston's percentage of makes assisted and the No. 2 team, Milwaukee, was greater than the difference between Milwaukee and the No. 17 team (Dallas).
In Game 6, just 43.8 percent of the Celtics' makes were assisted.
Death by isolation
Boston's regular-season assist numbers don't just reflect an offense built on sharing the ball but a collection of players who struggle to score without help. Paul Pierce has a deserved reputation for one-on-one talents, but Garnett and Allen need others to do the creating for them. KG can post up and score in isolations, but where he has killed the Heat this series is on rolls to the rim and pops to the midrange, particularly working with passing wizard Rajon Rondo.
As a result of all the switching, the Celtics' best scoring option in Game 6 became attacking a mismatch one-on-one rather than using one another to create wide-open shots. Pierce took 18 shots over at least five different defenders, as Dwyane Wade, LeBron James, Shane Battier, Udonis Haslem and Chris Bosh all spent time on the Celtics' iso ace. Pierce was able to create space to shoot, but fadeaway 18-footers, while a makeable shot for him, aren't a reliable shot for anyone.
Meanwhile, Garnett was able to use his size and soft touch to score over smaller players, but the Heat, especially after the first 18 minutes or so, worked hard to limit him to these more difficult opportunities.
Switching allowed Miami to defend Rondo and Garnett pick-and-rolls without helping too much with a third player. Again, the idea was to force Rondo to score over a bigger player or make Garnett to get his buckets one-on-one -- a fairly reliable but exceedingly taxing method of scoring.
Rondo burned the Heat for 19 points in the first half, many of them in transition, but he also forced passes in the pick-and-roll and seemed ill at ease when the Heat backed off him in favor of taking away Garnett.
Bosh is back
It wasn't strategy alone that made the difference. There were some wide-open missed shots (as there are every game), and the Heat were not without defensive breakdowns. But Miami had a new weapon to clean up those mistakes: Chris Bosh, who swatted three shots in his 28 minutes of court time.
The Heat's interior defense looked stunningly different with Bosh, the team's tallest player, on the court. Spoelstra kept Bosh off Garnett so that he could roam and support mismatched defenders, not unlike how Boston prefers to keep Garnett free to help its overmatched wing defenders.
Can the Celtics adjust?
In Game 6, after consistently scoring for four straight games, Boston's offense looked more like it had in the first two rounds of the playoffs. That's not surprising, considering that Atlanta and Philadelphia are two teams with switch-heavy defenses. In both series, Garnett had to come up big on the offensive end for the Celtics to advance.
That's probably a good predictor of what will have to happen for the Celtics to win Game 7. Bosh's return and the Heat's aggressive switching will force Boston to rely on the Big Ticket, who always has a size advantage over his primary defender. One thing Doc Rivers is likely to do to accentuate this advantage is have his smaller players set screens for Garnett. If the Heat are going to switch and concede a mismatch, Rivers will look for the best mismatch he can get.
But how much does Garnett have left? Fatigue will play a significant role in Game 7, especially considering the phenomenal load of minutes and responsibility that James, Garnett and Rondo have carried not just in this series but throughout the playoffs.
The Heat seem willing to concede decent shots to avoid giving away great shots. The Celtics have a few players who can get it done that way, but the percentages aren't in their favor. Spoelstra and the Heat are trusting the numbers and hoping that the Celtics' old legs will succumb to the challenge of scoring on their own.
After Game 6, Rivers said he thought his players were trying to win the game with individual plays. If the Heat's defense can have a similar impact in Game 7, Boston might have to.