When I was growing up in Portland, Oregon, my favorite player, bar none, was Blazer point guard Terry Porter. He was one of the game's best point guards -- despite the fact that in college, under Dick Bennett at Wisconsin-Stevens Point, Porter had hardly played any point guard at all.
The player who have the best shot at being great coaches, I believe, are those who had to work hard to master the NBA game -- if they succeed, they succeed with plenty of tricks and stories to share. (Super-gifted players may or may not be able to impart anything of value.)
After entering the NBA, Porter learned everything from how to shoot from long-distance to how to run a team full of NBA players. And he got really good at both, and stayed effective for so many years that he ended up in the playoffs in 16 of the 17 years of his career. He played twice in the NBA Finals, and used his reinvented shot to gain a reputation as one of the league's elite clutch scorers.
From 2003-2005 Porter was head coach of the Milwaukee Bucks. Before that he was an assistant with the Sacramento Kings, and for the last two seasons he has been an assistant with the Detroit Pistons.
As part of The Playbook, an ongoing series of basketball conversations with coaches, Porter agreed to talk to us about the Pistons, their big game last night, their young players, how they defend certain key opponents, and more:
So, big game last night against Boston, but you couldn't get the win. I guess you can take something from that, though, right?
We didn't come in and start the way we would have liked to. We did a great job of getting back in it and then we had a mini-meltdown in the fourth quarter.
Fortunately we worked so hard to get it tied back up, so we're going to focus on the little mistakes we made during that stretch and things that we think that we need to improve on going forward. We can get better in those areas but we don't want to have that type of slippage the next time we face those guys.
Give them some credit. They really played well. KG stepped up for them. I thought we did a great job on Ray Allen and Paul Pierce, as good a job as anybody has done on those two guys all year long. You just have to say that KG stepped up big when they needed some shots and Rondo played good through some stretches.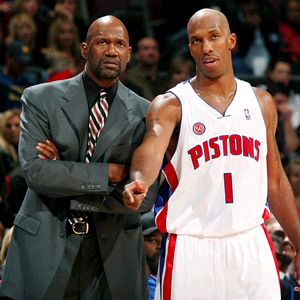 just have to take the different scenarios in the game where we didn't play as well as we would have liked and try to go back to the drawing board and improve on them.
I noticed you guys really didn't double KG at all.
Correct.
Is that that because against this team, it's tough to leave anybody? What's the decision-making process there?
Well, KG obviously is an outstanding player. We feel that we have one of the best low post defenders as far as bigs and have done a good job in Rasheed Wallace and Antonio McDyess.
So we have some bigs that can really bother them and make them take tough shots. Now, can we stop someone, I don't know if you can stop someone that has stature but you can make it more difficult for him.
You have to weigh your options as far as do you want to double him and open up the other guy so those other guys get a rhythm to the game, because he is such a great passer.
We just felt that our guys could definitely do a good job to make him work for everything he's got and not make anything easy and limit some of those other guys getting involved, getting into a rhythm. It would not allow Ray Allen to get some wide open 3s and not allow the team to get open 3s, period. That's one of the better teams in the league. I think they are second as far as three point percentage, and they average about 20 a night. So we thought that would be a good way for us to limit that part of the game.
Also seems like Rasheed was giving him room on the perimeter, kind of daring him to shoot that jumper ... and he was just shooting it and hitting it.
Yeah, KG shot the ball well. I think overall, when he catches us on the perimeter, we try to, again, you know, not let him get anything easy. So everything that he takes, we want it to be a contested jumpshot, and last night he just seemed to be in a pretty good rhythm.
Overall I thought we did a pretty good job, again, of contesting those shots, not giving him uncontested shots. But he got into a pretty good rhythm and we didn't have an opportunity to really break him of it.
Now let's talk about your team generally, not just last night. You have the same core players as you've had for quite some time and we have all heard about Chauncey Billups, Richard Hamilton, Rasheed Wallace, Tayshaun Prince, Antonio Mcdyess and the like. But you have a lot of other newer players contributing, and maybe we can roll through some of the names. Let's start with Jason Maxiell, who has seemed to development this season into quite a player.
Yeah, you know, first of all, our core guys have been together for more than five years, they have been able to go to the Eastern Conference Finals five years in a row and get to the NBA Finals twice. So they know how to play the game. What they have done is amazing.
I think our bench has really matured, the guys that we've had here for a couple years.
Jason Maxiell is a young man who we feel brings great energy, great defensive presence and ability to block shots and change the game in that regard. You know, he's made big strides every year, and this year, game by game, he's going to see improvement. We're excited about what he brings to the table and how he helps us with energy and the hustle and doing all the little plays, intangible things on the floor.
I don't think he guarded Garnett much at all last night. Any reason for that?
No, I think he had his chances. He was on him a little bit, maybe it wasn't as much because KG was out of the game when he went in the game. But he's not a guy that we feel can't guard KG, so maybe just wasn't on it because at the times he was on the floor KG was not on the floor. He is definitely someone we feel we can still put on KG.
And let's talk about Amir Johnson.
Well, Amir is another young man who came in with high expectations. I think he's just starting to slowly get an opportunity to show his skills.
He's been working hard on his body and conditioning and waiting for the opportunity to play and this year he has done that. Another guy who is very athletic and moves around the floor extremely well, can block shots and rebound and change the game in that way.
It's important that these guys continue to get playing time. Coach is continuing to give them that, so they can continue to improve on their confidence level in game situations, and not have the uncomfortable position of when the playoff comes around and he calls upon them, and they don't have enough game experience.
They are getting to have enough confidence so that they know, when they step between the lines, what is expected of them and how they need to go about helping our team be successful.
How do you as a coaching staff find time for player development during a busy season, when you're focused on competing as a top team?
Well, a lot of it is obviously the practice time, those guys from when we go up against the starters. And a lot of times, guys are getting individual workouts in after practice. It's obviously very important that they get that in.
Most of our young guys are very good about working on something every day to try to get those guys continued improvement.
Do you carve up the roster as a coaching staff, where somebody handle bigs and somebody handle guards? Do you individually work with particular players more than others?
We all just grab guys, different times throughout the year. The rest of coaching staff, the rest of the guys pick guys and work with them, Igor [Kokoskov] and Mike [Curry] and Dave [Cowens] and myself, we take the different players and work on different things, from post ups to pick and roll situations and then shooting, obviously.
I know in your own career, you became a point guard in the NBA without playing that role in college, and that clearly involved being on the receiving end of a lot of player development.
Yeah, I just went to a small school. Coach Bennett tried to put five guys on the floor he felt could really play well together and not really trying to narrow down a player's particular position like the ones, twos, and threes.
Bigs and perimeters is basically what he said.
So I was fortunate enough to play a lot, but not at the point guard position. Once I got into the League I knew if I was going to stay into the League, I had to learn some ball skills.
So I had to work at that and get a feel for time management. Obviously the shooting was something I had to get at, and I slowly learned all those things I needed to learn.
Do you coach a lot of shooting now? I know you went a lot of time working on your shot in the NBA, right?
Yeah, we talk a lot about shooting. I think shooting is very important in the game today. I think it's something that, you know, we don't pay enough attention to sometimes because we just don't have the time with our schedule and try to squeeze it in in practice. I think Coach does a good job of making sure we always have a segment where we do some type of team shooting or individual shooting to try to maintain the fundamentals and maintain the reps and get the guys enough shots where they can feel comfortable to keep their shots sharp; or if they are struggling a little bit, to try to tweak with it and get it back to a point where they feel comfortable.
Do you guys have a shooting coach?
No. We don't a particular guy who is just a shooting guru so to speak.
Let's talk about some more of those players, Rodney Stuckey and Arron Afflalo?
Well, both of those young men, I was fortunate enough to coach them in the Summer League, and the first thing I like about both of them is that they have a great will to win. They both play extremely hard. They want to be good.
Both of them have different skill levels.
Arron Afflalo is a very strong defender. Still has some areas that he needs to continue to work on. He's working on his shot, which for young guys, it's very important to get more consistent with the shot, get to the point where they can extend their range and always, again, when you talk about being a perimeter in this league, your ball handling skills are so important. So those things I think are something that he's trying to work on every day, and trying to get inside of playing the game and trying to feel different things out about the game.
When you turn from college to pro, there's obviously a lot of small things that you have to make adjustments for and he's made great strides. I think the coaching staff for a fact is very pleased with the progress he's made up to this point.
Again, it's about giving these young guys an opportunity to play in some games and build confidence. We're pleased with what he's done.
Rodney Stuckey is a very explosive type of point guard, gets to the basket, strong point guard. And again, for him, because he plays the point guard position, it's probably the toughest position for a young guy to try to play because not only do you have to learn your position, but you have to learn everybody else's position on the floor, and sometimes that can be overwhelming. And I think at times this year, he's had some frustrations.
But I think overall, he's really, you know, slowly getting more and more comfortable and learning the game itself and then, it's just about a matter of him working on his skills. Again, being more comfortable being in the leadership position, when you're a point guard, that's something that's very important.
Are those players you think you'll be counting on in the playoffs?
It's hard to say right now.
I think, you know, these last probably when we get to about 15 or 10 games left, I think coach is really going to probably start deciding on some different lineups and experimenting those last games and try to figure out who he is going to put in the rotation. That has not been determined. But at some point he's going to start looking at the lineup and see how the rotation is going to go.
A lot of it also is going to be based on who we play in the first round. Because playoffs at that point is all about matchups. Obviously our starters are going to be the starters but who off our bench and what matchups and advantages we're going to have playing certain guys against our opponent all gets factored in.
As long as we're talking playoff matchups, wonder if you can give me any thoughts about how you go about playing against, let's say, Dwight Howard?
Dwight Howard is a major force in the post. So we try getting our bigs, who I think have done a great job on opposing bigs this year, who have their hands full. Obviously you have to try to give him a lot of different looks. Sometimes we double team him. Sometimes we don't double team him. And again, that's another team that has a lot of really great 3 point shooters surrounding him and trying to create space so he cannot bring the low box.
We just try to really keep him off-balance and try to throw a lot of different lineups, a lot of different bigs at him, and try to like I said at some times double him at different stretches of the games and other times try to make things look very crowded and not to get him get a rhythm.
I think that's the most important thing with someone like that and also trying to not let him get dunks and easy opportunities at the rim.
And a guy I guess you have to worry about in your conference is LeBron James, talk about how you might handle someone like him.
Well, LeBron obviously is having another tremendous year. He poses a lot of different problems because he's so big, so strong, and now he's getting to the point where his shot has become consistent. You have to decide what you're going to give up.
He's another guy where you talk about a superstar type guy, you have to throw him a lot of different looks, you have to throw different people at him and try to make him keep him off balance as much as you can and make him work at the defensive end as much as he's going to make you work at your defensive end.
So he's another guy that we've got to try to just make sure we limit dunks, limit his easy points and then try to limit his free throws. He attacks the rim so much that you can't give him ten or 15 free throws and expect to be successful with that. He's going to be getting to the basket and he's going to be creating matchup problems, and then he's going to be opening the floor for his other teammates.
When Cleveland is playing defense, certainly LeBron seems like at times he's a very effective defender. Who does he guard when you guys play each other? Does he guard Tayshaun? They move him around, really. They put him on Tayshaun some games based on last year's matchup we had with him. They put him on Chauncey at times. So again, they moved him to different they moved him to different, you know, people on our roster at times. So again, I think their philosophy is similar to our philosophy that you've just got to throw different looks at players that can r
eally hurt you and not give him a steady diet of one thing.
Guys are too good in this league that you just cannot draw on the same type of defense night in and night out, especially in a series, best of seven. Guys are too good and coaches make too good of adjustments game after game that you have to throw different looks at them.
If LeBron were guarding Chauncey, does that mean you would be more likely to give the ball to Chauncey to make LeBron work?
Oh, yeah, you would obviously run Chauncey through a lot of screens, make LeBron have to go through a lot of screens, run some pick and rolls and make him be work in that regard, as opposed to having him stay on the weak side and not be a part of the play.
So you have to keep those guys working at the defensive end as much as you possibly can by movement and that's either by pick and rolls or multiple screens or flares or things of that nature, just always have him thinking at that end, as opposed to just have him on the weak side able to lock in and zero in on an opponent and the ball.
So, when are you going to be a head coach again?
Well, I don't know. I've been very blessed, you know, Flip [Saunders] and Joe [Dumars] have given me an opportunity to be a part of this organization and this team, and it's been great. Hopefully we can, you know, zero in on what we have to try to get done for this franchise first, and that's to get back to the Finals and try to win a championship. That's what this organization is all about. Joe has done a great job of putting together a roster and bringing Flip in and allowing me to come in and be a part of this staff. So I'm thankful for that, so right now, just zeroing in on just trying to get this team back The Finals.
Those other things as far as being a head coach, they will take care of themselves if we continue to play well and have success.
But that's part of the plan, right?
That is part of the plan and you take one day at a time to really just help the Detroit Pistons organization and help us get better as players, help our players get better and help our team improve to the point where we can become champions. That's what it's all about. I mean, you look at the top teams in both teams, they are all zeroing on getting back the Finals, putting themselves in position of winning a championship and that's what we are zeroing in on.
One last thing I meant to ask you, you used to coach T.J. Ford?
Correct.
Are you still in touch with him and what do you think about his progress?
I love T.J. Loved him from the first day we sat down and talked about playing that point guard position.
I just think he's a winner. A lot of people think that he's too small and he's not big enough and he doesn't have the shots or whatever. But I think when you look at someone, obviously you need to look at the whole picture and he's always been a winner at every level and for me in Milwaukee, he was great for us.
I know when we had success, a lot of it had to do with his ability to run the team for us and create opportunities for our team.
I'm a big fan of T.J. Ford, and was sad to see him get the setback this year against Atlanta, but since then, he has come back slowly and he's starting to play again. I just hope the young man is blessed to play a long career, because I think he's great for the league and he has the skill that's needed in this league.
Do you have any opinion about whether or not he should be playing?
I think so much of that is individual. I think, you know, he's had doctors from both sides talk to him, and it's up to him as a player and as a human being to decide if he wants to run the risk.
If it was me, it would be tough for a young man not to continue to play because he has such a great passion. But for him, I give him my blessing for whatever his decision is. If he decides tomorrow enough is enough, I don't know what's going to happen, I want to see if I can have a good life, I would bless him. If he turns around and gets into the playoffs, and is more committed than ever to basketball than I would bless that decision because I think he has great support in his family. They talk a lot about this issue as far as his health, and I think that he will make a decision that he feels is best for T.J. Ford, and that's the most important thing.
(Photo: D. Lippitt/Getty Images)