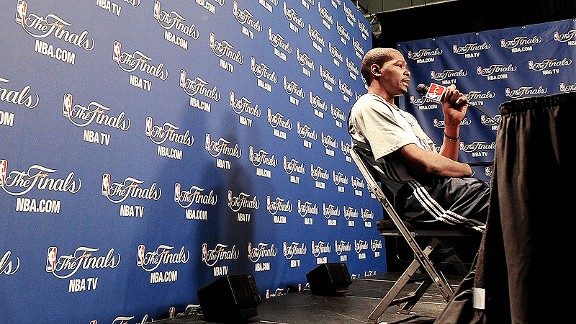 Andrew D. Bernstein/NBAE/Getty Images
Kevin Durant's Thunder and LeBron James' Heat both sound ready to play as hard as ever.
ERIK SPOELSTRA: When you're knocked down to the canvas, that ain't easy. When you're in a position where you're expected to win, that's not easy. I think the best way to handle it all is you understand none of it's going to be easy.
DWYANE WADE: Each game is going to come down to, as coach continues to tell us, come down to four or five plays ... We have to find a way to win it. And it's about taking, like I said, one possession at a time, one second, one minute at a time to make sure we reach our goal. ... You have to settle yourself down, you've got to make a play. Something has got to happen.
THABO SEFOLOSHA: We don't like that team, and we've got to play angry, and I think that's what we're going to do.
KEVIN DURANT: It was tough to watch, go to the film and look at it and say, wow, did I really just do that? It falls back on me as a leader. So I have to start the games out with a lot of intensity, no matter if I'm making shots or missing shots, no matter if I make a bad defensive rotation, I've just got to start off with a lot of energy.
DWYANE WADE: OKC had an unbelievable fan base. It got very loud. At one point I was shooting a free throw and it was the loudest I've ever heard it. But we love our fans, too, and I think they're excited about this game.
ERIK SPOELSTRA: I know there's a lot of talk that we don't have to go back there, that we control our own destiny and all that. That's kind of dangerous ... We have to make sure that we're playing as a desperate team here at home, not taking that for granted. That does not guarantee anything.
SHANE BATTIER: We just haven't done a very good job on Durant.
LEBRON JAMES: He can make any shot the game has to offer, off the dribble, off the catch and shoot, off pin downs, he can make every shot.
KENDRICK PERKINS: I think we've got to do a better job of getting him the ball, and Kevin has to do a better job of getting open and being more aggressive. I think he has to ask for the ball more, and we've got to do a better job of getting him open on screens and letting him get to his spots and do what he does.
JAMES HARDEN: San Antonio series we made plays. Everybody touched the ball, everybody scored, so we're going to have to get back to that.
DEREK FISHER: Russell, Kevin, James ... If there's two people covering you, somebody else is open, make the pass, and that guy will make the play. That's a lesson we're continuing to make sure we're all understanding.
RUSSELL WESTBROOK: I'm not making no adjustments. Regardless of what anybody says or regardless of what you guys say about how I play, it doesn't matter. I'm going to play my game regardless of what happens. I'm going to go out and give 110 percent, and try to find a way to help us win the game.
KEVIN DURANT: Everybody thinks he should be a traditional point guard like a Stockton or a Mo Cheeks. There's a lot of people that cannot be like Russ, either. We need him to play the way he plays. Of course he's going to make mistakes, and we're all going to make mistakes. But the best thing about Russ is he comes to work every single day. That's what you guys don't see is how hard he works and how much he wants it. That's what I love about him. He doesn't care what people say, he's going to play his game and we need him to play his game, and we'll go from there.
SCOTT BROOKS: We need Russell to score. I know some of you don't like that, but Russell is a very, very gifted, talented player, and we would not be in this position without Russell Westbrook. He missed two layups, he missed two 14-foot pull-ups, and he normally makes those. He got off to a bad start, but he came back. Without Russell in that second half, we don't cut the lead to two with a chance to tie at the end. Him and Kevin are both terrific players. They both have to score points for us to be successful. I don't look at who gets more, who doesn't get more. I look at the quality of shots. Could Russell have taken two or three better shots? Absolutely.
RUSSELL WESTBROOK: I feel like I'm doing something right. I feel like every year I come back a little better, the more negative I'm going to hear. So I feel like I'm doing a good job of getting better, getting my team better. We're in the NBA Finals now, and the more negative you hear, the better you're doing. That's how I look at it.
ERIK SPOELSTRA: It was very unfortunate when Chris went down. But if there was a silver lining, we had to reinvent ourselves and other guys had to step up. And for us to even think about getting out of that Indiana series, Mario Chalmers and Shane had to have a bigger role and they had to be more offensive minded. We started running more actions for both of them. They gained more confidence, the other guys gained more confidence in them, and now that hasn't left since Chris came back. The reinvention we think has made us a little bit better and a little bit deeper.
CHRIS BOSH: It's all fine and dandy, but I don't think it was that good of a performance. It was just another night at the office, really, for me, and I expect to do more. I'm not satisfied with that by any means. I hope nobody else was satisfied with that for me.
LEBRON JAMES: I know the ins and outs about that whole system when I was in Cleveland, so I was very comfortable with that situation. A lot of things had to change in my one year here, and I never got fully adjusted throughout the whole year. This year I've just been more comfortable with the team, more comfortable with the system, more comfortable with the city and everything around it. Once I get on the floor, I just let my game kind of react for me and everything I've built throughout the years, just go out and do it, and I don't have to worry about anything else.
SCOTT BROOKS: Defenses are not going to allow [LeBron] to get the shot every time. He demands so much attention. But he makes the right play. He's an incredible passer, and that's part of his strength. He gets criticized for making the pass. Most people, I know myself, I like to see guys make passes for his teammates, and he does a great job with that.
ERIK SPOELSTRA: [LeBron's] at a mentality right now that I can't put too much on his plate, and that's minutes, that's responsibility, defensively, playing multiple positions, shouldering a huge load offensively. He gets it, he's accepting of it, and he's producing. We need it.
DWYANE WADE: I think the biggest growth in him this season has been his openness to be able to ask other guys what they think, and at the end of the day he makes the final decision. But we all feel that we get to put our own stamp on stuff, even during games, tough moments, big moments, he's open to what you guys think, what you guys want to do. And that's key for players to feel that they have that openness with their coach.
LEBRON JAMES: It's a lot of fun being out there and competing at a high level, you know, the intense moment where every possession counts. That's what it's all about. As a competitor you have to enjoy these moments and you love these moments.
KEVIN DURANT: Basketball is fun. That's why I started playing when I was a kid is to have fun. I always wanted to compete at the highest level. Being in the Finals is I don't just want to be here, I want to try to win this thing. So I'm excited about this opportunity. I just want to go out there and be me, play the game, not put too much pressure on myself, and just play hard. I can do a better job.