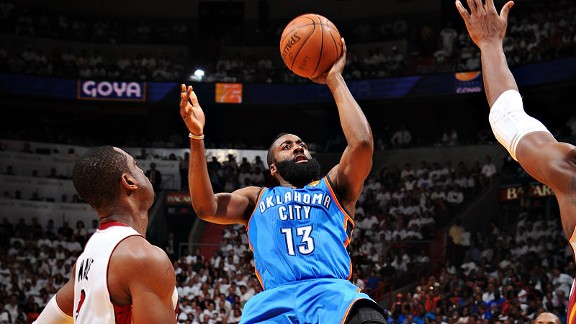 Garrett Ellwood/NBAE/Getty Images
One of the playoffs' most explosive scorers has yet to explode in the NBA Finals.
The man can score
YouTube knows James Harden well. The way he scores -- a delightful mix of explosive creations off the dribble and 3-pointers -- has endeared him to not just Oklahoma City Thunder fans, but aficionados of the beautiful game as well.
A bailout, step-back, game-winning 3 to cap a crucial Game 5 win against the San Antonio Spurs only added to his legend.
As the NBA Finals began, there was an insane amount of enthusiasm to see LeBron James and Kevin Durant. But Harden was certainly on that list of players to watch. He has big explosive scoring binges. Surely the Finals would feature some.
Right?
Three games into this series, Harden has made 11 of 27 shots. And even that is somewhat misleading -- five of those makes came as the Thunder trailed mightily early in Game 2 and flailed ineffectively while trying to close the gap. With the game in play, Harden's buckets have been few and far between.
But there's a reason for that.
James Harden's scoring numbers bounce around
Some of the fluctuation in Harden's scoring is just part of being a bit player on a team with two high-volume stars. Harden has taken between six and 16 shots a night in the playoffs. In comparison, Kevin Durant has shot at least 15 times every playoff game. Russell Westbrook has been below 15 in just two of 18 games.
Add some normal fluctuation in his field-goal percentage and you have one of the most dynamic scorers in the NBA scoring 30 points in one game, and five in another this postseason.
Guarding superstars is tiring
Harden finished Game 3 having made just two of his 10 shots.
But it's not like the man wasn't working.
Nine points (thanks to five made free throws), six rebounds, six assists, two steals and zero turnovers is hardly a disaster of a game.
More importantly, watch the video. With the ball and a three-point lead in the final minute, the Miami Heat, predictably, got the ball to James.
Thunder coach Scott Brooks has several options to guard James. Durant starts the game on him. Thabo Sefolosha is known as the team's stopper and logs many a possession against him. And then there's Harden, who is best known as a scorer.
Here's the thing, though: By my count, James finished the game having made five of 11 shots against Durant, five of eight against Sefolosha and, against Harden, he made just one of three -- and that one came in a battle for an offensive rebound that the bigger man won.
So maybe it's no surprise that on this possession Brooks chose Harden, who has been playing the role of stopper a lot of these days.
Harden also spent much of the rest of his 34 minutes helping Dwyane Wade to an 8-of-22 night.
James, Wade ... with players like that to guard, there is little rest for Harden. The only "easy" player he guards is Mario Chalmers, who is among the most active and explosive players on the Heat's roster.
This has happened before
And here's where recent history is instructive. Harden was similarly effective as a spot-duty defensive superstar stopper in the Thunder's second-round series against the Lakers, when he spent many an exhausting possession solo-covering Kobe Bryant.
You know how Harden is prone to big offensive explosions? Not so much against the Lakers, when his ability to create easy shots was evidently diminished by fatigue. Probably not by coincidence, his memorable scoring of the playoff run came against the Spurs and Mavericks, when Harden was not called upon to focus quite so much on defense. (Look at his "game scores" through the playoffs -- none of the huge ones have come against the Heat or Lakers.)
Maybe Harden will have big scoring runs in the Finals. Or maybe he will, instead, expend a lot of that energy at the other end of the court.
If he figures out a way to do both in his first time on basketball's biggest stage, that would be remarkable -- and exactly the kind of thing the Thunder need to win a series they now trail.