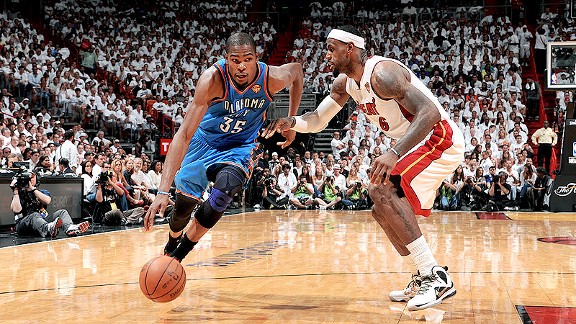 Garrett Ellwood/NBAE/Getty Images
Kevin Durant has been able to get the step on LeBron James.
Can anyone stop Kevin Durant? Maybe, but that person is not LeBron James.
Over the course of the first three Finals games, James has ramped up the amount of time he spends checking Durant, but it doesn't seem to be bothering the Thunder's scoring ace all that much.
Here's a quick breakdown:
Game 1: James defends Durant on only two shot attempts (he made one), while Shane Battier bore the brunt of Durant's barrage (6-for-11 FGs).

Game 2: James and Battier each cover Durant for seven attempts. Durant makes five of them against Battier and just two against James.

Game 3: James guards Durant for the majority of the game, during which time Durant shoots 7-for-14. He misses his only shot (which was his first of the game) against Battier and goes 2-for-2 in isolations against Dwyane Wade.
For the series, Durant is shooting 57 percent overall and 58 percent against Shane Battier. But against James, that number dips all the way to 43 percent. If you'll allow for even smaller sample sizes, it's worth noting that, in the fourth quarter, Durant is 5-for-8 against Battier and 3-for-9 against James.
So James is doing pretty well, right?
Yes and no. The tape shows Durant is hardly struggling in one-on-one confrontations with James. In fact, James has not been able to stay in front of Durant off the dribble and Durant has also been able to shoot with relative ease because James tends to play one-on-one defense with his hands low.
Durant has missed some open shots, but for the most part he's getting the same looks he did against Battier.
Where James seems to make a difference is in transition (this is self explanatory if you witnessed Durant's borderline-cruel fast-break dunk over Battier in Game 2) and, perhaps surprisingly, when Durant doesn't have the ball.
The Heat's scrambling half-court defense usually requires at least a couple of players to rotate away from their primary assignments. That means no hugging up on perimeter shooters, even ones as talented as Kevin Durant. When Battier guards Durant, he struggles to recover after he's forced to help on Russell Westbrook or James Harden. James, on the other hand, can actually offer some help to his teammates and still get back in time to close down Durant.
James can't do it every time -- Durant blew past him on the right wing for a first half dunk in Game 3 -- but it's slightly better than the alternative. In a series this tight, that matters.
Even that modest praise might overstate the difference between Battier and James. The Heat have also adjusted their overall defense to rotate less from the corner and give a bit more help on Durant curls, so James may simply have less distance to cover than Battier did earlier in the series. Chris Bosh has been especially effective, and helped turn away three Durant shots near the rim late in Game 3.
Against Durant, there are no solutions. Even James needs support.
Thus far in the Finals, it seems the best way to defend Durant is to attack him on the other end and hope foul trouble keeps him off the court altogether.