Over the weekend, the Houston Chronicle's Richard Justice wrote:
They are a team in every sense of the word, a really good team, a smart, resourceful and gritty team. Don't lose sight of the bottom line with these Rockets.

There's one other thing to know about them. They've got the NBA's Most Valuable Player.

Care to argue? Don't. You don't have the facts on your side. Tracy McGrady defines greatness almost any way you want to define it.
Remember back to when you were in high school, and you had a crush on someone. And that someone was in the school play.
This person was, you were convinced, perfect in every way. So good looking! So funny! So clever! So kind! So fragrant!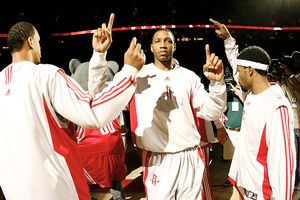 But then you see the person sing, and lots of people think: hmm, not so great at the singing.
But not you. You know this person best of all. You know that's amazing singing that the stupid world is not clever enough, or deep enough, or whatever, to appreciate.
This feels like that to me. Tracy McGrady is doing absolutely everything he needs to do as a player. His team has been, essentially, perfect, for more than a quarter of an NBA season. Give him whatever you want.
But do not give him the MVP award.
Again, no one really knows what the criteria are for being the MVP, and I know it has long seemed to be "the most famous player on the best team."
That math probably gets you to Kevin Garnett, or, if you squint, perhaps McGrady -- With Yao Ming injured, Tracy McGrady is probably the most famous Rocket left standing. And the Rockets are for the moment atop one of the most hotly contested conferences in recent memory.
And if the team is setting win records with an injured center watching from the bench, the thinking goes, doesn't that mean there must be a true hero out there on the floor?
You can assert McGrady deserves the award if you want, but before you do, I urge you to at least try on some objective measures to confirm the notion that McGrady really can, you know, sing.
The problem is, it's hard to find any comprehensive measure by which McGrady is even the best player on his team.
John Hollinger's PER -- essentially box score statistics, weighted intelligently in a way that has been shown to make more useful -- shows McGrady to be the 32nd best NBA player at the moment, just a hair behind Corey Maggette and T.J. Ford. Tracy McGrady's the third most effective Rocket, per PER, behind Carl Landry and Yao Ming. (The list, by the way is headed, in order, by LeBron James, Chris Paul, and Amare Stoudemire. Kobe Bryant is ninth.)

The adjusted plus/minus numbers at basketballvalue.com place Luis Scola, Chuck Hayes, and Carl Landry among the league's best players, with no mention of Tracy McGrady among the top 50 players.

According to another set of numbers, the Win Shares formula, McGrady ranks behind Yao Ming and Shane Battier in total contributions to the Rockets this season, and is tied for sixth with Luther Head in terms of Win Shares Above Average.
These kinds of statistical rankings systems are no way to pick an MVP. But as an objective way to kick the tires on this or that that name, time will prove them vastly more reliable than the ol' glance-at-the-list-of-leading-scorers-and-the-standing-and-apply-conventional-wisdom approach.
And it is interesting that so many of those systems think so highly of McGrady's teammates -- which also goes a long way to telling the story of this win streak. It's a story of almost everyone who sees the floor contributing in some fashion.
Jason Friedman of the Houston Press has been watching all season long, and thinks that saying McGrady is the MVP miscontrues what's working for the Rockets:
Take nothing away from T-Mac. He's been spectacular for the better part of two months. But two months does not an MVP make; not when other candidates like LeBron James and Chris Paul have been consistently sublime all season.

Besides, championing McGrady for the league's highest individual honor due to his play during the streak misses the entire point: This Rockets run is and always has been about team. It's about the hustle of Shane Battier and Chuck Hayes. It's about Luis Scola's refusal to be denied. It's about Mike Harris grabbing 5 boards (4 offensive) and scoring 6 points off the bench in the pivotal second quarter. It's about Bobby Jackson giving Houston the best three-point dagger pose it's seen since Mario Elie. And more than anything, it's about the otherworldly team defense the Rockets are using to suffocate opponents into submission.

Yes, T-Mac is Houston's best player. But it's the way he and his teammates have gelled which has transformed this group into one capable of performing miracles.
What's happening in Houston is a magnificent story, and one that comes with all kinds of rewards.
Much more valuable than contending for this or that individual prize, from a fickle voting audience, are actual wins. Tracy McGrady and his teammates have conspired to play in such a manner that the Rockets organization can dream well beyond the first round -- and some people are even talking about contending. That's the objective of the team sport of basketball, and that's also how you win championships. Over years, wins like Houston is earning now come with things like championships, celebrity, playoff bonuses, and even hardware.
So, give that special someone in the school play a standing ovation. Come back again and watch night after night. Scream your brains out in support. I'm right there with you. But when you turn to me and say that's the best singer you have ever seen? That's when I smile politely, nod, and say: "really?"
(Bill Baptist/NBAE/Getty Images)