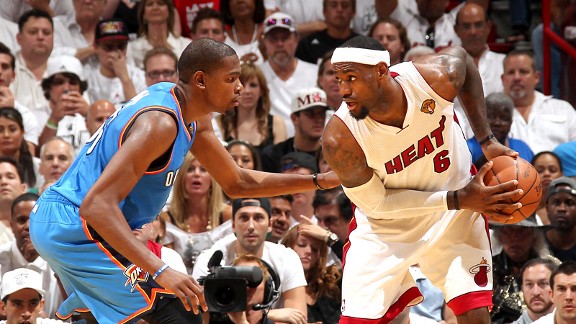 Joe Murphy/NBAE/Getty Images
Should Kevin Durant spend more time checking LeBron James?
It's an open question right now, one with no easy answers.
James Harden has looked hopelessly overmatched when forced to contend with James' unique combination of size, ballhandling and quickness. Even against Thabo Sefolosha -- a superb defender that James himself described as "strong" "active" and "long" after Game 4 -- James was able to spin and pound his way to the paint.
The Thunder countered by occasionally sending double teams, and the Heat perimeter players, especially Mario Chalmers, punished them by hitting 3s and slashing from the weakside.
Ideally, the Thunder would find a way to single-cover James so that they aren't vulnerable to his considerable passing talents, while at the same time keeping him from getting to the paint at will.
LeBron James by Defender
NBA Finals Game 4
Will the Thunder go back to putting Kevin Durant on James? In limited duty in Game 4, while James was tearing up everyone else in his path, Durant did a pretty passable job (see table at right).
The common wisdom is that because Durant picked up five fouls in both Games 2 and 3, when he spent more time shadowing James, the Thunder should hide him elsewhere to ensure he can play the full 48 if necessary.
But only two of those 10 fouls were fouls on James in the half court. Mostly it was a mix of ticky-tack reach-ins, fouls in transition and charges -- plays that have little to do with whether Durant is the one covering James in the high post.
Durant, with his cartoonish length, also has the ability to deny James the catch better than any Thunder player, and that might be the best way to defend him at this point. When James did have the ball against Durant, he settled for three jump shots -- facing up rather than going to his backdown game.
Even if Durant gives them only what they've been getting from their other wing defenders, it would have the secondary benefit of shifting Thabo Sefolosha onto Dwyane Wade. Unlike James, Wade can't just overpower Sefolosha, and indeed has struggled to find his way off the dribble when the long, feisty defensive specialist checks him.
There's also this to consider: What about super-athletic shot-blocking extraordinaire Serge Ibaka? The Celtics' Brandon Bass looked just fine in limited duty against James, and he's nowhere near the athlete that Ibaka is.
It probably wouldn't be wise to apply Ibaka to James for long stretches, but considering that the Thunder's most played lineup includes both Perkins and Ibaka, why not use that size to take away the post-up game and reduce mismatches elsewhere (as in: why is Serge Ibaka guarding 3-point specialist Shane Battier)? When they go small with Nick Collison or Ibaka in the middle, which, as our John Hollinger noted, is by far their best lineup, Durant or Thabo can shift over to James.
Maybe such a change would be too drastic for the consistently conservative Scott Brooks to consider. But after the way James has categorically dismantled the Thunder defense from the post, it would seem a significant change of some kind is necessary.
Then again, the Thunder are a few jumpers here and there from being tied or even leading this series, and over-adjustments can be problematic.
Still, it's hard to imagine the Thunder won't try some new looks -- maybe sending a double to James on the catch or simply focusing on doing more to deny James the ball -- and new defenders on James in Game 5.