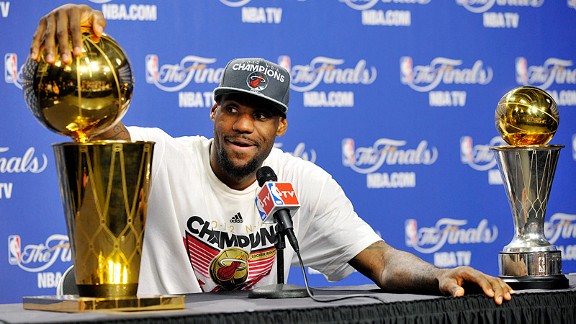 David Dow/NBAE/Getty Images
What did everyone have to say when all was said and done?
LEBRON JAMES: It took me to go all the way to the top and then hit rock bottom basically to realize what I needed to do as a professional athlete and as a person.
DWYANE WADE: You know, two years ago, putting this team together, obviously we all expected it to be a little easier than it was. But we had to go through what we had to go through last year. We needed to. And as much as it hurt, we had to go through that pain and that suffering. To get to this point of this season and the rest of our careers together, we'll take nothing for granted.
CHRIS BOSH: I think it did that to all of us, where we couldn't even see the light of day because it hurt so much.
JAMES: The best thing that happened to me last year was us losing The Finals, you know, and me playing the way I played, it was the best thing to ever happen to me in my career because basically I got back to the basics. It humbled me.
WADE: We had a group, a team meeting, and for the first time I heard LeBron James open up, and he kind of let us in on what it's like to be LeBron James. None of us really know. I said as one of his close friends, I said,"Wow, I don't deal with that." And I deal with a lot.
BOSH: Nobody in the world can understand what he's went through this past two years, since the moment that we came here.
JAMES: I dreamed about this opportunity and this moment for a long time, including last night, including today. You know, my dream has become a reality now, and it's the best feeling I ever had.
ERIK SPOELSTRA: We have a brotherhood now that you don't necessarily have unless you've been through the fire together, and two years of it made us all more closer, and it makes this moment that much more gratifying.
WADE: Last season I felt that it was too much questions in our mind, in our head, and guys looking at each other and not wanting to step on each other's toes. This year I know I'm playing with the best player in the world, and that doesn't take anything away from me at all.
BOSH: I know a bunch of people made fun of me and said I was soft, but you can't be soft playing this game, especially at that five, you know what I'm saying? We wanted it so bad, I just wanted it so bad, I didn't care what anybody said, I didn't care what anybody thought. All I thought about was pushing forward to get that trophy.
SPOELSTRA: We all knew that this team was built a little bit differently, and we needed to absolutely embrace what some would see as unconventional. We would need an inside presence to be able to play inside out. LeBron knew that, as well.
We were all on the same page about it. He dedicated the summer to develop that game, and that allowed us to play like the power teams that you see with a big center, but to do it with a versatile power forward, small forward, and to be able to play inside out.
And so people saw us as small, but we played a power game, attack the paint, inside out, play out of the post, things of that nature.
SCOTT BROOKS: Obviously it's too early to understand and internalize all the things that we will learn through this series. But just the one thing, that they play extremely physical basketball. They are a very athletic team and they use it every possession, and that's something that we will talk about. You have it, you'd better use it.
KEVIN DURANT: Their defense is really good. Those guys are really good over there. I didn't want to admit it during the series, but now that it's over, those guys are really good. Last team standing, so you've got to tip your hat.
BROOKS: I've never used age as an excuse. But we've got some incredible experience these last three years of being in the Playoffs, and it kind of -- it has helped us get to this point and to compete at his level.
JAMES HARDEN: I think now we know that every possession in The Finals matters, it counts. There were several possessions that we just gave away. I think that third quarter, we brought the lead out to five quick, and then they hit two threes in a row.
Every possession matters in The Finals. We just gave too many away.
KENDRICK PERKINS: Each individual has to think about it when you're lifting weights, as you run suicides, just think about this feeling, think about this moment and how close we came. We just fell short. At the end of the day, nobody really gets praised for second place.
RUSSELL WESTBROOK We hugged each other and told each other to embrace this feeling and remember this feeling. We kind of looked around and just -- we've got to get better. We've got to be the guys that come back and push everybody next season and just got to get better, man, before we can find a way to get back here.
WADE: This is one of the best Finals, when you talk about matchups, when you talk about everyone tuning in and wanting to see, because these are two teams that in the summer everyone said they should be in The Finals.
We lived up to the billing.