OK, look, here's the deal. I have read the comments. I know a lot of you have had it up to here with talk of blogger bans -- and admittedly, it's not really much of a general-interest NBA story. So I'm not even going to make you scroll past.
On the other hand, if you want to read more about it ...

I have been wanting to talk to Jerry Stackhouse all week, for a number of reasons.
For one thing, I know from personal experience and from journalist lore, that Stackhouse is as straight a shooter as there is in the NBA. He will not be political about stuff. He's not all safe. He just talks. (And if reporters write things about him that he does not believe to be true, he tells me proudly, he will talk to them about it directly.)
The main though, is that Stackhouse was, according to one theory, one of the people that Mark Cuban was allegedly trying to protect by kicking Tim MacMahon out of the locker room.
Also, as an actual Maverick player, he could speak to locker room crowding issues, and give his best guess as to what Mark Cuban's reason was to ban bloggers.
Stackhouse did not come out and say that he thought Cuban's stated reasons for banning bloggers -- a combination of locker room space concerns, and some media theory whereby bloggers are indistinguishable from one another -- were bogus.
But in speculating about why he thought Cuban might have banned bloggers, Stackhouse's best guesses are right in line with everybody else's (as described here): Tim MacMahon -- the only credentialed blogger normally at the arena in Dallas -- had made people in the Mavericks' organization angry.
"He had pissed off a few people before that, I heard later," says Stackhouse. "He wrote something about me that I didn't agree with, and I emailed him directly about that. And then I heard he wrote some things about Avery."
Stackhouse confirms he was mad that MacMahon wrote the line, about Stackhouse: "No more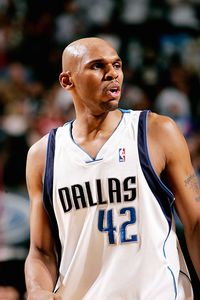 wondering what his role is or complaining about not being able to get in a rhythm." He felt it was speculative, and there was no need to speculate as Stackhouse was available to MacMahon. Stackhouse says MacMahon apologized to him twice -- by email, and again the next day in the locker room -- and felt it was a closed issue and time to move on.
Here are selected parts of what Stackhouse told me:
On the ban, and how Stackhouse relates to reporters:
I feel like I don't need Mark Cuban to fight no battles for me. The same interaction I had with Tim, go ask any of the writers. Ask [Morning News writers] David Moore or Eddie Sefko, any of those guys. If I had an issue, I went to them directly. Now all of those guys have gotten to know me. It's no problem.
So, I don't know, that blogger ban must have been something more. From what I heard, he said some negative things about Avery.
Maybe that was the final straw -- some discussion of that BS he said about me.
I care as much about bloggers in the locker room as I care about a rash.
On the locker room being too small:
We have been to the NBA Finals. We're used to dealing with a ton of media.
Maybe that's why we lost the Finals. There were too many media! [Laughs]
I think that's the biggest thing. Mark was just being protective over our whole situation, trying to eliminate extra people, and focus on those people who are truly there to write a story, not trying to get a whisper or something.
If there were less people hounding you before the game, I think that would be OK. But after the game, the more the merrier. I don't even notice who's there.
On Tim MacMahon:
It's his site's moment in the sun. The best thing that ever happened to him. Before this, nobody knew who the hell Tim MacMahon was.
On focus:
We're a half-game out of the eighth spot, and here I am talking about some damn blogger.
UPDATE: Interesting, so far Mark Cuban's talk of allowing lots of bloggers in to the locker room has led, in the blogosphere, mainly to talk of self-policing.
(Photo by Glenn James/NBAE via Getty Images)