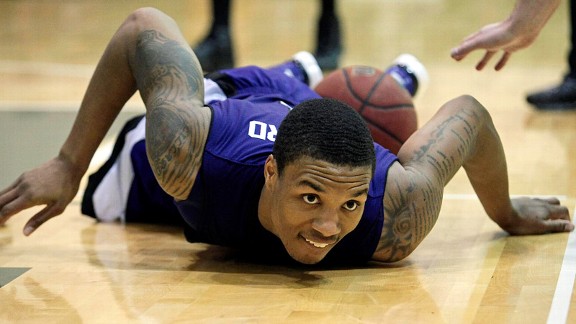 US Presswire
Small-school lottery picks are a rarity these days, but Weber State's Damian Lillard may be the next.
For the past few decades, the lottery has served as the NBA's own yacht club.
Unlike in the early days of the draft, when NCAA basketball powers had yet to fully entrench themselves and upper-tier prep players were just as likely to matriculate to places like Detroit (the university) as Kentucky, the majority of today's top selections hail from the blue bloods of the college game.
In the past 10 drafts, players representing schools from the NCAA's six major conferences have comprised 71 percent of the 140 lottery selections. And the numbers have risen ever so slightly as years have gone on. This is likely a result of the nation's elite high school talent being forced to taste higher education rather than enter the NBA right after prom night, plus the gold rush of foreign-born players seemingly drying up.
But the little guys are seeing fewer top-14 opportunities than ever. In the past 10 years, only 10 percent of the draft's lottery came from mid-major college programs, despite there being over 200 more schools than the major conferences.
In the 10 years prior, more than double that number went in the lotto, with at least three players being taken in the top 14 in seven of those years. (The numbers aren't much different when you factor in the lottery cutoffs in the pre-30-team and pre-29-team eras or the shifting of NCAA conference alignments, either; only one player, Yinka Dare in 1994, misses the field.) And the number of small-school players selected only rises the farther back we go.
With the rise of the Internet and recruiting services making it easier than ever to unearth even the most unheard-of high school talent, only these 14 players have essentially slipped through the cracks and made the most of their mid-major opportunities:
Mid-major players drafted in the top 15 in the past decade
* - Rights to pick traded on draft night. ** - Joined Pac-12 in 2011-12. *** - Will join Big East in 2013.
And even that short list comes with a couple of huge caveats.
Under John Calipari, Memphis was as powerful a recruiter as any of the big draws, as evidenced by the year they got out of Rose, a top-three talent in high school in 2007. Gonzaga, Utah and UNLV all have significant basketball traditions, with the latter two schools combining for two national championships and eight Final Fours. Butler has gone to two of the past three Final Fours. And BYU has had moderate success throughout the years with 27 total NCAA tournament appearances and 20 former players with NBA minutes.
Which really leaves only six lottery players in the past decade who truly fit the mid-major label: George, Curry, Thompson, O'Bryant, Kaman and Ely.
On Thursday, Damian Lillard will likely join them.
After toiling in obscurity for three-plus seasons at Weber State, the scoring point guard has skyrocketed up draft boards. In Chad Ford's most recent mock draft, Lillard is projected to go No. 6 overall, and it looks like a foregone conclusion that he'll end up somewhere in the top 10.
For a player with virtually no national profile by the end of his college career outside of draft devotees, the rise is truly a unique one. Even among his under-the-radar contemporaries.
Curry was a household name by the time his college career ended, and O'Bryant, Kaman and Ely each helped guide their teams to tourney berths, with O'Bryant in particular seeing a stock boost after lifting Bradley into the Sweet 16.
Lillard, however, has never played a single NCAA tournament game. His only tournament experience has come in the NIT and CIT, in which his Wildcats went 1-3. In fact, he only played against five major-conference opponents (all from the porous Pac-12) in his entire career, in which he averaged 17.2 points on 33 percent shooting while Weber State went 1-4.
And while his list of pre-draft positives extends much longer than the negatives column, Lillard lacks the one thing everyone aside from Curry had on his side: size. Thompson, Araujo, O'Bryant, Kaman and Ely are all centers listed at 6-foot-10 or taller, and George is an elite athlete with a crazy-long wingspan. And while Curry wasn't as "toolsy" as the rest, he was widely regarded as a once-in-a-generation shooter. Each had a clearly defined skill or physical advantage that could easily convince teams to overlook their meager beginnings.
Although strong and quick, Lillard, the NCAA's second-leading scorer, is only 6-foot-3 and doesn't strike you as the type of athlete that would make NBA decision-makers swoon. His workouts have indeed reportedly drawn rave reviews, but more for his complete body of work. Instead, his rise seems to be fueled most by his position and his efficiency.
With a swath of young, All-Star-caliber point guards now slashing and darting all around league, point guard has become one of the most demanding and high-profile positions on the court. Compound that with recent lottery flubs by teams overvaluing height in search of the next Great Big Man and the simple logic that point guards the ones with the ball most of the time, and the need for a talented 1 may be at a high -- particularly for some of the league's worst teams.
Only, the top of this year's point guard crop is virtually anonymous; only one other point, North Carolina's Kendall Marshall, figures to be in the mix in the draft's first half. Lillard, who averaged only four assists per game as a junior, has become the de facto first option, which ultimately leads one to wonder if teams are reaching or becoming too caught up in workouts.
But the advanced numbers are also on his side. While John Hollinger's Draft Rater wasn't too kind to him, Lillard's efficiency stats are quite good. Although he played for a 25-7 Weber State team and against the 296th-strongest schedule (according to Ken Pomeroy's calculator) as a junior, Lillard finished with the best offensive rating in college basketball among players who used at least 28 percent of their team's possessions. He also had a top-40 true shooting percentage, ranked inside the top 20 in fouls drawn per 40 minutes and sported solid assist and turnover rates. Hid defensive rebound rate is also less than a point lower than Andre Drummond's.
So, is he a workout warrior or an unheralded up-and-comer?
Whatever he ends up being, it'll surely be unique.