Ahh, the great MVP debate.
There are simply stellar arguments -- that you can back up with amazing statistics, for Chris Paul and LeBron James. Years and years go by without anyone having statistics like theirs.
Kobe Bryant has a lot going for him. He has the kind of great numbers he has often had. But now he also has the reality that he's the focal point of one of the very best teams in the league, and in the eyes of just about all those who see him play regularly, he's capable of more amazing things than any other player in the game.
Then there is Kevin Garnett. His arrival turned one of the worst teams in the league into one of the best teams in recent history. You have to consider him on that basis alone.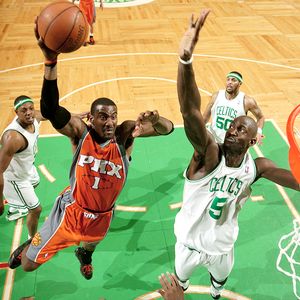 But poor Garnett -- probably more than the other candidates -- suffers from a very real flaw of conventional basketball statistics: they don't measure defense beyond steals, blocks, and defensive rebounds. So when it's time to tally up his contributions with some numbers, his numbers look smaller than the other candidates, and a lot of what he does best is missed.
Or, it was missed, until Celtic owner Wyc Grousbeck leaked some internal Celtics numbers on the radio in Boston last week.
At about the 6:30 mark of this interview on WEEI's Dale and Holley show, Grousbeck says:
Players that KG is guarding are shooting 13.1% below the league average at their position. So he's guarding power forwards, and they're shooting 52% league-wide, or whatever it is. Guys that he's guarding are shooting 39% all year. That's just KG, one on one, against his man, when he's on the court.

LeBron's guys are shooting 2% below the league average for their position. Kobe's are 3% below. Chris Paul's are 4% below. And KG is keeping people 13% below. In other words, he's snuffing them out.
The Celtics are one of the league's most sophisticated teams when it comes to using statistics. A Celtics staffer verified for me that these numbers sound right. Assuming these numbers accurate, I guess we have two things: a nice new set of statistics to support a Kevin Garnett MVP candidacy, and some insight into some ways teams are measuring defensive contributions.
(Also, I thought it was interesting that Paul -- who is small for his position, and often plays for the steal, is nevertheless evidently affecting a few more shots than an average defender. USA Today has trotted out a statistical formula that says Paul and Garnett are the first and second most valuable players.)
And, as long as we're talking about Kevin Garnett ...
(Photo: Nathaniel S. Butler/NBAE/Getty Images)
I'm sure that plenty of NBA fans have thought: Hey, why doesn't my team to what Danny Ainge did last summer, and nab a top superstar to turn the whole squad around in an instant?
Celtics fan and writer Jonathan Messinger says that going out and grabbing someone like Kevin Garnett just can not happen very often:
... here is what you need to remake a team the way the Celtics did: Cap flexibility, young talent, expiring contracts, a high lottery pick in a deep draft, serviceable role players you can live without, jerkface owners in another town summarily dismantling their team, an inept front office in yet another city, a superstar who wants to win badly and knows it won't happen on the team he's given his career to, more young talent you can somehow not trade in the process, a hometown hero to anchor the whole process, and the two acquisitions, along with that anchor, should be at the tail ends of their prime where they're eager to lead, teach and win. Piece of cake, right?
Don't forget you need to also get a new assistant coach like Tom Thibodeau to make your team into stout defenders.