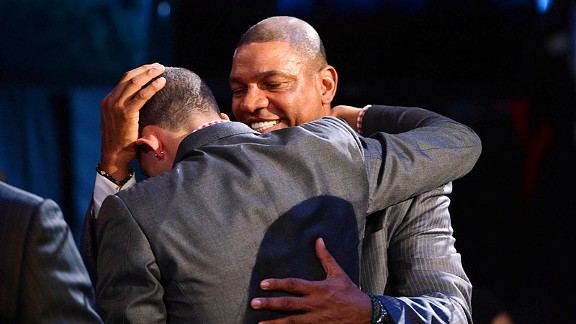 Jerry Lai/US Presswire
Doc Rivers' son, Austin, is bound for the NBA after being selected 10th overall by the Hornets.
NEWARK, N.J. -- The Detroit Pistons had just selected Andre Drummond ninth overall in the 2012 NBA draft. The New Orleans Hornets were on the clock. And something happened at the table, just a few feet from David Stern's stage, where Duke guard Austin Rivers and his family waited nervously.
All at once, for no apparent reason: jubilance. Grins all around. It would be several minutes until Stern would announce the next pick, but they knew something. Austin's dad, Boston Celtics coach Doc Rivers, had a smile that was visible from 100 yards.
"Monty and Dell did text," Doc would later explain, talking about Hornets coach Monty Williams and general manager Dell Demps. "But until they called the name, until Stern was like … then you believed it. Because I've been in this league too long. It was really a cool moment. I have always gotten a rise from watching the others. When you win a championship, you watch the players. For me, the most emotional part was watching my wife and [Austin's] brothers. I think that was really cool."
Austin Rivers had made the NBA, as a lottery pick, and would be a Hornet.
It was precisely the outcome the Rivers family wanted. Even though the Hornets are rebuilding and have been in dire straits on and off the court in recent seasons, there is plenty of reason for hope, including new ownership, a great coach and -- this is key -- top overall pick Anthony Davis as a teammate.
"We have been friends the last couple of years," Austin said of Davis, "so to be ready to take on this journey together is pretty cool, and I'm looking forward to it. … I love New Orleans more than anything right now. This is the greatest feeling in my life."
Doc is delighted his friend Monty Williams will be taking on the task of getting the most out of Austin as a player. "If you look at the coaches [Austin] has chosen, he has gone for the guy that's going to get on him and push him. He's always like that. His AAU coach, his high school coach. He could have gone other places, but he wanted Coach K. He wanted the instruction. And so he's got it again, through Monty."
You may give them your love but not your thoughts,

For they have their own thoughts.

-- Kahlil Gibran, in the poem "On children"
A lot of the talk about Doc and Austin, the NBA's newest father-son duo, focuses on the passage of knowledge from father to son. If Austin can make the NBA in his daddy's footsteps, Doc must have made him that way.
As head coach of the Boston Celtics, Doc Rivers yells at people for a living -- so much so that he's nearly permanently hoarse. There are places players need to be on the floor. There are effort levels that must be achieved. There are plays that must be executed. When people do the wrong things, it is Rivers' job to make them aware.
Most people never stick their noses in other people's business like that -- the big exception, of course, being parents. In this, every parent intervenes as much as a coach and then some. Only a mother or father would dare to say things like: No, you may not wear that shirt. Yes, you have to go to bed now. This is the right way to drive. Now is the time to clean your room.
Put it all together and who would blink if Rivers were a little controlling of his NBA-bound son? It is within the scope of the elder Rivers' positions, as coach and father, to direct a lot of the traffic in Austin's life. This agent, that college. He could potentially even pull the strings to determine his son's NBA team -- something he has joked about.
And the coach admits that watching his son play floods him with feelings and suggestions.
"It really is hard to watch," he admits. "When I'm watching his games -- I was so much more calm in my games when I was a player than I am as a parent watching his games."
So, does Rivers make lists of ways Austin ought to play differently?
The remarkable answer: Not at all.
"I've always thought my job was to support him. To pick him up when he's down. And really try to enjoy it more than coach," says Doc. "If he brings something up, or asks a question, I'll answer it. But basically I say, 'Good job.'
"Every once in a while he'll tell me. He'll say, 'What do you think? What do I need to work on?' And that's my opening. I think it's rare that I've gone to him. Only time I'll go to him is if I don't think he's competing. And that's rare because he's do darned competitive."
That's a lot of holding back. Doc coaches a team that is about ubuntu and selflessness. Austin tweets photos of his basketball idols, and they are all-time leaders in field-goal attempts per minute. The father and coach smiles, knowing that a mix of Austin's own sense, time and his other, non-dad coaches, will deal with all that. If Rivers is a ball hog, that's a Monty Williams' issue now.
And to Doc, that is as it should be.
"We played together," Doc says of Williams. "I coached him, and now he's coaching my son. Strange in a lot of ways. I think he's a great coach for [Austin] because Monty's so tough, and I think that'd be great for Austin."
And Doc will happily offer advice from afar, but only when Austin deems it necessary.
"That'll never change. He'll call when he needs it. And that's the way I want it. I don't need him calling every day. I've got my own players."