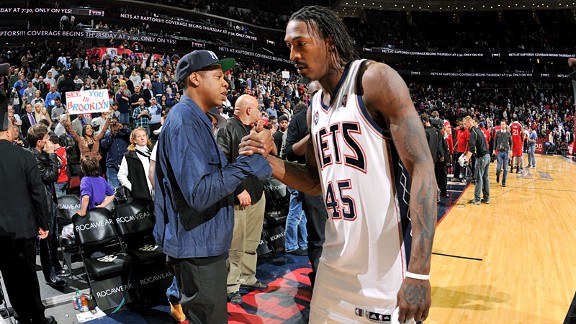 Jesse D. Garrabrant/NBAE/Getty Images
Gerald Wallace can produce a lot -- but no role player's worth what the Nets have reportedly offered.
Deron Williams, Roy Hibbert, Steve Nash ... free agency is like Christmas! Players you hated to play against, now available to the team bidding highest.
Beyond the stars, there are still plenty more presents under the tree. The list includes all kinds of players one could easily see making huge contributions to some smart playoff team next May, or maybe even June: Jason Terry, Ray Allen, Jeremy Lin, Andre Miller, Nicolas Batum, O.J. Mayo, Ersan Ilyasova, Lou Williams, Goran Dragic, Jamal Crawford, Gerald Wallace, Jameer Nelson ...
The way the thinking normally goes, any general manager who nabs one of those guys is a conquering hero. Throw a parade!
There's a feel-good angle for the locals, too: He could have played anywhere, but he chose our city. It's as if the fans helped lure that player.
Don't let the falling confetti obscure your vision, however. That guy your GM is so happy to introduce may soon keep you from contention by sucking up a fat wad of cap space without being one of the best players on the court.
Overpaid role players hurt
Unless you're getting a star, or just have uncommon good luck, winning an open-market bidding war for an NBA player with a recognizable name is a classic way to hurt your team's long-term prospects. There are exceptions, but by and large those guys are bad contracts waiting to happen. Paying any of these guys anything like that would be somewhere between incredibly risky and a full-on mistake.
There are many different ways to build a championship team. But in a world with a salary cap, overpaying players is a profound sin. As Knicks fans know only too well, three or four bad contracts and you're done.
And since the Knicks proved this so thoroughly, the salary cap has gotten significantly harder. The punishments for overpaying were always high and have gone way up.
Proven players like Ray Allen and Gerald Wallace almost never come cheap -- in no small part because they can make strong cases they are worth big deals. They have earned plenty already, and may outperform plenty of players who make $5 million, $6 million, $7 million or even $10 million a year.
The reason it's a bad play is not that those players aren't really good. The reason is that about-as-good players can be had for far less. Even if you love Wallace's game, there's no arguing the reality that players such as Kawhi Leonard, Steve Novak, Matt Barnes and the like perform similarly for a fraction of the cost.
In many cases, the team that wins the bidding is buying deep into the downslope of a player's career, when the player is slower, easier to guard and more injury-prone. The Heat love to sign old free agents, and by the time of the playoffs had a vast collection of players too old to compete at a championship level.
Meanwhile, many of the best bargains in the league are no-name free agents and players on rookie deals. None of those are sure things, but if you have decent powers of talent identification, and three or four roster spots for young players, somebody will work out. But if you choke up the roster with known players, you eliminate almost any chance of bargain young players.
Good teams pay stars
On the other hand, the best teams have a certain pattern in how they are built: They get meaningful minutes from cheap role players -- many of those are on rookie contracts. The best teams, by and large, pay their top three players vastly more than $5 million each a season. If their fourth-best player makes more than $5 million a year, though, chances are the team would love to ditch that guy. Almost never do teams built for the long haul pay their fifth- or sixth-best players as much as $5 million a season. Many of them get $1 million or less, and are not big-name players.
And if those really good teams have contracts they regret, it's almost always to a fairly big-name, free-agent role player.
They pay stars more than $5 million a year ... and almost nobody else. The champion Heat's fourth-biggest contract is Mike Miller, and because he makes nearly $6 million and is injured, the team clearly would be better off without him. The Spurs tend to pay their big three plus one more player -- on this year's title quest they took on Stephen Jackson and his $9 million contract. But they generally lead the league in contributions from incredibly cheap players.
The Lakers pay their big three of Kobe Bryant, Andrew Bynum and Pau Gasol, which is what you have to do to contend. But $7 million for Metta World Peace is the deal they would most like to unload. The Mavericks can tell a similar tale of Brendan Haywood and the $7.6 million he's due to earn this upcoming season. The Thunder have had a tidy set of books, but more than $7 million for Kendrick Perkins -- maybe the team's fifth-best player? -- is looking like a lot. Bulls fans can talk your ear off about how they wish they could re-think Carlos Boozer's big contract.
A funny kind of gift
I heard a story once about a dud of a son, who wowed the whole family on Christmas by presenting his mom with a showy presentation of a high-definition big-screen television. Who knew he could afford such a thing? Who thought he would ever be so generous?
Sure enough, a few weeks later it came clear that in fact he had not bought the television, but instead had made a down payment ... while signing his mom up for the payment plan.
Nice gift, eh?
If free agency has an element of Christmas to it, it's that kind of Christmas. The one that comes with a bill that stings for years.
So shop carefully. Look at the list of free agents above and ask yourself if any of them would be a top-three player on a title team. If the answer is no, pray your team won't pay them anything like the $10 million a year the Nets have reportedly offered Gerald Wallace.