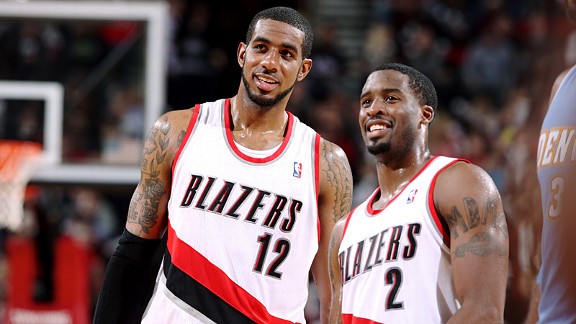 Sam Forencich/NBAE/Getty Images
Will LaMarcus Aldridge and Wes Matthews be part of a rebuilding or a retooling project in Portland?
"Rebuilding is a scary word," Portland Trail Blazers general manager Neil Olshey said.
As much as we might tout it as a sound, grown-up strategy for getting off the treadmill of mediocrity, rebuilding is an admission to a fan base -- to say nothing of the young veterans on the roster -- that management has no expectations that the team will do anything more than chase a No. 8 seed, if it's lucky.
For some NBA teams, it's their only realistic course of action. The writing on the wall flashes in neon. There's no way around rebuilding. They can take solace only in the fact that there's a reliable blueprint now: The Oklahoma City Thunder.
For other teams, it's tough to determine whether that treadmill is running at a sluggish 12-minute mile or whether it just needs management to press that little green arrow to speed up the process. It's possible that with a tweak here or there, excellence is attainable.
Delineating the fine line between "rebuilding" and "retooling" is a tough distinction.
Rebuilding is easy enough: Blow the whole thing up.
Retooling is a more surgical exercise -- adding significant talent and salary, but with the reassurance that, when the offseason machinations are all over, the team can contend for a top-4 seed, with the prospect of improving the next season ... and the next ... and the next ... ultimately becoming a member of the NBA's elite.
The question for Olshey and the Trail Blazers is -- can you hedge during the offseason? Can you demonstrate the finesse to keep both rebuilding and retooling as options while filling out the roster one piece at a time?
Olshey has stated that his first course of action is retooling, and that makes a lot of sense because the Trail Blazers start with a very nice centerpiece in LaMarcus Aldridge. He was the third-most efficient power forward in 2011-12, trailing only Kevin Love and Blake Griffin in Player Efficiency Rating (PER).
On top of that, the Trail Blazers have a ton of cap flexibility. With their committed salaries, along with the cap holds on their first-round picks and Nicolas Batum, they're at only $36 million, leaving them about $18.4 million under the cap.
And here's where that hedge between rebuilding and retooling comes into play. The Trail Blazers wasted no time in writing up a maximum offer sheet to restricted free-agent center Roy Hibbert of the Indiana Pacers -- a sure sign of retooling.
"If there's a player on the same career arc as LaMarcus, Wes (Matthews), Nic (Batum) and our draft picks -- an All-Star caliber player who can really move the needle and accelerate our growth process, then I have no problem putting my chips on the table," Olshey said. "But what I'm not going to do is run a race to mediocrity. Taking away flexibility to be mediocre is counterproductive."
For Portland, Hibbert was that guy, a 25-year-old All-Star caliber player, the ultimate retooler. Extending that max offer sheet was a no-brainer.
Olshey appreciates that there's a good chance the Pacers will match the offer. If and when Indiana does, Olshey has no problem shifting gears. He's not going to overpay a low-caliber center on a long-term deal just for the sake of filling a hole.
Olshey is an ardent game theorist. He's a big-game hunter, but he's also an exec whose eyes are always fixed on the long-term. The Trail Blazers won't sacrifice their flexibility in a panic move. There will be no multiyear deals extended to the Robin Lopezes, no retaining Jamal Crawford or Raymond Felton. That's not to say there won't be one-year deals offered to low-cost veterans, but nothing to compromise the roominess of Portland's clean spreadsheet going forward. Absent a needle-mover like Hibbert, the Trail Blazers are content to move into rebuilding mode.
No. 6 draft choice Damian Lillard will start at the point (in both a rebuilding or retooling plan). If Portland can't snag Hibbert, then No. 11 pick Meyers Leonard will see considerable time alongside reliable gray-beard Kurt Thomas. The Trail Blazers are high on 23-year-old guard Elliot Williams, who is coming off an injury. Matthews might be a tad overpaid, but he's a dogged defender who posted impressive on-off numbers on both sides of the ball last season.
The Batum question is far more dicey, and he's a player who could potentially complicate that flexibility Olshey values.
On Thursday night, Batum agreed to an offer sheet with the Minnesota Timberwolves for a four-year contract that could exceed $45 million, according to reports. If the Trail Blazers are able to nab Hibbert following the moratorium, which ends on July 11, matching Batum would fit squarely into the retooling model, provided the team truly feels he can achieve his potential. Olshey publicly maintains that the Trail Blazers will match and won't engage in a sign-and-trade deals.
If Hibbert returns to Indiana, paying Batum would put a huge number on Portland's balance sheet as the team tries to rebuild. If the plan is to rebuild and the Trail Blazers are looking to avoid a 38-win season, they might better off handing the small forward spot to, say, third-year player Luke Babbitt. If Babbitt flames out -- and even if he performs respectably -- Portland will likely find itself back in the top 10 in next June's draft, with the chance to add another low-cost, high-ceiling pick to its stable in 2013.
This Batum dilemma is precisely the kind of wrench that can render all the planning in the world null and void. Do the Trail Blazers gamble on Batum, knowing they might be placing a top-flight center alongside Aldridge in another week, or do they punt on Batum and maintain their position as an organization with tremendous flexibility and deep pockets?
In this respect, Olshey not only has to be crafty, but also clairvoyant.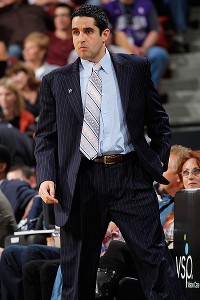 Rocky Widner/NBAE/Getty Images
Kaleb Canales: The man on the spot.
Then there's the matter of head coach Kaleb Canales. Olshey raised eyebrows during his initial round of news conferences when observers interpreted his remarks as an endorsement of Canales. Portland is an intelligent, demanding fan base and the idea that management wouldn't at least consider more seasoned coaching candidates was perplexing.
Are there more qualified candidates than Canales to coach the 2012-13 Trail Blazers? Probably. But just as Olshey likes to maintain flexibility with his cap and his roster, the same holds true with the head coaching position.
Let's say the Trail Blazers land in rebuilding mode. That organizational strategy isn't attractive to the big names on the coaching market, who'd much prefer to walk into a ready-made situation. As attractive as the Mike Malones or Brian Shaws might seem from afar, how certain are we that they're significant upgrades over Canales, whatever his shortcomings might be?
We know this about Canales: If Portland opts to rebuild, he's inexpensive at a moment when the franchise doesn't expect to win more than 40 percent of its games. He's certain to play Lillard, Leonard, Williams and Babbitt, who will need the royal jelly of playing time to flourish. If the brass concludes at a certain point that Canales isn't the answer, they can always replace him at little cost.
If the Trail Blazers feature a frontcourt of Hibbert, Aldridge and Batum, then Olshey can go kick the tires on some more seasoned coaches who have the experience to maximize the team's potential at a time when the Trail Blazers want to win.
While the Trail Blazers wait on Hibbert, they're keeping their primary and secondary options open, like any team that runs a sound offense.
The key? That flexibility -- the mother's milk of a team in flux, whether it's rebuilding or retooling.