Something is wrong in Chicago.
The team that a lot of people picked to win the East this year has become one of the most bitter and miserable franchises in recent memory. (You don't believe me? Check out the tone on BlogaBull, one of the best team blogs out there.)
At one point mid-season, it seemed like maybe head coach Scott Skiles was the problem -- so he was fired.
A few hours ago, his former assistant, and replacement as head coach, Jim Boylan was fired too.
Meanwhile, the team hasn't exactly been singing the praises of their players.
The way it has been told in the media, the bad boys on this team include just about everyone in uniform. It's like the front office has been besieged with some of the worst luck any front office has ever had.
Meltdowns right and left all season long, in some cases from players who have never been seen as problems anywhere else?
After a while you have to wonder if maybe the players aren't to blame.
The season started with stains to the reputation of Luol Deng and Ben Gordon,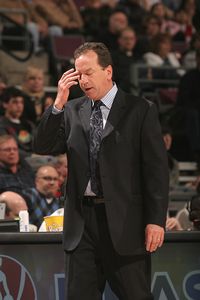 who did not sign the contract extensions the team was offering. The story was that these were ego-maniacal players who let greed get the better of them.
But look at how the season unfolded. It occurs to me that it's also possible they just weren't sure they wanted to sign up for long years of whatever it is that's going on in the Bulls franchise right now.
The Associated Press chronicles the other incidents that have besieged this team -- at least the ones that made the press:
Rookie Joakim Noah was suspended in January after a verbal outburst at assistant coach Ron Adams in practice. Initially a one-game suspension, his teammates voted to extend it to two. A short time later, Noah and Ben Wallace exchanged words following a blowout loss to Orlando.

Tyrus Thomas, apparently unhappy with his playing time, skipped practice and was handed a two-game suspension last month.

Chris Duhon missed a March 9 shootaround after being spotted the night before in Durham, N.C., at the North Carolina-Duke game; he was fined, benched for one game and inactive for another.

Bulls officials were not happy with his reaction -- "I haven't been playing a lot anyway," he said. It was true. Duhon's minutes had been limited after Larry Hughes' arrival with Drew Gooden in the three-team deal that sent Wallace to Cleveland.

Another episode was coming, this one involving Andres Nocioni.

Nocioni blew up at Boylan after being lifted in the second quarter of a game against Indiana late last month and got sent to the locker room. Nocioni apologized two days later, another sorry episode in a sorry season for the Bulls.

Paxson called the outbursts "disturbing" and "out of character."
Luol Deng, Ben Gordon, Joakim Noah, Tyrus Thomas, Chris Duhon, Andres Nocioni ... over the last season, I have talked to several of these players, several of their agents, and several of their friends.
My impression is that's a group of extremely hard-working players who want to win.
But for whatever reason, when you put them in the pressure cooker that is the current Bulls organization, in their own way, they have each cracked. They have, in some cases, not felt valued. Professional development has, they say, not been a priority. Communication has been terrible. Players have felt humiliated at times, and confused at others.
It's a sad situation.
Was Jim Boylan the problem? I guess it's possible, but no one I have talked to who is close to the situation feels the problems are solved by today's firing.
In the meantime, if the Bulls continue to believe that these young players are the problem, and start auctioning them off cheap, my advice to the rest of the league would be "buy." With some nurturing, and some playing time, I expect it will be clear we haven't seen the best of these Bulls yet.
Of course, somebody will replace Jim Boylan. (Who wants next on the coaching seat of doom?) Quite possibly the new person will have the chutzpah to fix everything in one fell swoop. It would be great to see, and I'm sure no one would be more thrilled than those players.
But it's a tall order.
(Photo by D. Lippitt/Einstein/NBAE via Getty Images)