It was two years ago this month that Reggie Evans did just about the most underhanded thing one man can do to another on the basketball court.
And it was on video.
At the time, especially if you were Chris Kaman, or anyone hoping Kaman might carry on the Kaman family tree, it was really not funny at all.
And it made you wonder long and hard about how things work in the mind of Reggie Evans.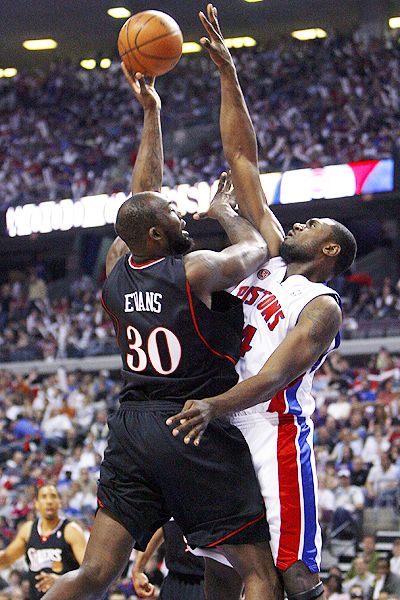 In the two years since, with that incident in mind, his name has become almost a synonym for one player violating another on the court.
As in, sure I might get pushed or elbowed. But if somebody Reggie Evanses me, we're going to have problems.
Meanwhile, he has drifted in and out of the rotation, and has failed to make a major mark.
Until tonight.
This evening -- in a rough and tumble game that suits Evans' physical style -- Evans was one of the brightest stars as Philadelphia won the first real upset game of the 2008 playoffs.
Nobody doubts the Detroit Pistons when they play their best. But the knock on the Pistons for the last few years has been that at times, too many times, for some reason they do not play their best. They can appear lackadaisical -- overwhelmed, it appears, with their own talent.
Reggie Evans is the kind of guy who does not give a crap. You're not going to fight hard for that position/rebound/loose ball? Then get out of the way.
This was the kind of game old-timers wish they'd see every night -- where slow motion replay reveals four or five uncalled fouls per possession. More than a few of those clashes involved Evans, who seems to lack a normal sense of boundaries and personal space.
In a game like this, that can be a major asset. All the Sixers started playing like Evans, and as it was the playoffs Tom Washington, Monty Mccutchen, and Eddie F. Rush let them play on.
Evans was on the floor when the game was won (the Sixers were plus five when he was on the floor, tied with Andre Iguodala for third best on the team, behind Andre Miller and rookie Jason Smith).
Evans finished the game with 11 points, 14 rebounds, five (called) fouls, only two missed shots, a one game-to-zero series lead over the heavily favored Pistons, and a name that sounds just a little better than it used to.
(Photo by Gregory Shamus/Getty Images)