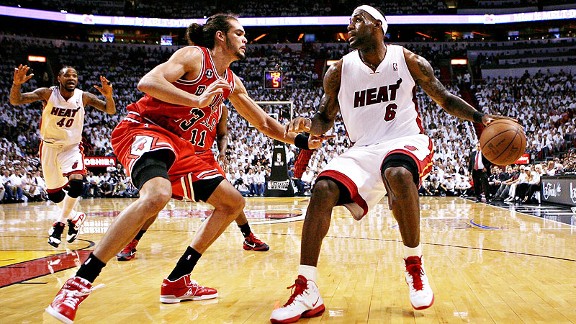 Marc Serota/Getty Images
Joakim Noah and the Bulls are still a tough test for LeBron James.
In each round of his rampage through the playoffs, LeBron James seemed able to morph into the player best suited to demolish his opponent. Against Indiana, that meant dropping in sweet floaters and attacking pick-and-rolls. Against Boston, he shot his team back into the series in Game 6 with midrange jumpers and drove past slowfooted defenders. Against Oklahoma City, James' jumper abandoned him, but he still brutalized the Thunder's wing defenders from the mid-post.
His dominant run suggests that the next few NBA titles will go through Miami. Meaning if any team wants to win a ring, it better have a plan for defending James.
So what does it take to slow down James?
Scouring video of the last few teams to defeat him in the playoffs delivers some clues.
The teams are Dallas ('11), Boston ('10, '08), Orlando ('09), San Antonio ('07). Or, written another way: Tyson Chandler, Kevin Garnett, Dwight Howard and Tim Duncan.
1. Quality big
The first step in slowing James is to have a (really) big man on the roster who can not only protect the rim but move laterally well enough to shut off driving angles. But there's more. That big man must also be able to read the offense and attack James proactively. Needless to say, there aren't a ton of athletic 7-footers with high basketball IQs.
2. The scheme
All the athleticism in the world won't do much to contain James unless it's employed in an aggressive, well-executed concept. The Mavericks and Celtics would double James as he caught the ball, and then retreat back to close up passing angles. The effect was that James held the ball too much and, still lacking the back-down game he used to bull his way to the paint against the Thunder, he struggled to create for himself and others as a result.
3. Quick and long
Gone are the days when a team could put DeShawn Stevenson on James and live to tell the tale. James is so overwhelming inside that the Celtics ended up putting Brandon Bass on him during Game 7 in an effort to push him away from the rim. Big players with quickness can do OK with James because they can offer him a cushion (a deep jump shot still being the best result when defending James) and contend with his strength on drives.
James is a lot of things, but one thing he isn't is shifty. Unlike say, Chris Paul or Kobe Bryant, who will combine two or three moves to elude his defender, James prefers to make one move, get his shoulder past the defender then force his way to the rim. As James' game continues to become more post up-oriented, it's becoming increasingly important to match his strength, not just his quickness off the dribble.
With this criterion in mind, let's take a look at the five teams with the best chance of slowing down James and the Heat.
1. Chicago Bulls: The Bulls remain the biggest threat to the Heat's Eastern Conference hegemony because Tom Thibodeau is the league's premier defensive coach and because Taj Gibson and Joakim Noah compose what might be the quickest duo of true rim protectors in the NBA.
Both are adept at managing James when they are forced to switch on pick-and-rolls, and Gibson in particular offers an interesting option to guard James one-on-one, since he's demonstrated the lateral quickness to stay in front of James in the past and has the requisite size and strength to tussle with him down low. Gibson is also relentless, long and incredibly bouncy -- he's my pick for "NBA player best-equipped to defend LeBron James."
Add in Luol Deng and Jimmy Butler, two feisty wing defenders with length and quickness and you can see that Chicago not only has the perfect coach and philosophy to take on James, but a roster that is as prepared as any team's to handle him.
2. Wherever Dwight Howard plays: There was a sequence late in a Heat-Magic game from last season in which James had the ball by the rim, went up to finish and was blocked by Dwight Howard. James recovered the ball, upfaked, and went back at the basket, where Howard again left to deflect the ball above the rim. There just aren't many players who can do that sort of thing, and in four games against Howard last season, James shot just 40 percent from the field.
Howard's former coach, Stan Van Gundy, knew how to leverage all of Howard's strength and athleticism to defend the paint, but Howard is also a savvy pick-and-roll defender and will immediately give just about any team a top-rate defense. Wherever Howard ends up, that team will have the player who gives James more trouble in the paint than anyone in the league.
3. Indiana Pacers: The only team in the league that boasts a 7-2 center and two athletic wings to check James. In the playoffs, the Pacers actually outscored the Heat when Roy Hibbert was on the court. Danny Granger and Paul George were overmatched, but both have kind of body and required tenacity to bother James. George in particular, with his great size, shows special promise. One can imagine the 22-year-old becoming the type of player that can handle James inside and out as he continues to get stronger and smarter. Indiana's main problem is that Hibbert rarely plays much more than 30 minutes in a game, and James feasts on the Pacers backups. When they face the Heat, Indiana has to hope rookie Miles Plumlee can be a useful backup in the minutes Hibbert sits.
4. Oklahoma City Thunder: Yes, I watched the Finals, but the Thunder's roster actually suggests they can do more than most teams to stifle James. It starts with playing Kendrick Perkins less. Perkins has real value against the likes of Duncan and Andrew Bynum, but he's far too slow to be an effective help defender, a fact the Heat repeatedly exploited by involving him in pick-and-rolls, especially early in the shot clock when the Thunder center is still out of position after getting back. In the Finals, James shot 54 percent when Perkins was on the court compared to just 41 percent in comparable minutes when Perkins sat. Serge Ibaka and especially Nick Collison offer positive alternatives to Perkins, and Kevin Durant should be expected to improve his individual defense enough to bother James with his excellent length and quickness. It's also worth mentioning that though James put a hurting on Thabo Sefolosha at times, nobody is perfect, and the Swiss defensive specialist is still a good option.
5. Boston Celtics: If the Eastern Conference Finals made one thing clear, it's that Paul Pierce can no longer offer much resistance to James one-on-one and be expected to produce on the other end. But help is on its way in the form of Jeff Green, who can soak up some minutes. And Kevin Garnett remains the gold standard for defensive big men. If the Celtics are successful in their efforts to upgrade their frontcourt through the draft, they can still offer as much resistance as anyone.