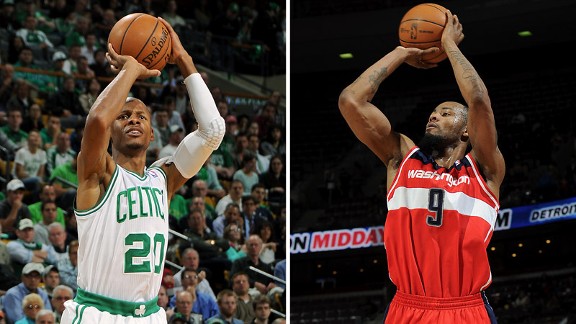 Getty Images
The Heat add shooters, but at the expense of youth, athleticism.
"Add old shooters with big-time reputations" is a fair summary of the Miami Heat's offseason agenda thus far. Their two free-agent acquisitions, Ray Allen and Rashard Lewis, are 36 and 32 years old, respectively, and have spent a combined 30 seasons playing NBA basketball. Each has made some monster 3-point shots in the playoffs, an important résumé item for anyone planning to join Miami, especially now that LeBron James has established residence on the block.
But both players are also inarguably on the decline. In 2007, Allen and Lewis boasted PERs of more than 20. However Lewis' PER hasn't been above 15 (league average) in three seasons and Allen's dipped below 15 for the first time in his career last season. The Heat's role players didn't exactly shine during the regular season, so these two are likely an upgrade, especially in the short term. But keep in mind that in 2011-12, Allen lost his starting spot to second-year guard Avery Bradley and battled bone spurs while Rashard Lewis has played in less than 60 percent of his team's games over the past two years.
Sure they can still shoot, but can they play, especially in Miami's frenetic defense, one that emphasizes speed and versatility?
Consider the case of James Jones, who played about eight minutes per game during the Heat's playoff run and couldn't even get in the game a few times. Jones is a lights-out shooter, a champion of All-Star weekend's Three-Point Shootout. The dude can be trusted to make it rain when he's open.
However Jones also fits poorly into the Heat's defensive plan. He's smart and aware, but really struggles on closeouts or to handle anyone with much strength inside or speed on the perimeter.
A player who worked out in a big way, Shane Battier, doesn't shoot or even drive the ball much better than Jones and is hardly "quick," but he can guard a bunch of different positions and that allows the Heat to capitalize on their team speed. Even Mike Miller, who looked like he needed to be playing with a Life Alert ("I've fallen and I can't get up") alarm on his wristband, could shuttle defensively between three positions, though not always with much effect.
Long story short: If you looked at the Heat bench during the playoffs, you'd see a bunch of players who can play only one position. Even though the Heat are wise to replace Miller's crumbling body and game, they are attempting to do so with players who, while more productive, have less malleable identities.
For all the experience and dead-eye shooting Allen and Lewis will bring to the Heat, defensive versatility is decidedly absent from their repertoires. That's not to say they won't be useful. Defending the LeBron James-Dwyane Wade pick-and-roll gets a whole lot more complicated when Ray Allen is coming off a double screen on the other side of the court. Rashard Lewis gives coach Erik Spoelstra a second power forward, along with Shane Battier, who can pull a help defender all the way to the 3-point line, freeing up the middle for the Big Three.
Still, I question whether this is how a dynasty is built -- on players with deteriorating skills and rapidly approaching expiration dates.
Here's a short list of way-too-old players acquired by the Heat just in the past two years: Jerry Stackhouse, Zydrunas Ilgauskas, Mike Bibby, Jamaal Magloire, Juwan Howard, Erick Dampier … you could even lump Eddie House in there.
The Heat skipped an opportunity to add valuable young talent -- Perry Jones, John Jenkins and Draymond Green come to mind -- in the draft, preferring to patch over holes rather than add to the team's foundation. Now they have two more multiyear contracts with players whose defensive ability -- remember this has been Miami's real strength on its back-to-back Finals visits -- is questionable already and will only become more so.
It should be mentioned that, if these two can stay healthy throughout the season and Lewis finds his stroke again, I have no idea how any team is going to guard the Heat. As our Tom Haberstroh mentioned on Twitter, "When Miami's Big 3 played with 2 non-PG shooters, they scored 127.4 points per 100 poss. All other Big 3 lineups? 109.8."
That's serious firepower, but only if the gunpowder stays dry.
Thinking one year at a time is generally bad strategy in the NBA; that's how teams get stuck with bad contracts and fading players. Certainly right now, with each member of the Big Three still putting up big playoff numbers (combined 72.0 playoff PER), the strategy makes some sense. But Dwyane Wade, who underwent another knee operation this offseason, is on the tail end of his prime and we've already seen the benefits of developing young talent in what a crucial player Mario Chalmers has become.
Miami's offseason moves suggest the franchise is living for its brilliant present. They'll sort out the future, which always gets here before anyone expects, when it arrives. That's the luxury of having James and Bosh, two superstars in the early stages of their prime years.