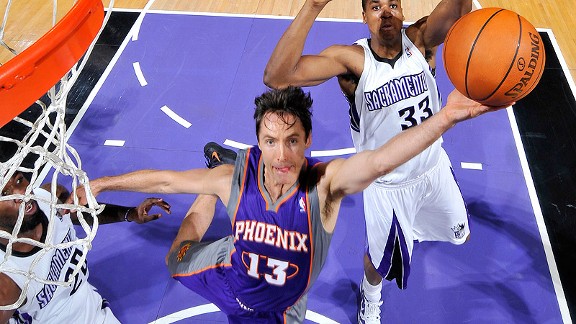 Rocky Widner/NBAE/Getty Images
Steve Nash makes offensive magic in a system the Lakers likely won't run. Who will adjust?
Steve Nash has a track record of getting the best out of his teammates -- high-percentage shots, team-first attitudes and big scoring nights are common. In that, he's the closest thing the NBA has to a basketball miracle worker -- as valuable a teammate and leader as there is.
If Kobe Bryant, Andrew Bynum and Pau Gasol have great seasons in 2012-13, it would be in keeping with the effect Nash has had on players like Amare Stoudemire and Shawn Marion in the past. Even better: The kinds of shots he tends to create for teammates are open ones -- the very ones that reduce wear and tear on your body. In theory, that could add years to Bryant's peak, help Bynum and Gasol stay healthy and give all three the freedom to use more of their precious energy on defense.
In short: The Lakers could be much improved next season.
Nash's arrival also potentially signals a return to owner Jerry Buss' preferred high-scoring, open-court style.
This could be a beautiful thing.
But it's far from a sure thing.
---
It's hard to find a coaching job that is more uniformly ridiculed in NBA circles than Terry Porter's 28-23 stint as Mike D'Antoni's replacement running the 2008-09 Phoenix Suns. The Suns had averaged 58 wins over D'Antoni's preceding four seasons. Porter was brought in to reimagine the Suns as all that,
plus
Shaquille O'Neal.
The idea was that Nash would continue to be brilliant, and everything he ever was, only now with more options -- not unlike what is supposed to happen with the Lakers.
The result was something Kevin Arnovitz aptly called a "hummingbird trapped in a sandwich bag." It just didn't look right. O'Neal ate up the space Nash needed to operate and ended the team's tradition of confusing defenses by covering the entire floor with shooters.
The 2005 and 2006 MVP didn't even make the All-Star team in 2009, and most believed he was the same player he had ever been, but the system didn't allow him to do what he does best. Ask him to do everything on offense, and Nash runs a beautiful show. Ask him to do regular point guard things, like make an entry pass, cut through the lane, and stand in the corner, and it's not clear why he was ever the MVP. It's like Mario Andretti driving the school bus.
Convicted in the court of public opinion of killing the most exciting offense in decades, Porter didn't last the season. Alvin Gentry took over and quickly reinstated the majority of D'Antoni's playbook. O'Neal left town in the offseason, and Nash has been back in control ever since.
The takeaway is that Nash -- tiny by NBA standards and hampered by a bad back -- is not a magical player under all circumstances. He's a magical player in the right system -- namely one where he dominates the ball.
And it works. The best measure of team offense is points per possession. Every season from 2004-05 through 2009-10 the Suns had one of the 100 best offenses in NBA history, out of 1,303 seasons in the Basketball-Reference database.
There are rules to the D'Antoni offense Nash has been playing in since he became a huge star in 2004. One basic idea is that Nash's teammates don't do too much. If Nash passes you the ball, get rid of it quickly by shooting or passing. If you're guarded, and that doesn't happen ... don't go putting the ball on the floor and creating your own shot. Instead, the play is to give it back to Nash to let him create the team's next good opportunity.
David Thorpe points out something that is obvious once you look for it: Nash is one of the most effective passers in NBA history only because he sets up those passing opportunities by aggressively looking to score. He is by many smart measures the best shooter in the NBA, and he shoots plenty, often off the dribble before any pass. The reason? That prevents the defense that is his kryptonite: using every available defender to cut off the open passing lanes to teammates. Without those angles, he is no MVP candidate. So Nash has learned to simply attack first, to make the defense focus on him as a scorer. That, in turn, means open teammates. Then, whether he shoots or a teammate does, Nash can create open shots and eye-popping offensive efficiency.
But to teammates, it looks pretty ball-hoggy at times. Before long we'll have statistics about how many times this or that player dribbles the ball per possession, or how many minutes of the game he hangs onto it. Nash is a strong candidate to lead the league in both. Nash has rightly earned a reputation as a selfless player, but the fact is that when he does his brilliant thing, which often ends in a pass, he has the ball for an eternity, in NBA terms. If the first screen doesn't get the job done, he'll use another, then another. He'll dribble all the way to the hoop and back out again, and then back in.
Meanwhile, not having the ball very much plays havoc on the psyches of some teammates who feel they can and should do more. Marion and Joe Johnson are just two of the players who won a lot of games, starred in a lot of highlights and were tremendously productive alongside Nash -- but nevertheless sought work on teams where they show more of their skills and win more of the credit. Stoudemire ultimately left for a bundle of reasons, money chief among them, but before doing so he expressed a will to, for instance, have the ball in the post once in a while, which seldom happens when Nash is dribble-probing all possession long.
---
Here's where we have to start thinking about how Bryant, Bynum and Gasol might handle life as a Nash teammate.
The good news is that Nash and Bryant, as a pair, are a bit like LeBron James and Dwyane Wade. It goes like this: Both have tried life as the hardest working guy on the team. Both know what it's like to have focus, relentlessness and professionalism that the rest of the roster can't match. And, in the case of Wade and James, both were delighted to unite with similarly focused compatriots, real colleagues and teammates. That means a lot.
But the Lakers are already a team where everybody seems to want the ball more. Now they have one more guy with a claim on the rock, and a big claim at that.
And it's a lot to ask of any player to join a long line of Nash-watchers, waiting for that kick-out or swing pass. But it's likely impossible to ask that of Kobe, who has long shown that he loves to dictate the action on the offensive end.
"I sometimes think Kobe is so addicted to being in control that he would rather shoot the ball when guarded, or even double-teamed, than dish it to an open teammate," Phil Jackson wrote in his 2004 book "The Last Season."
"He is saying to himself: how can he trust anyone else? Well, he should learn to trust ... "
Nearly a decade after Jackson's book, and with age presenting a stronger argument than ever for Bryant to outsource some of his duties to teammates, Bryant still led the league last season, by healthy margins, in both shots per minute and usage rate. Numbers suggest he is also the NBA player least willing to entrust big shots, and control of the ball in crunch time, to others.
Bryant has had many top-grade teammates through the years, from O'Neal to Bynum. Nash is the first elite point guard of his career, but hardly the first teammate who could lighten Bryant's load. If Nash persuades Bryant to spend more time in the passenger seat, he'll be the first to do so. Bryant has said all the right things so far. But what will actually happen on the court is anybody's guess.
The trick to getting the most out of Nash is to make the Lakers, all Lakers, value the open shot, the easy shot -- to value making the right basketball play. Given how defenses handle the Lakers -- Bryant is almost never open -- that means more possessions where Bryant will have the ball very little or not at all. Maybe Bynum and Gasol will similarly realize that a lot of possessions might end with Nash driving and kicking to, say, a wide open Steve Blake.
That's how this could work. It's not as personally gratifying, perhaps, for the big-name players. But it's hell for opposing defenses. And it could get all those good players the easiest looks of their careers. It could be amazing.
The alternative? Some offense where Nash doesn't have the ball and lots of freedom? Well, that's just putting the hummingbird back in the sandwich bag, and who'd do a thing like that?