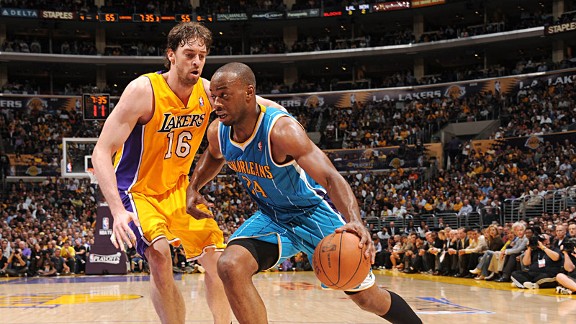 Andrew D. Bernstein/NBAE/Getty Images
Carl Landry can give a boost to any team looking for front court scoring.
During the first week of free agency, NBA front offices are like excited children in a toy store -- they sweep down the aisles signing those special players that they've had their eye on for months.
After the initial frenzy, it's time to take stock of what's left on the shelves.
What you'll find are dozens of imperfect players, some of whom can nonetheless be of use for teams looking to shore up a team's second unit, or, in the case of the players at the top of this list, play 30 minutes a night on a winning team.
Because few teams have much money left to spend -- Larry Coon points out (Insider), there aren't many shoppers left -- it's getting to be bargain time. But there are still plenty of good finds for the right home. Here are 10 of the best of the remaining free agents:
1. Carl Landry
For teams in need of post scoring, Landry is a no-brainer. Though maybe a bit undersized -- he's tall enough but lacks great reach or athleticism -- Landry is strong and has great balance, allowing him to spin and muscle his way to space in the paint. He's only OK as a pick-and-pop big, but he converts open 15-footers well enough to keep teams honest. Defensively, Landry's lack of explosiveness prevents him from doing much at the rim, even though he's almost always in good position to contest. He isn't all that quick, but he does a good job when he switches onto speedy players, cutting off angles to the rim and surrendering pull-up jump shots. If Landry rebounded the ball like, say, Paul Millsap, he'd be making $10mil next year. But his defensive rebounding figures, while not embarrassing, might be the reason he's still available. In short, he is a flawed player, but a good one, especially for a team looking for a fourth scorer to come off the bench or start as necessary.
Strengths: Post scoring, offensive rebounding, mental focus, position defense.
Weaknesses: Athleticism hurts him around rim on both ends, only average in pick-and-pops.
2. Courtney Lee
Courtney Lee isn't as skilled a player as fellow shooting guard O.J. Mayo, who trails him on this list, but he is easier to imagine on pretty much any team in the league. That's because Lee has a simply defined game -- plays strong defense and makes open 3-pointers -- that can be of service to just about anyone. Lee can guard quick point guards like Chris Paul around pick-and-rolls and at 6-6 has the size to tangle with small forwards. Lee is, besides Shannon Brown, the best athlete left in the free agent class and a terror in transition or the occasional drive to the rim. When he has his feet set, Lee can really shoot. But if he has to dribble laterally to get off a shot, his technique -- especially his balance -- really suffers. Last season, Lee showed an increased comfort turning the corner on pick-and-rolls, something that could really pay dividends if Lee develops a consistent pull-up.
Strengths: Spot-up shooting, versatile on-ball defense, active cutter, excellent in transition.
Weaknesses: Shooting off the dribble, making creative passes.
3. O.J. Mayo
What is it that OJ Mayo does at an elite level? The answer may be "nothing," which is why Mayo is still available despite his obvious skill. That being said, Mayo genuinely hustles, can be a pest on defense and knows where to be on offense -- he's an excellent cutter. Mayo's main issue is running the pick-and-roll as a ball handler. He often settles for jumpshots because he isn't a good finisher at the rim. While this is can result in some hot quarters, it doesn't produce great looks for his screeners and diminishes the overall effectiveness of the play. However Mayo is young, and can still improve his pick-and-roll play and shot selection with the right coaching. Even if Mayo never becomes more than a jump shooting combo guard, he can at least improve his catch-and-shoot percentages. Were he a lights-out 3-point specialist, he'd no doubt be ahead of Lee on this list.
Strengths: Plays hard, willing defender, solid shooter from all over the court.
Weaknesses: Not athletic enough to make up for size disadvantage, pick-and-roll ball handling, shot selection.
4. Kris Humphries
Humphries averaged a double-double and has hovered around the top of the league in rebounding rate for the last few seasons. So why isn't he higher? Well, Humphries is not especially coordinated or tall, and this hurts him around the rim. He doesn't extend well to create angles for his shot, and that's why he was blocked on a full 20 percent of his shots within eight feet last year. That outstanding statistic, in concert with Humphries general lack of finesse anywhere on the court, is a big part of why he doesn't have a long-term contract. Still, Humphries gives great effort, tries to be in the right position on defense (though he's not much of a rim protector) and dramatically improved his free throw shooting last year. He'll be snapped up soon.
Strengths: Defensive rebounding, hustle, runs floor well.
Weaknesses: No midrange shot, shaky ballhandler, too small to protect paint.
5. Kenyon Martin
Whatever Kenyon Martin did to his knees worked -- the explosiveness and lateral quickness was back last season. Martin isn't the athletic whirlwind he was in the mid-2000's, but he still has what it takes to defend a scorer like Rudy Gay in big moments, as he did in last year's playoffs. Never much of a creative force on offense, his game on that end still consists of catching and finishing near the rim or shooting that flat-footed, flat-arching shot. So there isn't a huge upside there. But Martin rebounds well, can finish inside, is a savvy defender and still has something left in the tank. A great pick-up at a cheap price for a team seeking interior defense (his block rate last season was a career best) and competent work from a backup forward/center.
Strengths: Defense at the rim, finishing in paint, rebounding, experienced help defender.
Weaknesses: Can't shoot or dribble, on the older side so there's a risk of him breaking down, surly teammate.
6. Delonte West
When he plays, West's all-court game is certainly impressive. He can handle the ball and run an offense like a point guard. He hits spot-up 3-pointers at a great rate, defends with passion and can make just about any play out of a pick-and-roll. The problem is West hasn't played in 80 percent of his team's games since 2007. But at 28, he's still in his athletic prime. West's talent is in the $5 million dollar range, but he can be had for far less because of his well documented struggles with mental disease and injury.
Strengths: Spot-up shooting, midrange game, ball handling, reads floor well, stout defender.
Weaknesses: Consistency, size, athleticism.
7. Randy Foye
Randy Foye is haunted by the high expectations that accompany a top five pick, but in the right situations he's still useful. Foye has developed an excellent outside shot, though he needs to have his feet set -- no running around off screens a la Kyle Korver. Given an angle to the rim, Foye's a good driver. However Foye doesn't have a great handle (which undermines his "combo" status) and is not creative with the ball in his hands -- though he is not shy about attacking one-on-one. Defensively, his size hurts him more than any technical or effort-based issue. For the most part, he's neither a liability nor a strength on that end. He'd be a nice fit for a team that can feed him spot up shooting opportunities on the second unit.
Strengths: Spot-up 3-point shot, barrels his way to rim, gives consistent effort.
Weaknesses: Lacks handle and presence to be true combo-guard, small for a shooting guard, average skill set when not getting to rim or spotting up.
8. Craig Smith
Last season was Smith's first with a below-league-average PER, a testament to the enormously strong power foward's ability to gobble up rebounds and find space near the basket. Smith knows how to move without the ball and is a good at using his body on drives. However he's short, can't jump and he isn't a threat to shoot. Defensively, Smith is a fine one-on-one post defender, but doesn't offer much resistance as a helper because he can't protect the rim and, unlike, say Glen Davis, doesn't take charges.
Strengths: Incredibly strong, good touch around rim, nice feel for game below free throw line, reliable rebounder.
Weaknesses: Not a reliable shooter, doesn't cover much ground defensively, short and not a leaper.
9. Jodie Meeks
Meeks has a great shooting stroke and not a whole lot else in his game -- he's both a pure shooter and purely a shooter. He earned major minutes for Philadelphia as the only player on the roster with a consistent 3-point shot, but would fit perfectly getting 15-20 minutes as a sharp-shooting specialist off the bench. Meeks can't do much off the dribble but has a solid shot-fake game that he uses to find his pull-up jumper. He's a great choice for teams looking for cheap shooting-- a role players who understands his role.
Strengths: Outside shot, good running off of screens, steady ball handler.
Weaknesses: Average athlete and a bit small, can't create own shot.
10. Hamed Haddadi
Haddadi is massive, and averaged 4.5 blocks per 36 minutes as a result. He also fouled at an incredible rate, which makes you wonder whether the bruising backup center is physical or just clumsy. It's probably a bit of both. Offensively, Haddadi has nice touch from 15 feet and a soft hand on tip-ins, but he doesn't get many opportunities to show much else. Despite a lack of quickness or leaping ability, Haddadi isn't exactly a stiff -- he knows how to establish deep post position and work to good rebounding spots. Still, he doesn't play with great vigor, perhaps in part because he spent a lot of last season sopping up garbage minutes.
Strengths: Huge, good screener, soft hands around rim, decent touch.
Weaknesses: Lumbering and slow, does not explode to finish, fouls like crazy.