I have been watching nearly every game of the playoffs so far.
And as I do so, I take notes.
They are all now, in a nice, neat manila folder.
And they have little thoughts like: "Did Chris Paul just get a call by rolling his own ankle?" and "What was Dirk doing there with the tongue?" (By the way, did you see that tongue thing? Low point of the playoffs so far, easy.)
I also have questions, like "who's the guy in the purple shirt who was glued to Kidd as soon as Kidd went psycho on Jannero Pargo?" (More parentheses! Read Kelly Dwyer and Ryan Schwan on the topic of that foul.)
But, through all the games so far, only one player has earned all-caps and a parentheses.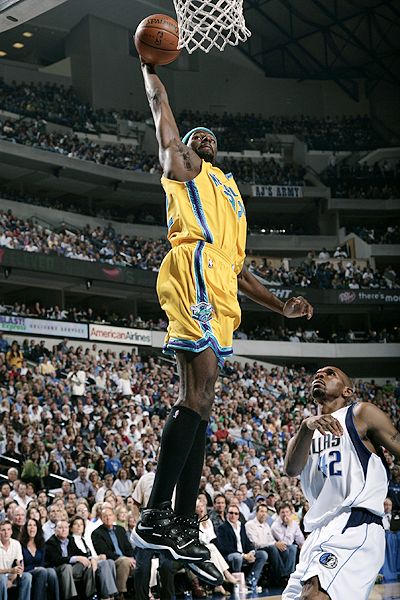 Last night I wrote:
JULIAN WRIGHT!
And I meant it.
That rookie has had great moments this season, and some of the best ones came in the biggest game of his young life.
His shooting has been streaky at times, but yesterday he played 19 minutes, made five of six shots, got two steals, and (foolishly) signed himself up to be Jannero Pargo's avenging angel.
He's clearly long, and he looks pretty strong. But all of that means nothing without your game face on.
Julian Wright now has his game face on.
That may not seem like much. He's New Orleans' ninth man, for crying out loud. And he's a rookie!
But I'll tell you what: the Hornets have a quick guard they can bring off the bench, in Pargo. They have scoring in Bonzi Wells. They have some size in Hilton Armstrong, and some veteran trickery and hustle in Ryan Bowen.
Julian Wright, however: he's got athleticism, drive, youth, and effort to go with long arms on a 6-8 frame. In the dog days of the season, when legs are tired, that's a tough issue for a lot of defenders to deal with.
And if Wright is going to continue to use his gifts to get high-percentage shots while the starters rest, he's going to change games.
I don't know what the likelihood is that New Orleans wins a title this year. They're certainly outsiders.
But they have looked about as good as anybody so far in these playoffs. And if their rookie is going to pick this moment to play his best ball, giving the team another dimension off the bench, well then I think the Hornets chances of making the Finals increase notably.
Why? Because now then can punish veteran opponents for playing older wing players.
Don't believe me? Look at Jerry Stackhouse in the photo above: think he's having a good time?
(Photo by Glenn James/NBAE via Getty Images)