No Suspensions?
So, nobody from either Atlanta or Boston will be suspended for Game 5, and that's a big problem for people in ... Phoenix.
For instance, consider this e-mail from TrueHoop reader Damien:
HOW IN THE WORLD WERE THERE NO SUSPENSIONS??? I'm not a huge Suns fan, but if I was in Phoenix right now, I'd be rioting in the streets. The EXACT thing that Stern suspended the players for last season in the series against the Spurs now goes unpunished because it might hurt the Celtics chances of advancing to a possible Celtics / Lakers finals. To quote Stu Jackson from last season, "A precedent wasn't necessary here. The rule with respect to leaving the bench area during an altercation is very clear. Historically, if you break it, you will get suspended, regardless of what the circumstances are." Stern and Jackson also concluded last year that Duncan didn't deserve a suspension for stepping on the court during the Elson-Jones mess in game 4 because it was not deemed an altercation. Well what was last night? How is this not the ultimate example of a double standard? Duncan and Bowen don't get suspended during the game 4 situation, no one gets suspended from last night's game, but Stoudemire and Diaw got suspended? How can they possibly defend this?? Why was Tim Frank, NBA Spokesman, giving his response to this situation instead of Jackson or Stern, who were so quick to quote NBA rule 12-A-VII-c last season but ignore it now? Does this not all seem a little fishy? Why am I getting Donaghy flashbacks?
Atlanta fans were really hoping for suspensions. (Update: At least some of them. Micah Hart, who helps to run the team's website emails: "I should only speak for myself, but I can tell you at least that the Hawks as a team, and the people who work around the team, did NOT want them suspended. I think the Hawks, being a young team, have a tendency to play to the level of the competition. ... I don't want there to be anything that makes the Hawks think they can let up for even a second, even subconsciously.") For one thing, it would keep key Boston big man Kendrick Perkins out of the game. As an added bonus, it would force Mike Woodson to play Josh Childress in place of Marvin Williams, something a lot of Hawks fans have long advocated. (Check out the +/- discrepancy between the two last game: Childress was +18, Williams -10.)
For the record, here is my understanding of what happened in this case: If players leave the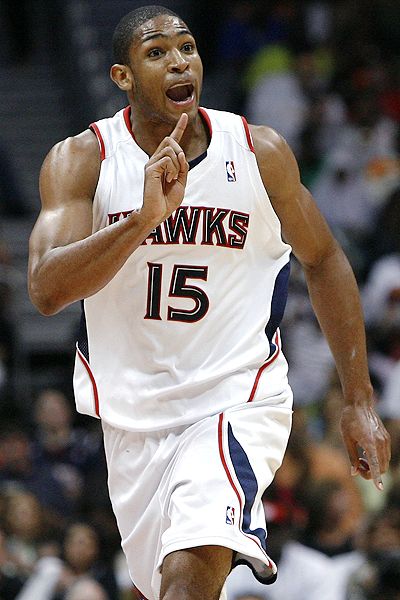 area of the bench during an altercation, they are suspended for the next game. Period. That's the story, and that's what Stu Jackson and David Stern said so emphatically last year.
If you read the coverage of that big messy story at the time, you know that I am generally supportive of the league in this. Fair or not, bench-clearing brawls are a major problem for this sport, and they are way down thanks to this rule. And the players know this rule very well, so anyone who breaks it is, you know, asking for it.
But wow, if the rule is to be enforced without interpretation, it is to be enforced without interpretation, right?
Wrong. I have talked to the league, and I have learned there is an element of the rule that is interpreted by Stu Jackson and his staff, and that is whether or not a player has actually left "the bench area."
The kicker is, there's no real definition of "bench area."
But, apparently, it has been a false assumption that standing on the court at all is taboo. If you stay close to the bench, and I guess don't look like you mean business -- as both players did here -- then you are eligible for a free pass. Watch Kendrick Perkins in this video.
That won't satisfy Phoenix fans, and I'm not entirely certain how I feel about it, but -- consider yourself informed.
Now, on to actual basketball.
Al Horford: Great Draft Pick
I see Horford as more of a leader now than ever, and a key reason Atlanta has a shot at winning a best-of-three series against the best team in the land.
I already wrote about how impressed I was that he was the one to calm Zaza Pachulia down after that altercation with Kevin Garnett. (Same video as the last link.) A+.

In all honesty, after not screaming at people all season, his screaming at Paul Pierce gave his team a big-time shot in the arm. It's not what you want every game, or almost ever, but it was exactly what his team needed just then. It told everyone that the Hawks were not, in their minds, underlings.

Al Horford called down to his college video coordinator to get a copy of the Muhammad Ali documentary "When We Were Kings" to show to his teammates to get them fired up. Are you kidding me? Are a lot of rookies even thinking about how to lift up their teammates in this way? I think not.

He can play! Here's ESPN's David Thorpe, in his Scouts Inc. preview of tonight's game, calling for Horford to be a bigger part of the offense when it matters. "The energized crowd in Atlanta helped the Hawks crawl back into the game after they were behind early (13 points) and then again at the end of the third quarter (10). Doing so, once or twice, will be much tougher in Boston, so coach Mike Woodson has to pick three or four of his best plays to immediately go to when facing a strong Boston run. Horford inside is one, Smith in open space is a second and anything involving Johnson ranks after those two options."
Thorpe also talked a fair amount about Horford in his preview of Game 4. It makes me think Horford might have a little bit of what makes Tim Duncan such a great teammate: that "Mother Hen" instinct -- to want to make sure his teammates are all feeling good. Thorpe writes:
Boston also needs to respect Al Horford more than it has. He sometimes has gone unchecked in the paint when Boston has 'zoned up' underneath on perimeter ball screens. Both Kendrick Perkins and KG have made that mistake, resulting in a dunk or foul.

Finding Horford should be the No. 1 priority in those situations -- his hands are too good and he's too accomplished a finisher to be left unaccounted for inside. Horford was a larger part of the offense in Game 3 (only about three months late), routinely posting up and making easy kick-out passes when Boston did surround him, or hitting cutters for easy buckets. His six assists added up to 15 points, and his teammates moved smartly after the entry pass instead of standing and watching.

In many ways, Horford already is the best leader on this team. He is its spirit and has a lot of influence on Josh Smith, Atlanta's supreme X factor. Late in Game 3, when Smith seemed to relax and enjoy Atlanta's lead, it was Horford who grabbed Smith's head with both hands and talked with him for a few moments. Smith immediately stopped smiling and plugged back in to the Hawks' huddle. If Boston can
do a better job of derailing Horford, it will go a long way toward locking up Round 1.
Desire
When the playoffs started, there were two series which were clear cut. The two best teams to make the playoffs -- Boston and Detroit -- against the two worst teams to make the playoffs -- Atlanta and Philadelphia. Amazingly, those were also the only two series to even make it to 2-2. All the rest, after four games, were either finished, or 3-1.
So, what does that tell you? You can't help but get to questioning the motivation, preparation, and intensity of those top-ranked teams. Were they looking past their opponents? Did they think they could take it easy?
Detroit answered that criticism in devastating fashion in their Game 5 at home.
The Celtics come at their Game 5 led by the player who has been the very embodiment of "basketball passion" all season. They might stumble a third straight time, but it seems unlikely they'll be low-energy with this guy on the floor:

(Horford photo by Mike Zarrilli/Getty Images)