Heat. Rockets. Celtics. Pistons. Bucks. Rockets. Raptors. Wolves. Rockets. Hornets.
Since joining the league as an undrafted free agent in 2001, guard Mike James hasn't just been around. He has been around.
He went to Duquesne, and was the first undrafted player in the NBA to average 20 points per game (in Toronto) and was an integral part of the last underdog team to win a title (Detroit, where he teamed with Lindsey Hunter to make a fearsome bench guard tandem -- the "pit bulls"). He has said he has bounced around the league not because of any particular flaw in his game, but because he doesn't have a blueblood basketball pedigree. He didn't play for Dean Smith, and he wasn't a lottery pick.
Through it all, he has been seen as one of the most colorful and straightforward -- if at times a little off the wall -- talkers in sports.
And now he's buried deep on the Hornets bench, not playing for the first time in his seven years in the NBA.
It's one of the toughest jobs in sports. If you're the 400th best player in the world, you're probably making good money putting up good numbers overseas. But if you're somewhere between the 100th and 400th best, there's a good chance you're in the NBA, and not playing much basketball at all.
Imagine ... being one of the best in the world at doing something, and simply not getting to do it.
After a mid-season trade for Bonzi Wells, that's what Mike James is doing for the New Orleans Hornets ... not playing basketball.
He took my questions yesterday afternoon, and had an interesting tale about an on-court exchange between Kobe Bryant and Chris Paul, and what it's like to play for Pat Riley.
Let's get right into it. Tell me, you guys just won a series last night. Are you feeling good today, or is it a little weird to not be playing after you've played in these kinds of big games before?
I mean, of course it feels weird not to be playing, but I'm excited for my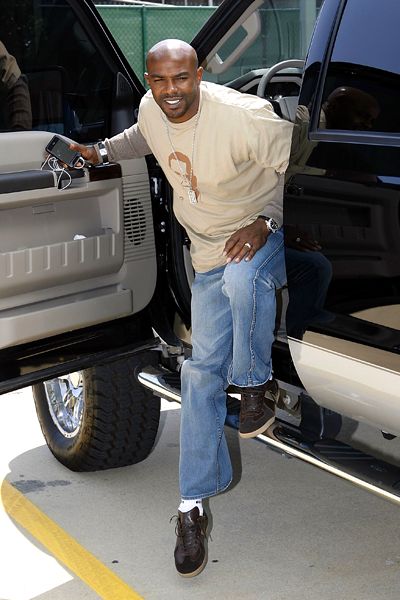 teammates. We're winning. You can't ever rock the boat when things are happening with that that are positive for the team. I think that I still can play this game at a high level, and it's just a matter of me getting myself ready and focused, and whatever the team wants right now.
This is the first year of my career I played cheerleader. If that's what I've got to do, that's what I've got to do. But then when my number is called, be ready. But other than that, if one way don't work, I'll think about another way and another game plan so I can get myself better so this won't happen ever again in my career.
Have you had any conversations with the team about what your role might be as the playoffs unfold?
It's hard because I can't rock the boat. The team is already winning, so it's not like I've been there from the beginning of training camp. It's almost like now I've got to get in where I fit in. Right now I don't fit in but I'm still part of the team. I'm not in the rotation but I'm still part of the team.
I don't know if you heard, in the last half hour or so, but it was reported that Avery Johnson is leaving the Mavericks. I'm not sure if he was fired or quit.
Avery Johnson is one of the better coaches in the NBA. I've never heard nothing bad said about him from any of the players or from the relationship I've had with him personally over the years. He's been nothing but a stand up guy. You know, Dallas lost a good one, and somebody is going to gain a great one.
And you're playing for the Coach of the Year. You had a pretty darned good seat for this series. Can you give us a little bit of your story of how this series unfolded and how you guys were able to win?
You know, we're a good team. For one, we're a good team. And we enjoy playing for one another, and that makes the game that much easier, and it simplifies things so much more when you enjoy playing with one another and there's no animosity, there's no hatred, there's nothing but genuine you know, everyone is genuine about the next person, so this is a unique team.
And B. Scott is the general. He deserves Coach of the Year. He's a players' coach. He's going to joke with you, he's going to laugh with you, but then when it's time to get serious, you already know he's not playing no games. Other than that, it ain't about talking, it's about action, and that's what he's about. You've got to respect that.
Why did they get you, do you think? Why did they make the trade to get you?
I don't know. You know, it could have been contract, it could have been you know, for one, it could have been contract, how many years a person has on him. I don't know. I don't know. You know, I couldn't tell you. But you know, everything happens for a reason. If I believe in my heart that God is the author, then I've got to continue to believe that he's going to be in my corner, not only when things are successful, but I've also got to believe that things are going to turn. Eventually they've got to; I've worked too hard.
When are you a free agent?
I have two more years on my deal. I have two more years that I still can play this game.
How old are you?
32. I'll be 33 in June.
Now, one of the guys I imagine you're seeing a lot of in practice is MVP candidate Chris Paul. Talk to me about him a little bit.
He deserves the MVP. Chris Paul right now in the game of basketball is probably the most exciting player to watch play. Like everything that he does, you know, it's like he's got that ball in his hands and he does what he wants to, and it's almost like it's a highlights show on the ground. But you don't notice how he sits there and dribbles that basketball in front of defenders, and they don't know which way to go or what to do or how to do it. And he's shooting the jump shot. Man, he's a superstar. He'll probably be the best point guard of this era if he continues to work, and I believe he'll do that.
I'll tell you, one thing I notice about him, which seems to be a little bit like an underreported part of his game, but in a good way, he's just a little bit nasty. He's going for the jugular all the time.
You know what, it's funny because I remember one time we were playing against Los Angeles, and he made a move to the basket and got fouled or whatever, and Kobe gave him like the little tap on the head, like, good move, good kid.
And CP looked at him and gave him a tap back on the head, like, watch out, I'm not inferior to you.
And I respect that about him, man.
And he's got God, also. He's a soldier. He's a soldier for real. He's a warrior. You've got to respect that about him.
I know that you're a competitor and you want to beat the Dallas Mavericks and you did beat the Dallas Mavericks, but is there a part of seeing that team go down that's a little bit sad, that the model that they've built over there has reached the end of its run a little bit?
Man, y'all don't get sad when I get traded. It's them or us; please. It's time, man.
And now you play the San Antonio Spurs, right? What do you think, are they past their prime, or are they as good as ever?
Man, do you see how them boys are balling? Oh, my goodness. Everybody is in there producing and doing exactly what they've been doing. Everybody is in there producing.
They're the champions. They're the world champions. You can never get past your prime and win a championship ring. You're never too old for championship rings. They ain't too old to win championships, please. This is like March Madness for college. This is the pros. This is a fun time to watch basketball. This is what it is.
As the Hornets meet the Spurs, who's the favorite?
What you mean? The New Orleans Hornets are. We'll probably be the underdog. They'll probably, of course, choose San Antonio over us. But we believe we have everything that San Antonio got but better. That's what we believe in our hearts. You know, and that's what you have to believe if you want to win a world championship, and that's our goal. Our goal isn't just playing in the playoffs and just happy to win just one round and now all of a sudden the season is over with and you won one. You don't have teams that are special all the time, and if anything was to ever change and anything happens, you've got to remember, they've still got an animal waiting on that bench. He's ready to be call me the Tasmanian Devil.
You're a pit bull guy, right?
Man, call me a pit bull. He's ready for this fight.
Let me ask you about Julian Wright, too. He had a couple of great games in that last series. You probably know more about him than we do. Talk to me about Julian Wright.
Oh, that's my young boy right now. Julian Wright, man, great kid. Great kid. You know, he listens, great personality. He was raised by his parents, man. He's respectful and he's got a lot of shots in his game. He's tough. That boy can play, man, and he could play anything. He could play organized ball, he could play 'and one.' If you want to take it to Rucker Park, he can do that, also. He's just talented, man. God has blessed him with a gift.
You used to play for the Heat and they had a little coaching change where Erik Spoelstra took over. What can you tell me about him?
Man, that's my boy right now. Spoelstra? Please, that's my boy right there. I'm so happy for him, man. He deserves that. I was there when he was there, and now he's ready. I knew he was always going to get the opportunity. That's just how Pat Riley raised him. You know, Pat Riley, he breeds coaches, you know what I mean? These are the coaches that come from underneath him that are successful. That's just Pat Riley being Pat Riley, man. But you know it's time for him to step down. Time for him to have with his family, you know?
What was Erik doing when you were there?
You know, he was on one of the I think he was doing the video. I think he was doing the video when he was there, but any time I wanted to be in the gym at a certain time, he was there.
One thing about Miami, they're serious about player development, you know what I mean? And if you're willing to work, they're willing to teach. That's the one thing that you're going to get from Miami.
I think every rookie should go through Pat Riley. They need to learn what the league is about, and Pat Riley is a great teacher of that. He shows you that you know how you're supposed to conduct yourself, how you're supposed to act and how you're supposed to work.
Can you give me an example?
I remember we used to just to make training camp we had to run five "tens." We had to make our time with five tens. And tens are out flat, wall to wall. Instead of doing 17s you had to do tens from wall to wall, and everyone had their time. I remember one time we ran we've got to make five, so the guards had to run it in like 52 seconds, certain players had to run it in and then the big men like a minute. But you got like 45 seconds' rest.
One player, I remember it was Sean Lampley, he was on his fifth ten. He got the finishing time, he ain't got to run it no longer. He makes it all the way to the free throw line, then all of a sudden he just buckles and drops to his knees, and then he tries to like crawl to the finish line and misses it, rolls around. He's about to die of dehydration.
Pat Riley says, move him over a little bit. Go take care of that over there somewhere. Come on, let's go, next. Go.
And then when he came back from the hospital, the funny part about it is this was his fifth ten. He was in the hospital for like two days with dehydration. He came back from the hospital, he still had to run those. He still had to do his tens all over again and make his times.
Wow, that's hard core.
What? Are you kidding me? We're talking about Mr. Riley here.
Now, how about your former team, the Pistons, wrestling with the Sixers?
Detroit are bad boys. They're bullies. That's what they try to do, they try to bully you. Once you get past the bullying and you start playing ball, Sixers are giving those boys a challenge letting them know that they're not afraid of them. Once they got past that right there, the boys are playing some ball against them. It's going to be a series. Detroit has to come out focused. They have got to come out attacking and stop playing so nonchalant. If they think the game is just going to go their way, no, they've got to come out and take this series because Philadelphia is not playing with them.
And then we've got to talk about your former team, the Rockets.
The Rockets? They're in a dog fight right now. They're definitely in a dog fight. They're playing against a team, the Utah Jazz, that are real serious. They've got their backs against the wall, so the only thing they should really be thinking about now is trying to get this game and then trying to make a Game 7.
But it's going to be hard winning in Utah. That's a tough place to play. T-Mac has got to come out and be T-Mac. If T-Mac comes out and really start believing that they can really win this series, man, that's the only way. Rafer has been giving them a lot of help this year. Rafer has been having a career year this year, and he's been playing some great basketball. He's got to come out, try to contain Deron Williams as much as possible, and Bobby Jackson got to come off the bench and hit some shots and hit knock down shots. If they hit knock down shots, they'll be all right.
Is it fun right now?
Basketball?
Yeah.
I mean, I love basketball. This year hasn't been fun. You know, this year has really been a tough year for me. But the joy of the game is still that's it. That's all I can hold on to. I can't hold on to nothing else.
And you're ready to go if they call your number?
Man, I'm in that gym every day.
What have I not asked you about that you want to tell me?
Maybe my scholarship foundation.
Tell me about that.
I have my own scholarship foundation. I give scholarships to kids. You know, kids come to a crossroads on whether or not they're going to do the right thing or the wrong thing. I at least give them a chance and an opportunity by giving them scholarships and asking them questions on why they think they deserve a scholarship from me, just different things.
How many kids are you giving scholarships to?
I was talking to my wife about this yesterday. We've probably given away maybe almost $25,000 in scholarships. You know, we give them away at our camps. Any chance, man. It's a beautiful thing. It makes me feel good to be able to put a smile on someone else's face.
How can people find out more about it? Is there a website or something people can look at?
Yeah, MikeJames7.com. UPDATE: (Also try this link.)
(Photo by Layne Murdoch/NBAE via Getty Images)